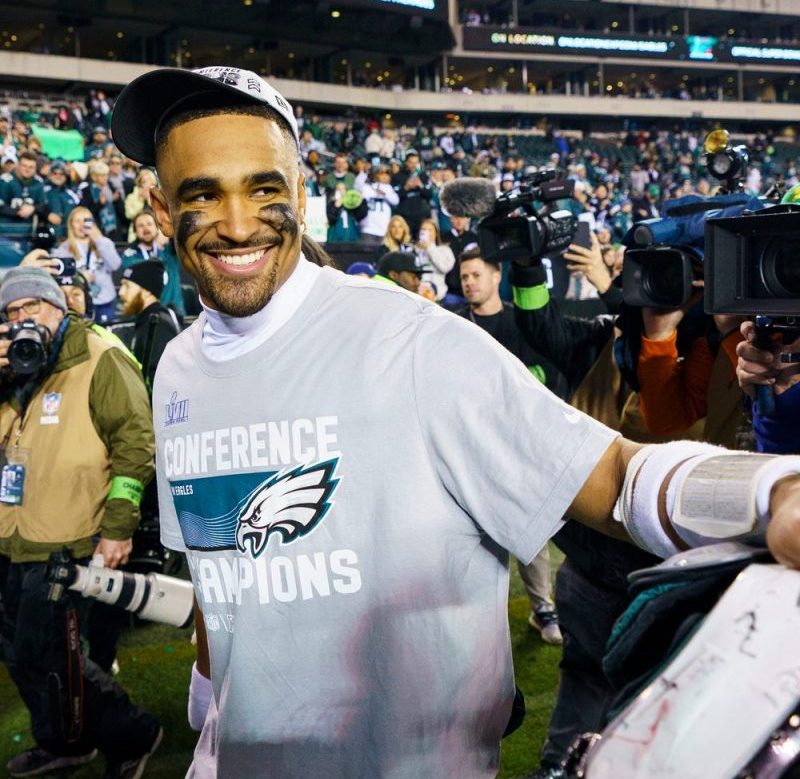 Jalen Hurts' record deal another step beyond NFL's shameful, racist past
If you want to understand just how remarkable the contract extension signed by Eagles quarterback Jalen Hurts truly is, the one that's the richest contract ever, you need to go back in time. You need to look at how Black quarterbacks have been treated. How badly, awfully, disgracefully they've been treated. You need to understand history and that splendid bending of its arc.
We could start anywhere on the NFL timeline. Quarterback Marlin Briscoe in the 1960s was portrayed as a locker room agitator and released. Quarterback James 'Shack' Harris was deluged with hate mail throughout his career in the 1970s. Warren Moon is one of the most talented pass throwers ever but spent much of his early career in the CFL, where the racism in football was less structural. In the 1980s, before Doug Williams made Super Bowl history, he faced a career of double standards and racism.
In 2003, Rush Limbaugh, while an analyst for ESPN, said Pro Bowler Donovan McNabb only received accolades because he was Black.
'Sorry to say this, I don't think he's been that good from the get-go,' Limbaugh said. 'I think what we've had here is a little social concern in the NFL. The media has been very desirous that a Black quarterback do well. There is a little hope invested in McNabb, and he got a lot of credit for the performance of this team that he didn't deserve. The defense carried this team.'
NFL Draft Hub: Latest NFL Draft mock drafts, news, live picks, grades and analysis
Limbaugh was fired by ESPN. So we've gone from one Eagles quarterback two decades ago being attacked for being Black to another Eagles quarterback being celebrated for his character.
There are numerous other examples of how far Black quarterbacks have come that go back a century. In the 1930s, NFL owners quietly banned Black players from joining the NFL for 13 years in what's commonly and ironically called 'the gentlemen's agreement.' Some 80 years later, Colin Kaepernick was effectively banned from playing in the NFL after leading a player protest movement starting in 2016.
In the recent past, and even now, the mental acuity of Black quarterbacks were commonly described quite differently from their white counterparts. Scouting publications, one 2004 examination found, described Black quarterbacks with great physical attributes and white quarterbacks with mental prowess.
It was common for Black quarterbacks to be told they should switch positions. Bill Polian, who is in the Hall of Fame and built multiple teams, said before the 2018 draft that Lamar Jackson should play wide receiver instead of quarterback. That was just five years ago.
These are just small pieces of the history, and even this little bit of data puts into context this remarkable moment for Hurts.
Other Black quarterbacks have signed rich contract extensions, but that's not the point.
The point is Hurts' contract is another evolution in the arc of the Black quarterback. From the days of NFL quarterback segregation, to the gentlemen's agreement, to Kaepernick, and more. Black quarterbacks have had to fight for every yard, every dollar, every piece of dignity.
Players like Hurts and Patrick Mahomes have risen on the shoulders of past Black quarterbacks that sacrificed their dignities so players like Hurts don't have to.
We won't see the eradication of racism from the NFL anytime soon, in the same way we won't see it eliminated from society. This isn't the Federation. Not yet.
Hurts' deal does show, however, what happens when racism is removed from the equation. When a player is strictly evaluated for the content of his football character — and by all indications Hurts is one of the NFL's best leaders.
He said this after being named one of the team's captains: "It means everything. It means everything. I think just trying to do things the right way for the team and putting the team first and doing everything I can with all my ability to play at a high level for the team, lead in the right direction and set the right example for everybody. I take it in high regard and I give a lot of value to being a captain."
The Eagles might have gotten a bargain with this extension because Hurts is that much the real deal.
In NFL history, there have been other Black men who could have been Jalen Hurts, but racism kept that from happening. We will never forget that past. We shouldn't. Hurts and this deal also shows the promise of what can be.
This post appeared first on USA TODAY