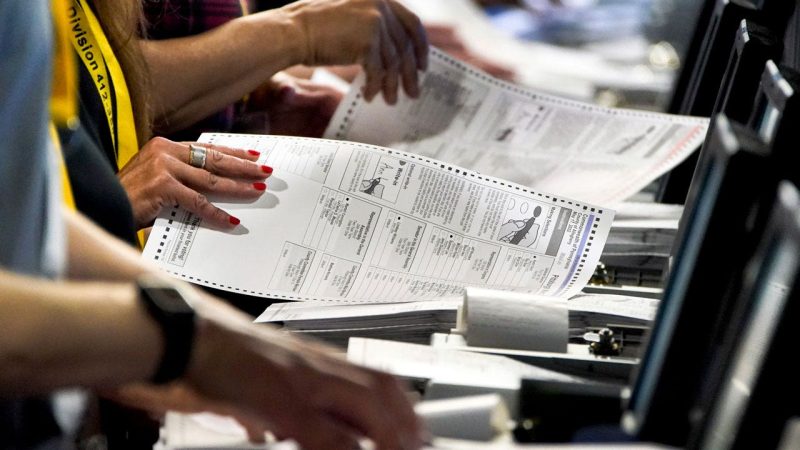 Typo forces Pennsylvania county to replace over 18K ballots
Officials in Lancaster County, Pennsylvania, were forced to replace over 18,000 mail-in ballots after a printing error incorrectly restricted the number of candidates voters were allowed to select.Postal officials helped the southern Pennsylvania county intercept about 15,000 of the affected ballots.The Lancaster County elections board plans to 'set aside' any erroneous ballots that are returned.
Elections officials in a central Pennsylvania county were scrambling on Monday to fix an error on more than 18,000 mail-in ballots for the spring primary, when voters will elect judges for the state Supreme Court and other positions.
Late last week someone noticed that the ballot for Superior Court instructed Republican and Democratic primary voters to pick only one judicial candidate to nominate from their party, when in fact voters could pick two, according to Lancaster County's elections board. There are two vacancies to fill on the mid-level appeals court.
By early Monday afternoon, postal officials had helped Lancaster, which is about 71 miles west of Philadelphia, intercept and safely secure over 15,000 of the affected ballots, officials said.
The problem comes as voters are just receiving mail-in ballots for the primary, which also includes a vacancy on the state Supreme Court.
Voters will receive replacements with corrected wording and a sheet of instructions. Those who received an erroneous ballot were told to throw it out and wait for a replacement. Ballots from those who fill out and return erroneous versions will be 'set aside' by the elections board, the county said.
The deadline to return mail-in ballots is May 16.
Pennsylvania is a closely divided swing state that is expected to be a major battleground in next year's presidential contest. Lancaster is a Republican-majority area with a large farm economy and a growing suburban population. More than 220,000 Lancaster residents voted in the November gubernatorial election.
Lancaster County also had a printing problem with primary ballots a year ago, when a vendor mailed ballots with the wrong ID code, preventing scanning machines from reading them. About one-third of the 21,000-plus ballots affected last year were able to be properly scanned. The votes had to be painstakingly transferred to fresh ballots.
Lancaster also faced a ballot printing error in 2021, when a large number of primary mail-in ballots had to be counted by hand, delaying final results. In that case, the Lancaster County Board of Elections said some 14,000 multi-sheet ballots had been printed in the wrong order.
This post appeared first on FOX NEWS