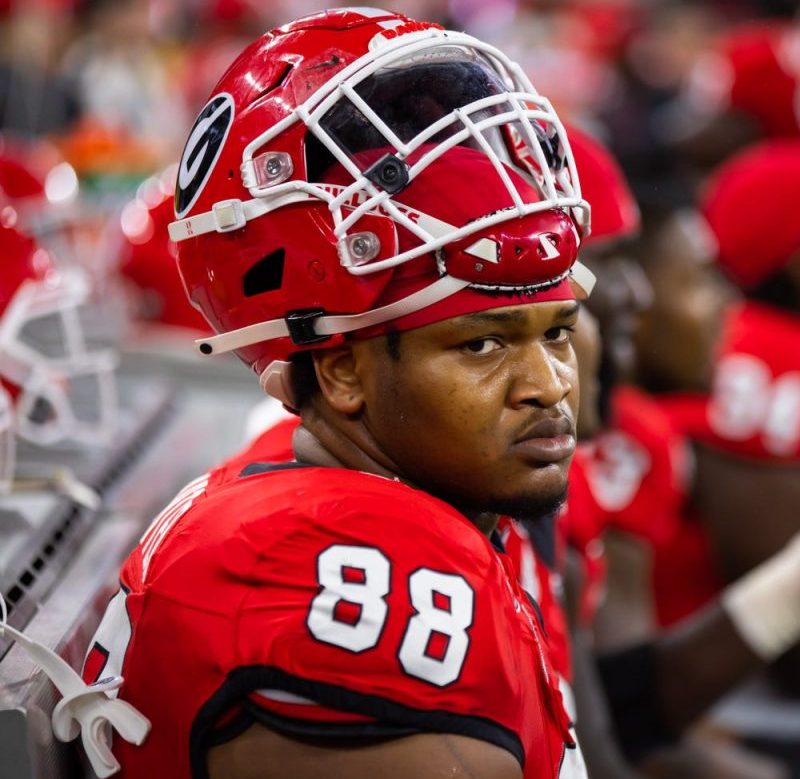 NFL mock draft: Elite player falls as another rises
The 2023 NFL draft's defining characteristic might end up being its unpredictability.
With less than two weeks remaining until the picks begin in Kansas City, Missouri, little is certain about how things will pan out. While some conventional wisdom has been established among pundits in a few areas, there's no distinct pecking order at many key positions, and different decisions by a handful of teams could lead the draft in a number of wildly distinct directions. 
Here's our latest first-round look with our 2023 NFL mock draft.
(Note: The Miami Dolphins were stripped of their first-round pick for tampering with Tom Brady and Sean Payton.)
NFL Draft Hub: Latest NFL Draft mock drafts, news, live picks, grades and analysis
1. Carolina Panthers (from Chicago Bears) – Bryce Young, QB, Alabama
It's anyone's guess as to where Frank Reich and general manager Scott Fitterer (as well as owner David Tepper) will land as the franchise's decision-makers weigh a defining decision at quarterback. Mounting speculation and shifting odds, however, have many outsiders turning their attention to Young. Unfazed in the face of pressure, the 2021 Heisman Trophy winner seems uniquely equipped for taking on the challenges inherent to shouldering an offense that can't assure much in the way of support. If the mystery lingers, we could be in for one of the most suspenseful pre-draft sequences since 2018, when the Browns kept their choice of Baker Mayfield at No. 1 largely under wraps until the eleventh hour.
2. Houston Texans – C.J. Stroud, QB, Ohio State
Could Houston throw a wrench into the top of the draft and bypass a quarterback with this pick? It would be a deliriously bold decision for a franchise that has been lacking direction for the last two years, so let's table it as merely a fun thought exercise for the moment. Stroud could help Houston finally start to move on by giving new coach DeMeco Ryans a smooth and accurate distributor behind center.
3. Arizona Cardinals – Will Anderson Jr., DE/OLB, Alabama
Arizona trading out of this slot is likely the most consequential move that could still take place before the draft. As it stands, however, Anderson should be the clear choice for a defense in dire straits. However he's deployed by new coach Jonathan Gannon, the two-time unanimous All-American edge rusher would step in as a playmaker for a unit that could be soon losing its last one remaining in disgruntled Pro Bowl safety Budda Baker, who has requested a trade.
4. Indianapolis Colts – Anthony Richardson, QB, Florida
Owner Jim Irsay summed up the current moment in the draft process with a seemingly meaningless tweet Sunday, leaving fans to decipher any intention behind how he decided to order the photos of the top four quarterbacks in the draft. Richardson earns this spot not due to Irsay placing him first among those photos, but instead for the remarkable potential he would bring to a franchise burned out on short-term solutions. If this pairing does materialize, it would be a boon to both Richardson and coach Shane Steichen, whose track record suggests he'd do a fine job of making use of the 6-4, 244-pounder's dazzling deep passing and singular mobility.
5. Seattle Seahawks (from Denver Broncos) – Tyree Wilson, DE, Texas Tech
If the first four picks do end up as three quarterbacks and Anderson with no trades taking place, this could be the draft's inflection point. While Georgia defensive tackle Jalen Carter could be a strong consideration here, there's still a case for Wilson, who can deploy his massive 6-6, 271-pound frame to push the pocket or wrangle running backs in the backfield. Given that the Seahawks could stand to upgrade at multiple spots in the front seven, Wilson might be a best-of-both-worlds option as someone who can create havoc on the edge yet consistently crash inside. 
6. Detroit Lions (from Los Angeles Rams) – Devon Witherspoon, CB, Illinois
7. Las Vegas Raiders – Christian Gonzalez, CB, Oregon
To slow Patrick Mahomes and Justin Herbert in the AFC West, the Raiders will need to dedicate far more resources at cornerback than they have so far this offseason with free-agent signings David Long Jr. and Duke Shelley. Even in a deep class at the position, Gonzalez represents the best option for stopping the bleeding for a unit that allowed a league-worst 98.8 passer rating last season. 
8. Atlanta Falcons – Bijan Robinson, RB, Texas
Would a running back selected in the top 10 picks – the first since Saquon Barkley went No. 2 in 2018 – be a luxury for a Falcons team that has posted consecutive seven-win seasons and doesn't look to be on the verge of a breakout? Almost definitely. But GM Terry Fontenot and coach Arthur Smith have used their initial two first-round picks on skill-position players in tight end Kyle Pitts and wide receiver Drake London, and maybe they view the electric Robinson as a figure capable of elevating second-year quarterback Desmond Ridder with his contributions as a runner and a receiver.
9. Bears (from Panthers) – Paris Johnson Jr., OT, Ohio State
With a stated dedication to prioritizing premium positions, new general manager Ryan Poles might be drawn to an offensive tackle as he contemplates the options for using his bounty from the trade back from No. 1. Though Johnson was a backup for the Buckeyes during Justin Fields' junior season at Ohio State, he could get the chance here to be a long-term pass-protecting solution for his friend and former teammate. 
10. Philadelphia Eagles (from New Orleans Saints) – Jalen Carter, DT, Georgia
Amid uncertainty about how teams view Carter after he pleaded no contest to charges of racing and reckless driving in connection with a fatal car crash in January, agent Drew Rosenhaus declined to have the Georgia standout visit with teams outside the top 10. Even if Carter does tumble slightly on draft day, Philadelphia makes for a sensible floor. The Eagles demonstrated their interest in Bulldog defenders last year with first-round defensive tackle Jordan Davis and third-round linebacker Nakobe Dean – who could help the front office fill out its picture of Carter – and defensive tackle is one of the few areas where the Eagles are due for an immediate upgrade.
11. Tennessee Titans – Peter Skoronski, OT, Northwestern
New general manager Ran Carton has made it clear that he wants the Titans to maintain their rugged offensive identity even after last year's implosion. There are a few offensive linemen who can bring some stability to this rebuilding effort, but perhaps none better fit for the job than Skoronski, a technician who looks to be a trusted starter – whether he stays at offensive tackle or kicks inside to guard – from Day 1.
12. Texans (from Cleveland Browns) – Jaxon Smith-Njigba, WR, Ohio State
Why not go all in with Stroud and provide the passer with a target whom he knows and trusts? The shifty Smith-Njigba has built-in chemistry with the quarterback after their prolific run in Columbus, which included the two hooking up for 95 receptions, 1,595 yards and nine touchdowns in 2021 before a hamstring injury ruined the receiver's season last year. Regardless of the Texans' pick at No. 2, Smith-Njigba offers significant value to a receiving corps that ranks among the NFL's shakiest.
13. New York Jets – Broderick Jones, OT, Georgia
If the Aaron Rodgers trade isn't completed by the first day of the draft, the drama of this pick will take a backseat to questions about the timeline for the standoff with Green Bay. Regardless, finding cohesion for the offensive front has to be a top priority for Joe Douglas, and Jones is an ascendant talent who might help promote the long-term stability that has been so lacking along the line.
14. New England Patriots – Darnell Wright, OT, Tennessee
If the Patriots are serious about enhancing the level of support for Mac Jones, trotting out Riley Reiff, 35, as the first-team right tackle should be out of the question. Wright might have his early struggles with NFL pass rushers who can exploit his bad habits, but he's a far better long-term answer at a key position than any of New England's other options at this point.
15. Green Bay Packers – Lukas Van Ness, DE, Iowa
While Rashan Gary and Preston Smith constitute a fine pair of starting edge rushers, the former is coming off a torn ACL suffered last November and the latter will turn 31 in November. Nicknamed 'Hercules,' Van Ness presents Green Bay with the kind of powerhouse pass rusher the team seeks  out, though he'll need to learn how to work his way around offensive tackles rather than always trying to barrel through them.
16. Washington Commanders – Joey Porter Jr., CB, Penn State
Despite the franchise's expected sale, the Commanders will have trouble turning the page on the field without some assistance in the secondary to hold off the rest of the NFC East's offenses. There's no shortage of confidence or physicality to Porter Jr., a battle-tested coverage man who refuses to cede anything easy.
17. Pittsburgh Steelers – Deonte Banks, CB, Maryland
Mike Tomlin has voiced his passion for molding young players who require some refinement. With Banks, Tomlin would have the opportunity to bring along a supremely gifted cornerback with the size (6-0, 197 pounds) and speed (4.35 seconds in the 40-yard dash) to handle any matchup the AFC North throws at him.
18. Lions – Calijah Kancey, DT, Pitt
One year after jolting its edge rush with Aidan Hutchinson and sixth-round gem James Houston, Detroit might be inclined to make a similar splash on the interior. At 6-1 and 281 pounds, Kancey will take on a different role from many other defensive tackles, but there's no questioning the chaos his rapid first step can unleash.
19. Tampa Bay Buccaneers – Anton Harrison, OT, Oklahoma
In bringing in Baker Mayfield to compete with Kyle Trask to be Tom Brady's successor, the Buccaneers appear have telegraphed a patient approach to a rebuild. If Tampa Bay is going to wait at least a year to make a big investment for its quarterback of the future, it would be wise to bring on a left tackle like Harrison to elevate pass protection and allow Tristan Wirfs to remain on the right side.
20. Seahawks – Zay Flowers, WR, Boston College
Pete Carroll and GM John Schneider can hit both sides of the size extremes in the first round by following up the Wilson pick with the 5-9, 182-pound Flowers. Adding the big-play dynamo would ease some of the burden on Tyler Lockett and DK Metcalf while unlocking new possibilities in the downfield attack for Geno Smith. 
21. Los Angeles Chargers – Michael Mayer, TE, Notre Dame
While Los Angeles' offense undoubtedly would benefit from an infusion of speed in the receiving corps, GM Tom Telesco has an established track record of demanding substantial size in his top pass catchers. Stocky and surehanded, the reliable Mayer fits the bill of what Telesco looks for and can be an immediate asset to Justin Herbert as a threat down the seam despite his suboptimal speed. 
22. Baltimore Ravens – Nolan Smith, OLB, Georgia
The Ravens have a way of scooping up heady prospects who fall further in the draft than many expect. Eric DeCosta and Co. can continue the trend by selecting the savvy Smith, who should step in on Day 1 as a strong run stopper with untapped potential as a pass rusher.
23. Minnesota Vikings – Will Levis, QB, Kentucky
This would represent a precipitous fall for Levis, who could be the third quarterback off the board in the first five picks. But if teams in the early-to-mid first round take a pass, Minnesota makes for a fascinating fit after GM Kwesi Adofo-Mensah has repeatedly left the door open for the team to pounce on a passer. With his rifle arm strength and confidence to take advantage of it, Levis would certainly make for a change of pace from the cautious Cousins, whom the 6-4, 229-pound signal-caller could sit behind before pushing for the starting role in 2024.
24. Jacksonville Jaguars – Brian Branch, S, Alabama
This is a pairing that materialized in the last mock draft, so let's run it back. The versatile Branch's penchant for finding the ball no matter where he initially lines up would come in handy for a burgeoning Jacksonville defense that could take off in 2023. 
25. New York Giants – Emmanuel Forbes, CB, Mississippi State
After throwing significant resources at resolving the issue at wide receiver, GM Joe Schoen might want to flip his focus to stopping opponents' passing games rather than igniting his own. A ballhawk who recorded 14 interceptions in three years, Forbes would pair with Adoree' Jackson to give the Giants a dynamic tandem of playmakers at cornerback. 
26. Dallas Cowboys – Bryan Bresee, DT, Clemson
The Cowboys haven't called on a defensive tackle in Round 1 since 1991, but the defensive front's interior is the foremost question mark for a defense that otherwise looks like one of the league's most promising collections of talent. A former No. 1 overall recruit, Bresee still might have his best football ahead of him after injuries marred his time at Clemson.
27. Buffalo Bills – Jordan Addison, WR, USC
At the NFL scouting combine, Addison boasted he 'crushed it' in his interview with the Bills. The confidence is justified for the Pitt transfer and 2021 Biletnikoff Award winner, as his savvy and smoothness as a route runner would make him an appealing option as this offense's needed No. 3 receiver.
28. Cincinnati Bengals – Dalton Kincaid, TE, Utah
Drew Sample's return and Irv Smith's arrival shouldn't change Cincinnati's bottom line at tight end, especially given the larger complications the passing attack could face in keeping Tee Higgins and/or Tyler Boyd as both receivers enter the final year of their deals. Adept at creating separation and bringing down even the most difficult catches, Kincaid sizes up as a useful safety valve wherever he lands. 
29. Saints (from San Francisco 49ers via Miami Dolphins and Broncos) – Myles Murphy, DE, Clemson
In the wake of Marcus Davenport's departure, it would behoove the playoff-hungry Saints to find a dynamic threat opposite Cam Jordan – or someone who could eventually take over for the 33-year-old defensive cornerstone. Murphy would be the Saints' second first-round edge rusher in three years, but Payton Turner has managed to tally just three sacks while playing in 13 games in two years.
30. Eagles – O'Cyrus Torrence, G, Florida
Philadelphia seems like a strong candidate to trade out of this slot, but if the team stands pat, Howie Roseman doesn't need to be sold on adding more talent along the offensive line. The 6-5, 330-pound Torrence would help the Eagles prepare for the looming post-Jason Kelce future by solidifying the right guard spot and allowing Cam Jurgens to eventually take over at center. 
31. Kansas City Chiefs – Keion White, DE, Georgia Tech
The defending champions have routinely taken the long view in their roster construction, and that tactic could point them toward White, a 6-5, 287-pound former tight end who moves much more nimbly than most defensive linemen his size. If White can harness his considerable athleticism by developing a better pass-rush plan, he could make for a potent pairing with 2022 first-rounder George Karlaftis.
Follow USA TODAY Sports' Michael Middlehurst-Schwartz on Twitter @MikeMSchwartz.
This post appeared first on USA TODAY