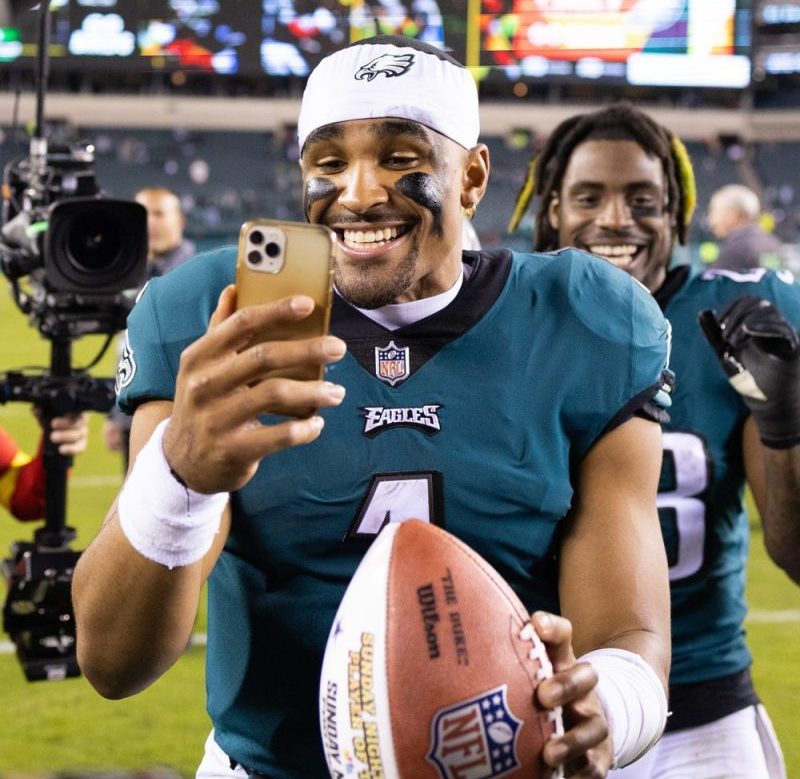 Eagles make QB Hurts highest-paid player in NFL history
Jalen Hurts is feeling the love in the City of Brotherly Love.
Hurts and the Philadelphia Eagles have agreed on a five-year, $255 million deal, a person close to the situation told USA TODAY Sports, that makes the quarterback the highest-paid player in NFL history. The person spoke on condition of anonymity because they were not authorized to disclose financial terms of the agreement. The deal includes $179.3 million guaranteed and a no-trade clause.
Hurts' new contract keeps him in Philadelphia through 2028.
The deal places Hurts ahead of Green Bay Packers quarterback Aaron Rodgers for the top spot among all players in average annual salary.
Hurts is coming off a season in which he led the Eagles to a 14-1 record and a trip to Super Bowl 57. He compiled career highs in passing yards (3,701), touchdown passes (22) and passer rating (101.5) in his third season and second as a starter. His efforts earned him second-team All-Pro honors, and he finished second in NFL MVP voting.
NFL Draft Hub: Latest NFL Draft mock drafts, news, live picks, grades and analysis
Hurts became the eighth Black quarterback in NFL history to start in a Super Bowl and joined Patrick Mahomes in the first Super Bowl to feature two Black starting quarterbacks.
Even in the 38-35 Super Bowl 57 loss to the Kansas City Chiefs, Hurts was exceptional. He produced 374 total yards and four touchdowns, though he did have a costly fumble that was returned for a touchdown.
The Eagles drafted selected Hurts in the second round of the 2020 NFL draft. He has 7,906 passing yards, 44 touchdowns and 19 interceptions in his career. On the ground, he's produced 1,898 yards and 26 touchdowns. He 23-11 in his career as a starter. 
What deal means for quarterback market
Hurts isn't the only big-time quarterback from the 2020 draft class eligible for a new contract extension. 
Cincinnati Bengals QB Joe Burrow and Los Angeles Chargers QB Justin Herbert, who were selected No. 1 and No. 6, respectively, are in line to cash in. The signal-callers are entering the fourth year of their rookie contracts, with their fifth-year options expected to be exercised if an extension isn't reached by the May 1 deadline. Both the Bengals and the Chargers expressed optimism this offseason that extensions would be completed at some point for the franchise quarterbacks.
Burrow led the Bengals to a Super Bowl 56 appearance, and Herbert has the most passing yards by a quarterback in his first three seasons. Both their contracts will presumably exceed Hurts' once completed. 
Hurts' contract also could alter the outlook for Baltimore Ravens QB Lamar Jackson. The Ravens placed the non-exclusive franchise tag on Jackson in March amid a contract stalemate. Hurts' deal could give the Ravens and Jackson a benchmark, with the Eagles QB resetting the market yet not giving their star a fully guaranteed deal like the one Deshaun Watson received last offseason from the Cleveland Browns. 
Follow USA TODAY Sports' Tyler Dragon on Twitter @TheTylerDragon.
This post appeared first on USA TODAY