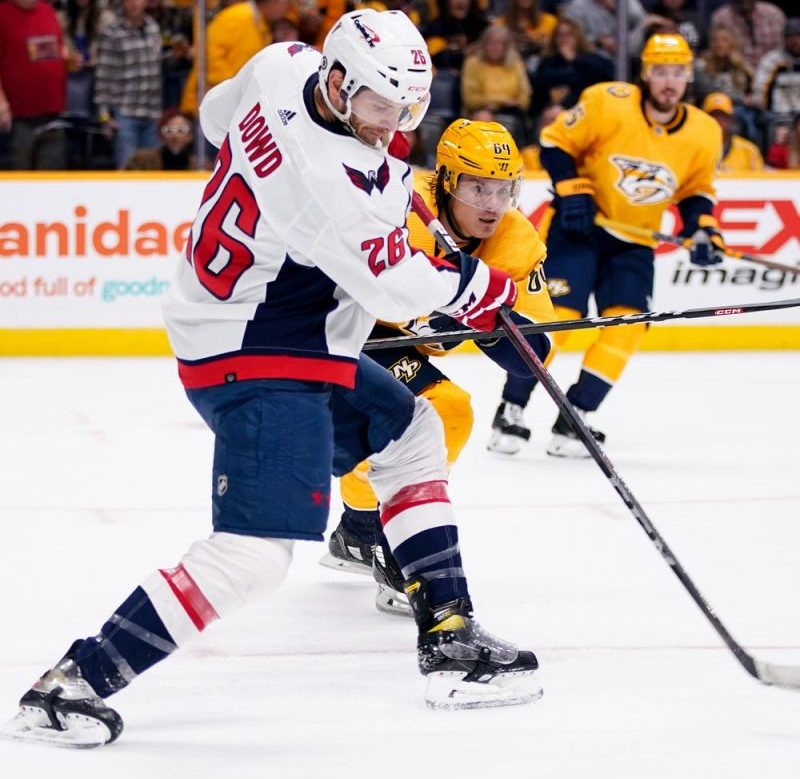 Washington Capitals' Nic Dowd says he's a pro because of his parents
Alan and Liz Dowd met at a hospital in England. Alan was a doctor, Liz a nurse.
They moved from their birth country to the United States in 1974 for a career opportunity, and raised three boys in Huntsville, Alabama.
Neither Alan nor Liz was too sports oriented, but they got their boys into hockey, perhaps more for the social aspect than anything. Matt and Josh Dowd became strong travel players. Their third son, Nic, 10 and 12 years younger than his brothers, became an NHL center.
"Without them, I would not be where I am today," Nic Dowd, now a 32-year-old standout with the Washington Capitals, said of his parents. "As a parent myself, I'm just realizing how much of a time commitment that's required for your kid to get to just practices and the games. And that doesn't even guarantee they're gonna be in any good."
Dowd's parents navigated his youth sports journey carefully, and did four core things he says helped him get where he is today:
Follow every game: Latest NHL Scores and Schedules
Allowed experimentation and prevented burnout by not pushing for specialization in a particular sport.Built his confidence through unconditional love and support.Put in the time, trekking to practices, games.Enjoyed the journey, turning road trips and game days into lifelong memories.
Yet there was so much more to that journey. As Nic played mini-sticks hockey with his older brothers in the basement, and then street hockey when he got older; as he tagged along to Nashville, Atlanta, Memphis and Knoxville on weekends for their games; and as their teammates' called him "Puck," a family identity with sports was forming.
"I kind of followed in their footsteps," Dowd told USA TODAY Sports. "It wasn't like I blew the doors off of it and I was like a phenom when I was like 12 years old. I rarely ever felt any pressure from my parents to succeed at sports at all. Sports for me, and then for them, was looked upon as something that should be enjoyed rather than work."
His parents, brothers and now his wife, Paige, and their two young children, Louie (3 years old) and Ruby (3 1/2 months) helped drive him to the mountaintop, where Nic and Paige run the Dowd's Crowd foundation to support autistic kids. 
Dowd's hockey career from the day he got his first pair of skates from Benton Wilcoxon at Huntsville's ice complex, as well as his work with Dowd's Crowd, offer lessons for parents of kids who play any sport. 
After all, Nic tried most of them: Hockey, baseball, soccer, basketball, golf. 
"If I didn't like it, I moved on," Nic said. "I joined the swim team for one day and remember I faked an injury and never went back because I hated it." 
Let kids try out multiple sports
"If anybody tries to make you decide between one or two or three sports at too young of an age," Dowd said, "I think those types of people need to be — I'm not gonna say cut out of your life, but I think it's the parents' responsibility to advocate for their kids to be able to try and do as much they possibly want to do. I believe playing multiple sports is the best thing for a kid. You don't want to burn him out too early and, on top of it, you just get so much better at all three sports."
Nic credits his athleticism to him chasing around his older brothers as they played sports. Alan Dowd found the differing sports still blended together. Baseball helped your hand-eye coordination at hockey, or you could kick the puck with your feet because you played a lot of soccer.
"I think you can come across parents who really push sports on their kids to the point where the kid gets burned out and doesn't want to do it anymore," says Paige Dowd, who grew up near St. Cloud, Minn., where she got into gymnastics and golf. "In Minnesota, you can see that because hockey is such a big sport that's everywhere. And so, I think when I met Nic, I realized his parents are just super supportive of whatever he wanted to do. And they provided everything he needed to get to where he is."
Paige has already enrolled Louie in tee ball, golf and soccer. And, of course, they have him on skates. They were nervous he would fall before the instructor let him go off on his on, and Louie could do it.
"I think the biggest thing in hockey and for children is confidence," Nic says.
He admits he will be disappointed if his son doesn't get into his sport.
"Yeah, for sure," he says. "I would never tell him that. If he wanted to be a musician, I'd be more than happy to sit through all those performances as well."  
Build confidence through love and advocacy
Through Dowd's Crowd, families with autistic children can apply to attend a Capitals game, after which they meet Dowd. He said the parents who advocate for their children shine through in the letters they write as part of the nomination form. 
"Those are the ones who get selected," he said. "It's not as much about raising a child as it is about cultivating a kid and allowing them to grow in the direction that they want to grow but also providing them with the ability to be safe and responsible and be loved.
'We try and let Louie know we love him every single day and how big a piece of our life he is. I don't need Louie to love me every single day, but I need him to know that he's loved every single day."
Put in the work: Youth sports takes a lot of time and coordination
Nic remembers his mom picking him up for soccer and taking him straight to hockey practice. He'd go right from a baseball game to a hockey game and vice versa. 
By the time he finished ninth grade, he was an elite travel player at all three sports and he felt he had to choose. His parents sent him to Culver Military Academy in Indiana to focus on hockey.
"His mom still talks about that," Paige said. "And now that I have my own kids, I can totally relate to how it would be sad to have them leave that young. But I think they knew in Alabama he wasn't gonna get what he needed."
Along the way, Nic's parents sent him to hockey camps in New York and Chicago. When they were home, they drove him to tournaments across the Southeast almost every weekend. 
But even if you don't have the financial means, there are simpler ways to improve. Alan Dowd, for example, was always big into making his sons better skaters. Nic said he felt being that specific was more work than play, but he regrets not listening more to his dad.
"Like the same stuff that he was harping on when I was 10 years old is literally the same stuff that people tell me in exit meetings of NHL coaches," he said. "I guess if I had to think of something that I would pass down to Lou it's that there's gonna be people that are better than you, but what you lack in talent, you can make up with in work ethic and a lot of people don't want to work. So you can build your career on outworking people. And not even in sports, but in life.
"I would try and make Lou to be, like, an incredible skater and make that the most important thing and then kind of build on top of that."
Enjoy the road trips, have fun and create memories
Liz Dowd asked Nic when he was about 5 what he wanted to be when he grew up. 
"If I don't play in the NHL, I'll be veterinarian," he told her. "I went to school for biomedicine and I ended up playing in the NHL." 
He remembers how excited his father was when he got into the St. Cloud State University, where he played hockey for four years and met Paige. 
These days, his dad, mom and brothers watch almost every Capitals game on TV. In March, Alan Dowd and brother Josh, an occupational therapist, attended a road trip to New York as part of a trip the Capitals hosted for dads and mentors to players.
"There's been two fathers trips, he's been to four games, and I have a goal in each game," Nic says. "Getting to see my dad after the game, that's a capstone memory for sure."
Capitals coach Peter Laviolette had the players introduce their special guests at a dinner. Alan, now 83 and retired from practicing family medicine, and Josh hadn't arrived yet, but Nic still thought about what he would have said:
"This is my dad, Alan. This is his second father's trip and without him, I wouldn't be standing in front of you guys today. It means everything for me to have him here and watching his kid play hockey. And now that I'm a dad, I hope I get the same moment in my life."
Steve Borelli, aka Coach Steve, has been an editor and writer with USA TODAY since 1999. He spent 10 years coaching his two sons' youth teams. He and his wife, Colleen, are now loving life as sports parents for a high schooler and middle schooler.
This post appeared first on USA TODAY