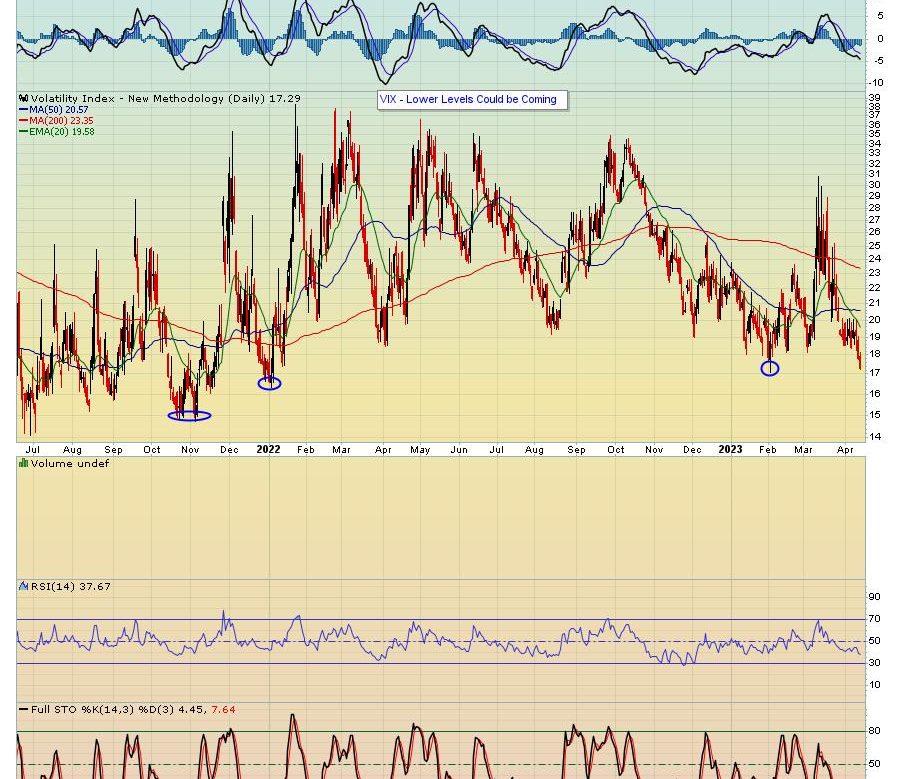 The Bull Case–Why We're Likely to See Stocks Move Higher
It might not be kitchen sink time–you know, when everything has been thrown in–but the market has been tossed a lot of curveballs lately; non-stop increase in rates, bank jitters, recession fears, and earnings fears. And yet here we are, with the bears unable to bring prices lower and keep them there.
There could be a few reasons for this. First, look at the chart on the VIX below, which is back in the 17's. Yes it's been lower in the past, but if it can move below the February low of 17.06, it could move even lower, which should bolster the bull case.
Now look at the chart below on the Ten-Year Treasury Note, which has fallen sharply since the most recent peak in early March, If the market was worried about the Fed raising rates much higher than they have, do you think the Ten Year would be as low as it is today? The answer is no. In fact, there's a growing consensus that the Fed will be lowering rates by year end. Some worry this will be because of a sluggish economy, but did you see the most recent jobs report? Yes, jobs created came in at 236,000 (still a very healthy clip) compared to the past six-month average of 334,000, but the unemployment rate fell from 3.6 to 3.5%. Americans are working and earning.
Finally, many analysts are talking about the upcoming earnings season, saying that, overall, numbers will be weak. Try telling that to JP Morgan (JPM), which rose by over 7% today after surprising nicely to the upside. In fact, given the prevailing negativity, if anything, we could see more positive surprises to the upside, which could lift the market higher.
Finally, look at the chart below on the S&P. Many analysts keep talking about revisiting last October's lows. I'm on the flip side, thinking we'll be testing last August's highs. Why? For the reasons laid out above, as well as the inability of the bears to register a knockout punch. Instead, for the past month traders, have been more than willing to buy on any dips.
I know our Chief Market Strategist Tom Bowley feels strongly that the market is setting up for a nice move to the upside. In fact, he will be laying out his case during our "Bull's Eye Forecast" webinar this Saturday, April 15, that will begin at 10:00 am eastern. This is a FREE event that you don't want to miss. Just click on this link to register and save a seat.
It's easy to get pessimistic when the market seems to be going nowhere fast. However, the fact that the market is holding, rather than sinking, is a sign that we could be in store for a decent rally soon.
At your service,
John Hopkins
EarningsBeats.com