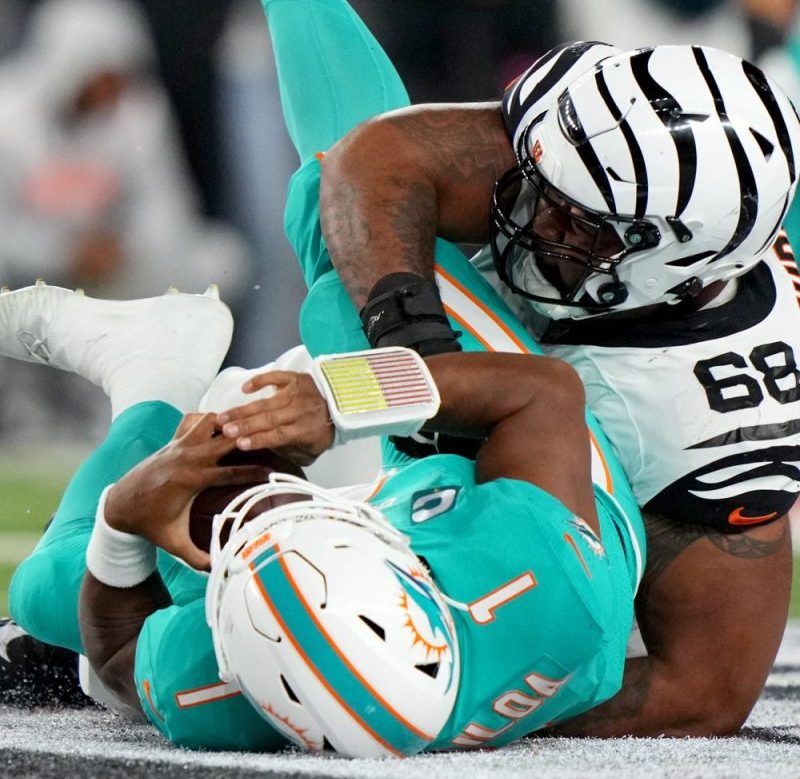 NFL, NFLPA approve new helmet QBs can wear to reduce concussions
The NFL and NFL Players Association have approved the use of a helmet specifically for quarterbacks to use to reduce concussions for the 2023 NFL season, they announced Wednesday.
The Vicis Zero2 Matrix QB helmet has a deformable outer shell that absorbs force at the point of contact before reaching the athlete's head. It has been considered the top-ranked helmet by NFL and NFLPA laboratory testing, the company's website says in its helmet product description.
The hope is the helmet reduces the severity of helmet-to-ground impacts, which NFL says accounts for half of quarterback concussions, including the one suffered by Miami Dolphins starter Tua Tagovailoa during a Thursday night game against the Cincinnati Bengals last October.
'We've now analyzed with our engineers and with the Players' Association more than a thousand concussions on field, we have a pretty good database of how these injuries occur,' NFL executive Jeff Miller told the Associated Press about the helmet-to-ground impacts.
'This helmet performs better in laboratory testing than any helmets we have ever seen for those sorts of impacts.'
The AP said NFL executives received a league memo Thursday, which stated the helmet performed 7% better than the most popular helmet worn by quarterbacks last season.
Miller told the AP seven helmets the league highly recommended in 2020 have now been downgraded to prohibited as a result of new testing.
'That's a great sign,' Miller said. 'Hopefully we can continue to stimulate that either with position-specific helmets designed for each position group or for a general all-purpose helmet to be able to say to players: 'Work with us, be willing to change helmets, because better and better products are coming online every year."
Jason Neubauer, an executive for Vicis, told AP the company began designing its Zero2 Matrix QB helmet in early 2022.
It's unknown how many quarterbacks will switch to the new QB-specific helmet.
According to the NFL's news release, position-specific helmet designs take into account the unique locations and speeds of head impacts for each position group to offer players more customized protection.
The only other position-specific helmet already approved is the Vicis Zero2-R Trench for offensive and defensive linemen.
AP contributed to this report.
This post appeared first on USA TODAY