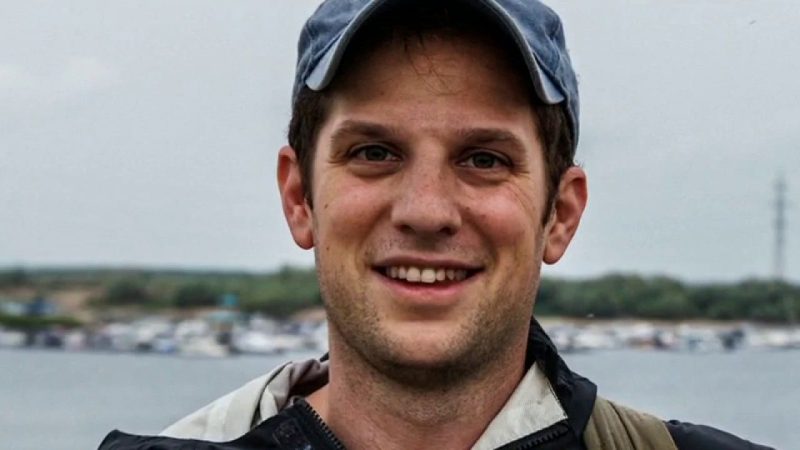 Biden slams Russia's detention of Wall Street Journal reporter Evan Gershkovich as 'totally illegal'
President Biden called the arrest of Wall Street Journal reporter Evan Gershkovich in Russia 'totally illegal' Tuesday, one day after the State Department designated him as 'wrongly detained.'
Biden also spoke with Gershkovich's family while on Air Force One en route to Northern Ireland for a state trip Tuesday, White House officials said. 
'We're making it real clear that it's totally illegal what's happening, and we declared it so – it changes the dynamic,' Biden told reporters before departing for the trip. 
The 'wrongly detained' designation frees up different federal agencies to work collaboratively across the government toward Gershkovich's release. 
He was detained March 29 in Yekaterinburg, the fourth-largest city in Russia. Russian authorities formally charged him last week with collecting 'information constituting a state secret about the activities of an enterprise within Russia's military-industrial complex,' according to Russian state media outlet Tass. 
Gershkovich, the Wall Street Journal, and U.S. officials categorically deny the spying charges. 
Attorneys hired by Dow Jones visited Gershkovich, whose parents left the Soviet Union for the U.S. in the 1970s, last week at the infamous Lefortovo prison in Moscow. 
'Psychologically it's very difficult,' Andrei Soldatov, a Russian journalist who was repeatedly interrogated at the prison for his coverage of the country's secret services, told Fox News Digital. 
'The history of this particular prison, many, many people were killed in the 1930s and 1940s during Stalin's purges, so this kind of thing creates a huge psychological pressure on you, and it doesn't help that Evan was so into Russian culture and Russian history, so maybe it would be better for someone who isn't familiar with it.'
Wall Street Journal Editor-in-Chief Emma Tucker said last week that Gershkovich is in good health despite the conditions. 
'Evan's health is good, and he is grateful for the outpouring of support from around the world. We continue to call for his immediate release,' she wrote in a message to the newsroom. 
Fox News Digital's Joseph Wulfsohn and David Rutz contributed to this report. 
This post appeared first on FOX NEWS