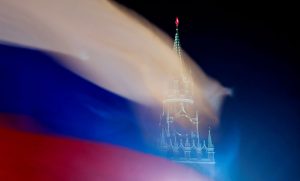 US designates WSJ reporter as 'wrongfully detained' by Russia
WASHINGTON — The United States on Monday determined that Russia has "wrongfully detained" American Wall Street Journal reporter Evan Gershkovich, effectively saying that espionage charges are bogus and that the case is political.
"Journalism is not a crime," State Department spokesperson Vedant Patel said in a statement. "We condemn the Kremlin's continued repression of independent voices in Russia, and its ongoing war against the truth."
The US government would provide all appropriate support to Mr. Gershkovich and his family, said Mr. Patel.
Mr. Patel also called for Russia to release Paul Whelan, a former US Marine serving a 16-year sentence in a Russian prison and is also designated by Washington as "wrongfully detained."
Russia's FSB security service said on March 30 it had arrested Mr. Gershkovich, accusing him of gathering information about a Russian defense company that was a state secret.
Russia's embassy in Washington did not immediately respond to a request for comment on the designation.
The Wall Street Journal has denied Mr. Gershkovich was spying. The White House has called the espionage charge, which carries a jail term of up to 20 years, "ridiculous."
US President Joseph R.  Biden has called for Mr. Gershkovich's release and Secretary of State Antony Blinken in an April 2 telephone call with his Russian counterpart Sergei Lavrov raised Washington's concerns over the reporter's "unacceptable detention."
Mr. Patel told reporters earlier that Moscow had formally notified Washington of Mr. Gershkovich's detention over the weekend, but had not yet granted US consular officials access to the journalist.
The Wall Street Journal's publisher and editor in chief said the "wrongfully detained" designation "will unlock additional resources and attention at the highest levels of the US government in securing his release." 
"We are doing everything in our power to support Evan and his family and will continue working with the State Department and other relevant US officials to push for his release," the Journal's publisher and Dow Jones chief executive, Almar Latour, and Editor in Chief Emma Tucker said in a statement after the State Department announced its decision.
Reuters was unable to reach Mr. Gershkovich's family for comment.
Responsibility for the case will now be transferred from the State Department's Bureau of Consular Affairs to the office of the Special Envoy for Hostage Affairs, raising the issue's political profile and allowing the government to allocate more resources to securing Mr. Gershkovich's release.
Legislation passed by Congress in 2020 lists 11 criteria to help determine if a US citizen is "wrongfully detained." The US Secretary of State uses these criteria to make the designation, but a case does not need to fulfill all 11 points to merit the "wrongfully detained" label.
The list includes, among other things, that the individual is being targeted primarily because they are an American citizen or that the detention is intended to influence US government policy.
Another factor is whether the individual is being held in "inhumane conditions" or was detained in a country where the US mission has received credible reports that the detention is merely a pretext.
The Biden administration has secured the release of at least 25 "wrongfully detained" Americans. More than 30 other US citizens are still being held abroad with that designation. — Reuters