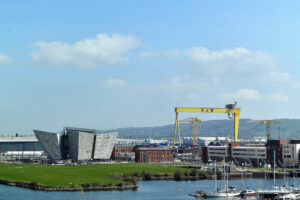 UK PM Sunak to meet Biden in Northern Ireland
LONDON — British Prime Minister Rishi Sunak will meet Joseph R. Biden in Northern Ireland next week when the US president flies in to take part in events to mark the 25th anniversary of the Good Friday peace accord.
Having helped broker the 1998 deal, the United States remains an influential voice in Northern Ireland's politics and has sought to protect the peace from the strains caused by Britain's exit from the European Union (EU).
Mr. Sunak will greet Mr. Biden on Tuesday evening when Air Force One lands for what will be a closely watched visit to both sides of the Irish border at a time of heightened political uncertainty in Northern Ireland.
Mr. Sunak hosts a gala dinner on Wednesday to commemorate the anniversary, his office said in a statement setting out some details of his itinerary.
Mr. Biden, who often speaks proudly of his Irish roots, will also spend time in the Irish Republic, where he will visit Dublin and his two ancestral homes.
The Good Friday Agreement — signed on April 10, 1998 — largely ended three decades of sectarian bloodshed that had convulsed Northern Ireland since the late 1960s.
However, the anniversary has been overshadowed by a year-long boycott by Northern Ireland's largest pro-British unionist party of the power-sharing devolved government central to the peace deal. The Democratic Unionist Party is angry about post-Brexit trade rules that treated the province differently to the rest of the United Kingdom (UK).
In March, Britain's MI5 intelligence agency increased the threat level in Northern Ireland from domestic terrorism to "severe" — meaning an attack is highly likely — though the move was not thought to be linked to the anniversary.
Mr. Biden clashed with the British government at times during Brexit talks, but has spoken in support of a recently agreed UK-EU deal to address some of the tensions caused by the original Brexit agreement.
Although that deal has so far failed to restore the devolved government in Northern Ireland, Mr. Sunak will seek to bolster his support for the province by announcing a summit later in the year to stimulate international investment. — Reuters