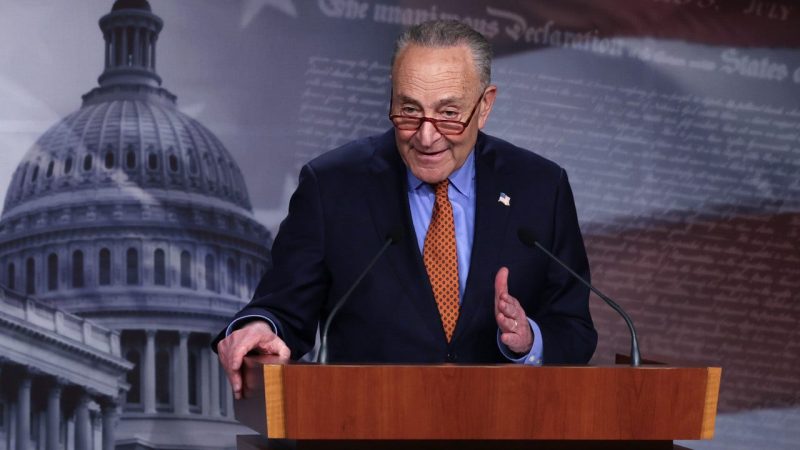 Schumer says judge's mifepristone abortion pill ruling 'could throw our country into chaos'
Senate Majority Leader Chuck Schumer, D-N.Y., railed against a Texas judge's decision to halt Food and Drug Administration (FDA) approval of the abortion pill mifepristone, warning that it 'could throw our country into chaos.' 
'This right-wing MAGA judge, in his zeal to impose his own views on the American people, has suspended this long time FDA-approved medication over the agency and the drug manufacturer's opinion,' Schumer told reporters on a press call Saturday.
In a highly controversial ruling, Trump-appointed U.S. District Judge Matthew J. Kacsmaryk issued an injunction against the FDA's approval of mifepristone while a lawsuit challenging the drug's safety and approval proceeds through federal court. The order is set to take effect seven days from the ruling. 
'Before Plaintiffs filed this case, FDA ignored their petitions for over sixteen years, even though the law requires an agency response within '180 days of receipt of the petition,'' Kacsmaryk wrote in his opinion. 'Plaintiffs have credibly alleged past and future harm resulting from the removal of restrictions for chemical abortion drugs.'
The order was received with shock and indignation from the drug's manufacturer, Danco Laboratories, as well as abortion rights groups and Democratic lawmakers. The Department of Justice took immediate action to appeal Kacsmaryk's ruling to the U.S. Court of Appeals for the Fifth Circuit.
Democrats said the ruling was part of a Republican-led plot to ban abortion nationwide and strip away women's rights. Schumer claimed that the court's decision opened the door for other FDA-approved medications to be taken away by 'extreme plaintiffs' who come before any 'extreme judge' and 'get their way.' 
'What could come next if some fringe radical group brings a lawsuit? Cancer drugs? Insulin? Mental health treatment?' he asked. 
'Make no mistake, the decision could throw our country into chaos. It'll set a dangerous new precedent, and it will put lives in jeopardy,' the Democratic leader said.
Sen. Patty Murray, D-Wash., who was also present on the call, added that the Texas ruling was part of an overarching Republican-led effort to capture the courts and ban abortion nationwide. 
'This ruling is not about science, it is about ideology,' she said. 'It is not about protecting women. It's about controlling their bodies. It is cruel, and it flies completely in the face of all reason and logic. And let's not forget, this dangerous ruling threatens to absolutely upend FDA's ability to approve all kinds of other safe medications, everything from insulin to chemotherapy drugs.' 
Mifepristone, under the brand name Mifeprex, is part of a two-drug regimen that first blocks hormones needed to keep an unborn baby alive and then causes cramps and contractions to expel the dead fetus from the mother's womb.
The drug was approved by the FDA in 2000. Since then, medication abortions, also called 'chemical abortions,' have grown in popularity and now make up nearly 60% of all abortions in the United States. More than five million women in the United States have used mifepristone to abort their pregnancies, according to the drug's manufacturer. 
In the Texas case, four pro-life national medical associations and four doctors, represented by attorneys from the Alliance Defending Freedom (ADF), argue that the FDA 'chose politics over science' when it granted approval to mifepristone. Their lawsuit contests the FDA's decision to define pregnancy as an 'illness' and its finding that mifepristone provides a 'meaningful therapeutic benefit' to women seeking an abortion, which expedited the drug's approval. 
'The FDA never studied the safety of the drugs under the labeled conditions of use, ignored the potential impacts of the hormone-blocking regimen on the developing bodies of adolescent girls, disregarded the substantial evidence that chemical abortion drugs cause more complications than surgical abortions, and eliminated necessary safeguards for pregnant girls and women who undergo this dangerous drug regimen,' according to ADF. 
Nancy Northup, the CEO of the Center for Reproductive Rights, said the lawsuit and Kacsmaryk's decision have 'zero basis in law or fact.' 
'The judge relied on junk scientists who have been repeatedly discredited by many other courts as unreliable. His predetermined views are reflected throughout the opinion in his use of stigmatizing rhetoric of the anti-abortion rights movement,' Northup asserted. 
'This legal ruling is unprecedented. No medicine has ever been removed from the market over the FDA's scientific objections. And while baseless, this decision could have a devastating impact if allowed to go into effect,' she said. 
Pro-life groups applauded the decision as life-saving for unborn children and mothers. Texas Right to Life pointed to studies that show one in five women experience an adverse event after taking the abortion pill and that the rate of complications for medication abortions is four times higher than surgical abortions. Danco Laboratories, which sells Mifeprex, acknowledges that 3% of women who take the pill will 'require surgical intervention for ongoing pregnancy, heavy bleeding, incomplete expulsion, or other reasons such as patient request.'
'The FDA exists to protect Americans from dangerous drugs, yet it repeatedly ignored its legislative purpose in order to promote elective abortion at the expense of pregnant women and their preborn children,' Texas Right to Life President Dr. John Seago said in a statement.
Physicians have said medication abortions are safe and effective. 
'They are incredibly safe,' Dr. Emily Godfrey, an associate professor of family medicine and obstetrics and gynecology at the University of Washington School of Medicine, told The Associated Press in 2022. 'Less than 1% of people who have sought a medication abortion have had complications.'
Fox News' Adam Sabes and the Associated Press contributed to this report.
This post appeared first on FOX NEWS