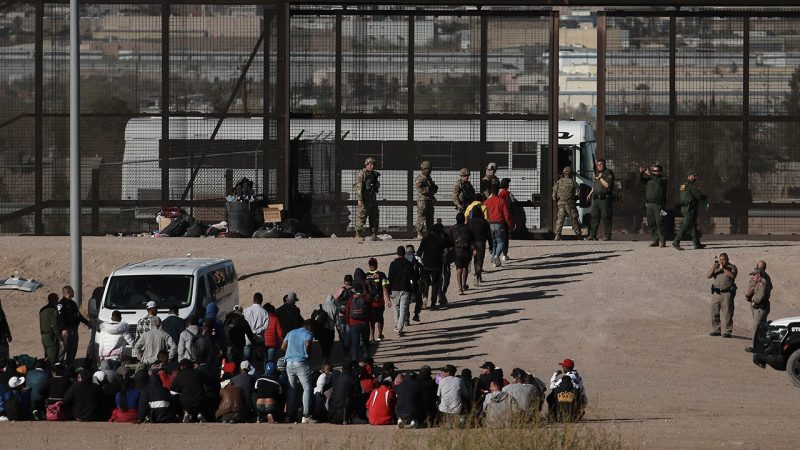 Biden admin to hold migrants' 'credible fear' screenings in CBP facilities as border prepares for surge
The Biden administration will soon begin holding 'credible fear' screenings for migrants claiming asylum at Customs and Border Protection (CBP) facilities as the Department of Homeland Security gears up for a potential surge in migrants next month when the Title 42 public health order ends.
DHS confirmed to Fox News Digital that the agency is working with legal service providers 'to provide access to legal services for individuals who receive credible fear interviews in CBP custody.'
'This is part of a planning effort underway to initiate a process that would allow migrants to receive credible fear interviews from specially trained U.S. Citizenship and Immigration Services [USCIS] officers while still in [CBP] custody,' spokesperson Marsha Espinosa said.
The credible fear interview is the first step for migrants claiming asylum and is a significantly lower bar than the ultimate asylum decision, which can take years to be decided in immigration court. It requires that migrants show there is a 'significant possibility' they could establish before an immigration judge a credible fear of persecution if they were returned to their country of origin.
While the ultimate decision is made by a federal judge, credible fear screenings are typically carried out by USCIS. Some Republicans have expressed concern that many migrants are being released into the U.S. without even being referred for a credible fear hearing.
CNN first reported the development, which it said would take place on a pilot basis. 
DHS stressed that that would still be the case in the new program, but that they will just be in CBP custody.
DHS said the process is designed to ensure that migrants have access to legal service providers, and said the efforts would inform best practices if credible fear interviews are expanded.
However, it is likely to upset some immigration activists as it is similar in some ways to a Trump-era policy — the Prompt Asylum Claim Review (PACR) pilot program — which was intended to hold screenings in custody quickly and remove those who are ineligible. However, this program will differ in that migrants will be offered legal services — something the PACR program was faulted for failing to provide adequately.
The move marks the latest policy move by the administration as it prepares for the end of Title 42 on May 11. The COVID-era order has been used to quickly expel hundreds of thousands of migrants at the border due to the pandemic and will expire with the end of the federal public health emergency.
DHS officials have previously predicted a dramatic increase in migrant traffic when the order ends and have taken a number of steps to counter any such surge.
Most notably, the administration has proposed a rule that would make migrants ineligible for asylum if they cross the border illegally and have also passed through a third country without claiming asylum there first. That move has also drawn criticism from the left for what they see as an attack on the right to asylum.
Homeland Security Secretary Alejandro Mayorkas recently defended his agency's handling of the border crisis amid a barrage of criticism from Republicans at multiple House and Senate hearings. His agency has called for additional funding for ports of entry and processing capabilities, among other requests.
This post appeared first on FOX NEWS