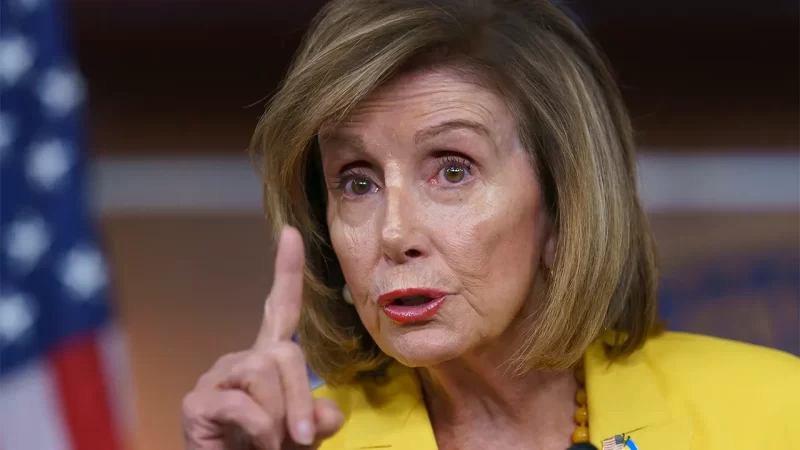 Pelosi praises McCarthy's 'leadership' after Taiwan meeting
Former House Speaker Nancy Pelosi, D-Calif., praised her Republican successor Wednesday after his meeting with Taiwanese President Tsai Ing-wen in California.
The veteran lawmaker released a brief statement on the meeting just after House Speaker Kevin McCarthy, R-Calif., wrapped a press conference to conclude the day's events at the Ronald Reagan library in Simi Valley.
'Today's meeting between President Tsai of Taiwan and Speaker McCarthy is to be commended for its leadership, its bipartisan participation and its distinguished and historic venue,' Pelosi said. 
She previously made a historic trip to Taiwan last year, the first House Speaker to do so since Newt Gingrich in 1997 despite warnings from Beijing and even members of the Biden administration. It earned bipartisan praise, though the Chinese government's aggressive response prompted fears of an imminent invasion.
This time, McCarthy led a group of House Democrats and Republicans to meet with Taiwanese officials against the backdrop of an increasingly aggressive China. He remarked on the strained relations between Beijing and its regional neighbors as well as the U.S. at the outset of the press conference.
'We live in a decisive moment in history and must act with urgency,' the House speaker said.
'Tensions in the world are at the highest point since the end of the Cold War. As authoritarian leaders seek to use violence and fear to provoke needless conflict, the bond between the people of America and Taiwan is foundational and longstanding,' he added.
He made clear, however, that he was not seeking a change in national posture when asked about the U.S. government's 'One China' policy, the government's protocol that does not recognize Taiwan as an independent nation.
'We have no difference of opinion,' he said regarding the policy first imposed under the Nixon administration.
McCarthy also cited President Reagan's 'six assurances' to Taiwan related to its foreign policy and defense, saying, 'That is currently American policy and that is still American policy. That's the policy that we support here.'
Despite the growing tensions with China, McCarthy praised French President Emmanuel Macron for his diplomatic trip to Beijing.
'I don't think what Macron's doing is conflicting here,' he said when asked about whether the fellow Western leader's trip undermines U.S. lawmakers' solidarity with Taiwan.
'I think it's great that Macron is meeting with China. I hope he delivers a message not to fund Russia's war in Ukraine,' McCarthy said. 'I hope he delivers a message that democracy makes the world safer and stronger. I hope he delivers a message that Americans meeting with President Tsai is positive for the same aspect that he is meeting with President Xi.'
This post appeared first on FOX NEWS