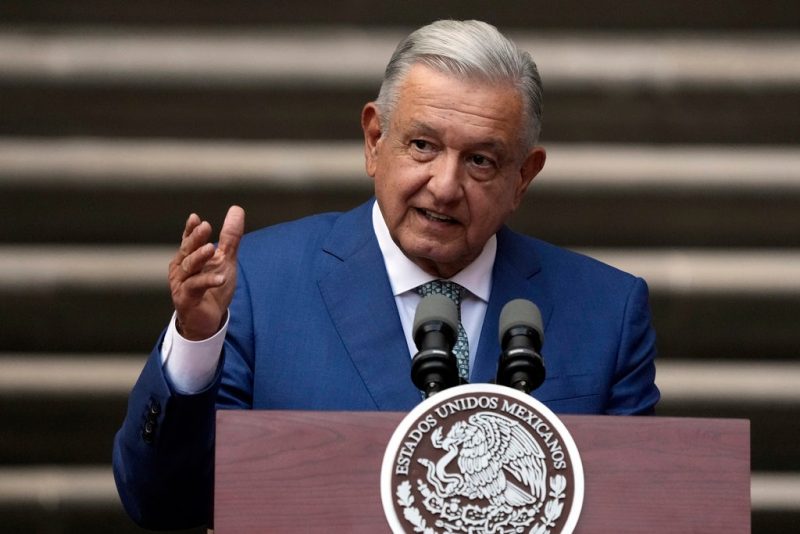 Mexico president opposes charges brought against Trump, calling them political
Mexico President Andrés Manuel López Obrador suggested on Wednesday that the charges brought against former U.S. President Donald Trump were politically charged and presented during an election cycle, adding he opposed such charges, according to reports.
Trump was indicted on 34 counts of falsifying business records in the first degree on Tuesday, while he continues to campaign for reelection to serve as the U.S. Commander in Chief.
López Obrador went on to explain the actions taken by Manhattan District Attorney Alvin Bragg were 'the degradation of due respect for the law.'
'I don't agree with what they are doing to former President Donald Trump,' the Mexican president said. 'I do not know if crimes were committed, it's not my place.'
López Obrador made the comments during a news briefing on Wednesday morning.
'Supposedly legal, judicial issues should not be used for political, electoral purposes,' he said. 'Don't make up crimes to affect adversaries.'
López Obrador made comments in March about Trump's ongoing legal battle with Bragg's office, appearing to side with Trump. López Obrador also suggested, before the indictment was handed down, that it was a way to prevent the former president from winning the White House in 2024.
López Obrador has served as Mexico's president since 2018 and historically often disagreed with Trump.
But when it came to the indictment, López Obrador insisted the charges were fabricated, as he too has been the center of attempts to prevent him from obtaining political office.
Trump pleaded not guilty to the 34 counts of falsifying business records in the first degree.
The charge is typically a misdemeanor, though in New York it could rise to felony status when a defendant's 'intent to defraud includes an intent to commit another crime or to aid or conceal the commission thereof.'
Bragg has accused the former president and his associates of using a 'catch and kill' scheme to hide potentially damaging information ahead of the 2016 election.
Bragg said Trump created 34 false entries in New York business records to conceal a $130,000 payment.
The indictment is the result of a multi-year investigation conducted by Manhattan prosecutors, into hush-money payments allegedly made by the former president to former Playboy model Karen McDougal and adult film actress Stormy Daniels. The two women alleged they had affairs with Trump, though he denies the accusations.
The Associated Press and Paul Best of Fox News Digital contributed to this report.
This post appeared first on FOX NEWS