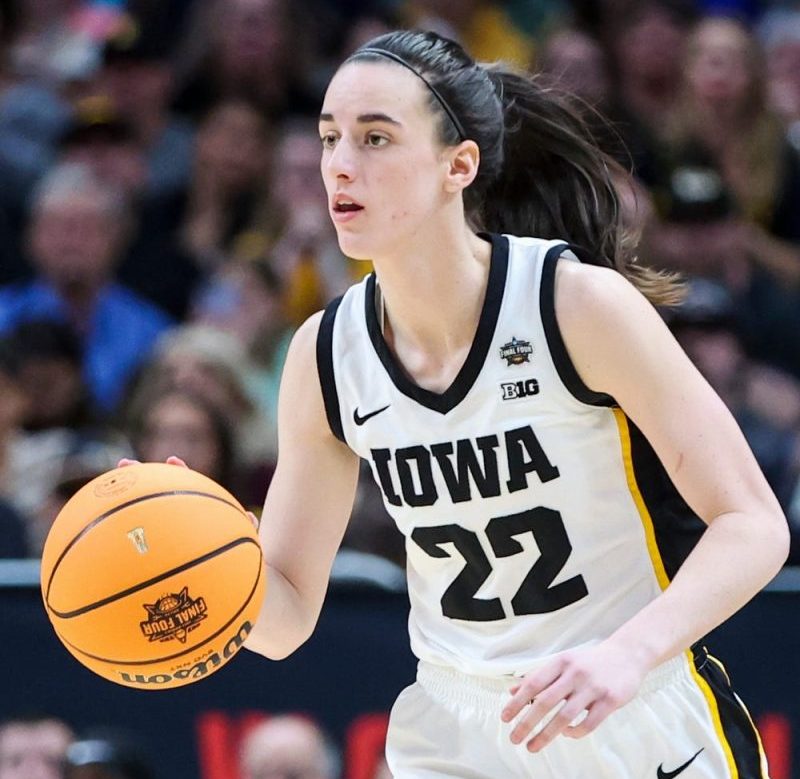 Caitlin Clark speaks on Angel Reese criticism, invitation to White House
Despite losing the national championship on Sunday to the LSU Tigers, Iowa's Caitlin Clark had a stellar season where she raked in records and awards.
One more honor was bestowed on her Tuesday when she was presented the John R. Wooden Women's Player of the Year Award during 'Outside the Lines' on SportsCenter. This follows her being named the Naismith Women's College Player of the Year, The Associated Press women's basketball Player of the Year and this year's recipient of the Wade Trophy.
"This is a huge honor, this is one of the most prestigious, obviously all of these awards are a big deal,' she said on the broadcast. '… Coach Wooden is a legend. It's just a big honor to win an award in his name."
During the segment, Clark spoke about her season, competing against LSU star Angel Reese and First Lady Jill Biden's invitation to the White House.
Caitlin Clark praises Angel Reese, says LSU player shouldn't be criticized for taunt
During the national championship game, Reese taunted Clark with the 'You Can't See Me' gesture. Clark also taunted the Louisville Cardinals in the same way in the Elite Eight. The Iowa star received praise from John Cena for using his signature celebration. But Reese received criticism online for her action, being called 'classless,' among other names.
Clark said that she 'honestly didn't see (Reese's taunt) when the game was going on' and that it was wrong for people to criticize Reese, who was named the Most Outstanding Player of the Final Four, when the emotion and passion is what gets people to watch the game. The ABC broadcast of the national championship had an average viewership of 9.9 million people, the most ever for a women's college basketball game.
"I think the biggest thing is we're all competitive. We all show our emotions in a different way. Angel's a tremendous, tremendous player. I have nothing but respect for her. I love her game, the way she rebounds the ball, scores the ball is absolutely incredible. I'm a big fan of her,' Clark said, noting that she hasn't been on social media much since the loss and said the game was 'super, super fun.'
Many people said that the difference of reaction was due to racism. Clark is white and Reese is Black.
"No matter which way it goes, she should never be criticized for what she did,' Clark continued. 'I'm just one that competes and she competed. I think everybody knew there was going to be a little bit of trash talk in the entire tournament. It's not just me and Angel, I don't think she should be criticized."
Caitlin Clark says White House visit should just be for LSU
Clark also addressed First Lady Jill Biden's idea to invite both the Tigers and Hawkeyes to the White House after the national championship game. Traditionally, only the champion is given an opportunity to visit the President.
"I don't think runner-ups usually go to the White House,' she said. 'I think LSU should enjoy that moment for them. Congratulations, obviously, they deserve to go there. Maybe I can go to the White House on different terms, though.'
Biden has since taken back her proposal, with her press secretary saying the comments 'were intended to applaud the historic game and all women athletes.'
The First Lady was in attendance at the national championship in Dallas and Clark expressed her appreciation for the many celebrities and legends of the game, including four-time WNBA champion and LSU alumna Seimone Augustus and WNBA All-Star and 2018 college national champion Arike Ogunbowale.
'I'm just lucky enough that there were some really cool people in the arena at that championship game Sunday night,' Clark said. 'There were some really highly sought after people watching and supporting women's basketball and that's exactly what this game needs. I appreciate the First Lady being in the house and watching both teams and supporting the greatness of women's basketball."
Caitlin Clark reflects on 2022-23 season
Clark said it's going to take some time for her to process the 'whirlwind' of March Madness. 
'It's honestly probably pretty hard for me to wrap my head around,' she said. 'It will probably take me a few weeks to reflect on the whole year.'
As a junior, she will return to the Hawkeyes next season and attempt to return to the Final Four, but Clark isn't quite ready to move on yet.
'I know we played the maximum amount of games,' she said, 'but I'm just kind of sad it's over.'
This post appeared first on USA TODAY