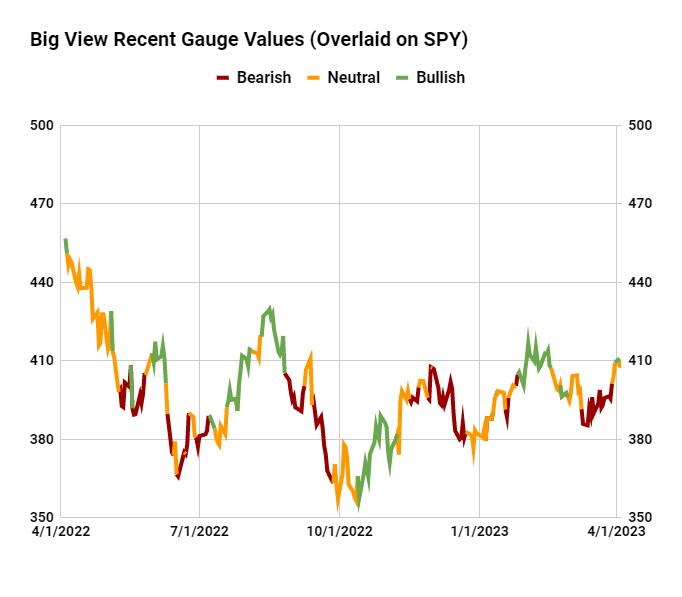 Bonds, Eurodollar, Metals, Oil, and a Pick
In the last few Daily blogs, we have covered a lot, from the silver to gold ratio, to long bonds, to the Euro vs. the dollar. And that's not all!
We have looked at the 23-month moving average and how that has been an incredibly reliable indicator to assess where the economy might be going–or if it is going nowhere. We also covered the agricultural ETF DBA, sugar futures and their significance–and most recently, looked at Utilities.
For today, we posted a short 11-minute video that I do for CMCMarkets in the U.K.
And please take some time to listen to a podcast with Madam Trader's host Ashley Kyle Miller, recorded March 20th!
Chart is from Big View-Risk On/Risk Off Indicator using SPY.
For more detailed trading information about our blended models, tools and trader education courses, contact Rob Quinn, our Chief Strategy Consultant, to learn more.
IT'S NOT TOO LATE! Click here if you'd like a complimentary copy of Mish's 2023 Market Outlook E-Book in your inbox.
"I grew my money tree and so can you!" – Mish Schneider
Get your copy of Plant Your Money Tree: A Guide to Growing Your Wealth and a special bonus here.
Follow Mish on Twitter @marketminute for stock picks and more. Follow Mish on Instagram (mishschneider) for daily morning videos. To see updated media clips, click here.
Mish talks about Dominion Energy with Angela Miles in this appearance on Business First AM.
Mish chats with Neils Christensen on Oil and Gold in this article from Kitco.
See Mish's presentation at Real Vision's Festival of Learning, exclusively available for Real Vision members.
Mish talks with CNBC Asia about hope, fear, and greed, and what could happen going forward.
Coming Up:
April 6th: Making Money with Charles Payne on Fox Business
April 13th: The Final Bar with David Keller on StockCharts TV
April 24-26: Mish at The Money Show in Las Vegas
May 2-5: StockCharts TV Market Outlook
ETF Summary
S&P 500 (SPY): 405 support, 410 pivotal.Russell 2000 (IWM): 170 support, 180 resistance still.Dow (DIA): Confirmed bullish phase and inside day through 336.25, could go higher.Nasdaq (QQQ): 325 resistance, 314 10-DMA support.Regional Banks (KRE): 41.28 March 24 low.Semiconductors (SMH): 247 is the most significant support.Transportation (IYT): 219 the 200-week moving average to hold if good.Biotechnology (IBB): Exhibiting leadership-especially if clears 130.Retail (XRT): Don't want to see this break under 59.75; best if clears 64.50.
Mish Schneider
MarketGauge.com
Director of Trading Research and Education