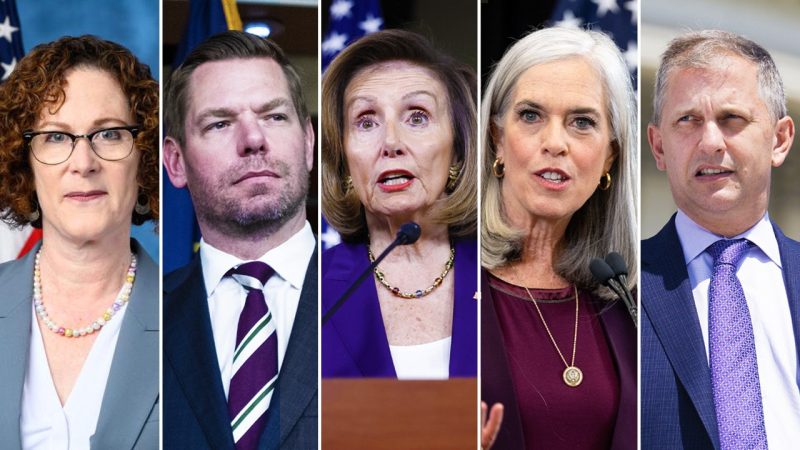 Dems who accused Trump of trying to jail opponents voice support for Trump grand jury indictment
Some House Democrats who previously condemned former President Donald Trump for threatening to jail political opponents had a different reaction after a Manhattan grand jury's decision to bring criminal charges against the leading Republican presidential candidate.
'Threatening to jail political opponents is something despots do. This is dangerous and beneath our great country,' Rep. Katherine Clark, D-Mass., the House Minority Whip, said on Twitter during an October 2016 presidential debate between Trump and former Democratic presidential nominee Hillary Clinton.
At the time Clark made her comments, Clinton was embroiled in an email scandal that threatened to derail her candidacy. Trump leaned hard into the scandal in the closing weeks of the campaign, with the phrase 'lock her up' becoming a common rallying cry at many Trump campaign events.
But Clark has indicated no such issues following Trump's indictment, saying in a Thursday statement 'no one is above the law' and that the process must continue 'unimpeded and free from' political interference. 
'Fundamental to the strength and survival of democracy is the principle that no one is above the law – including a former President of the United States,' Clark said. 'We must allow the judicial process to continue unimpeded and free from any form of political interference or intimidation. This is not a time for partisanship, but for all Americans to act peacefully and put their faith in the justice system.'
'Core to our democracy is the rule of law,' Clark tweeted earlier this month. 'And yet the former president is calling for violence and the Speaker of the House is coming to his defense. This extreme behavior is dangerous and unpatriotic.'
After a years-long investigation from Manhattan District Attorney Alvin Bragg's office, a Manhattan grand jury voted Thursday to indict Trump. The exact charges of the indictment are still under seal, but Trump attorney Joe Tacopina said Thursday evening Trump could face more than 30 counts next week when he's arraigned.
In August 2018, former House Speaker Nancy Pelosi, D-Calif., shared a quote from a New York Times article that warned Trump would turn 'authoritarian' if Republicans were able to win that year's midterm elections.
'If Republicans hold both houses of Congress this November, Trump will go full authoritarian, abusing institutions like the I.R.S., trying to jail opponents and journalists… and he'll do it with full support from his party,' read the quote, which Pelosi shared on Twitter.
But after news of the Trump indictment, Pelosi shifted her tone, suggesting that in a statement that her political opponent Trump would have to 'prove' his innocence in court and that 'no one is above the law.'
'The Grand Jury has acted upon the facts and the law,' Pelosi said. 'No one is above the law, and everyone has the right to a trial to prove innocence. Hopefully, the former President will peacefully respect the system, which grants him that right.'
Many criticized Pelosi's claim that Trump has the right to a trial 'to prove innocence.' A cardinal principal of the justice system in the United States is that any person accused of a crime is presumed innocent until proven guilty beyond a reasonable doubt in a court of law.
Pelosi recently lashed out at Trump's social media posts about the possibility of being arrested, calling the former president 'reckless' and accusing him of fomenting 'unrest.'
Like Pelosi, Rep. Sean Casten, D-Ill., shared the same New York Times article in August 2018. Casten recently took aim at House Speaker Kevin McCarty for opposing the indictment of Trump, arguing McCarthy should 'treat [his] job with the dignity it deserves' in a post on Twitter.
'This is transparent political hackery unbefitting of the Speaker of the House,' Casten said earlier this month in response to McCarthy. 'You don't what the charges are but you know exactly what violence he is capable of when he can count on people like you to cower rather than act.'
Following the indictment of Trump, Casten put out a one word reaction on Twitter: 'Boom.'
Casten took further aim at McCarthy in a followup tweet on Thursday after the speaker claimed Bragg 'has irreparably damaged our country in an attempt to interfere in our Presidential election.'
'You know nothing about the charges. But thank you for reminding us of your unredeemable cowardice,' Casten wrote.
Casten, who has represented Illinois in the House since 2019, also took aim at the Republican Party in a separate tweet, saying he wouldn't have been elected if Republicans 'had put country over Trump in 2016.'
'I have not yet read the indictment. But I never would have ended up in this job if anyone of any power in the @GOP had put country over Trump in 2016,' he wrote. 'Their continuing obsequious, ignorant cowardice tonight disgusts me. And I'm glad good people stood up even as they sat.'
Like Clark, Rep. Val Hoyle, D-Ore., was also critical of Trump's rhetoric during the October 2016 debate with Hillary Clinton, taking to Twitter to share a quote from Jefferson Smith, a former Oregon lawmaker, in apparent shock of Trump's remarks.
'A man running for president threatened to put his political opponents in jail,' read the quote Hoyle shared at the time.
'Yep. That just happened,' Hoyle said in reference to remarks made by Trump.
But Hoyle has gone silent following the indictment of Trump. As of Friday, Hoyle has yet to comment on the matter via social media or through a press release on her website.
Hoyle's office did not immediately respond to Fox News Digital about the indictment.
Another prominent House Democrat, Rep. Eric Swalwell of California, was also critical of Trump's calls to jail Clinton following the 2016 election, arguing that such rhetoric threatened to make the U.S. a 'banana republic.'
'Glad he's not making us a banana republic by jailing foes,' Swalwell said of Trump in November 2016, adding that he was still 'angry' Trump 'lied so blatantly on this & other things to win.'
However, after the Trump indictment was revealed Thursday, Swalwell did not denounce the decision, but said it marked a 'somber day' in America and that Trump 'deserves every protection provided to him' by law.
'The indictment of a former president is a somber day for America,' Swalwell wrote in a tweet. 'It's also a time to put faith in our judicial system. Donald Trump deserves every protection provided to him by the Constitution. As that unfolds, let us neither celebrate nor destroy. Justice benefits us all.'
In recent weeks, Swalwell targeted McCarthy for the speaker's apparent lack of support for an indictment of Trump.
'The guy who created a committee to look into 'weaponization of government' is using his powers in government to stop an independent prosecution of his boss,' Swalwell said of McCarthy on Twitter earlier this month.
Bragg requested that Trump surrender to his office Friday, but a source familiar told Fox News Digital that timeline was extended due to arrangements needed to be made by Secret Service. The source told Fox News Digital Trump will 'most likely' surrender on Tuesday.
The indictment of the Trump comes after Bragg has been investigating Trump for hush money payments made leading up to the 2016 presidential election. These include the $130,000 payment made to adult film actress Stormy Daniels, and the $150,000 payment made to former Playboy model Karen McDougal.
Fox News reported and revealed in 2018 a series of hush money payments made to both McDougal and Daniels, and the U.S. Attorney's Office in the Southern District of New York and the Federal Election Commission both investigated those payments.
Federal prosecutors in the Southern District of New York opted out of charging Trump related to the Daniels payment in 2019, even as Michael Cohen, a former Trump attorney, implicated him as part of his plea deal. The Federal Election Commission also tossed its investigation into the matter in 2021.
Fox News' Brooke Singman and Lorraine Taylor contributed to this article.
This post appeared first on FOX NEWS