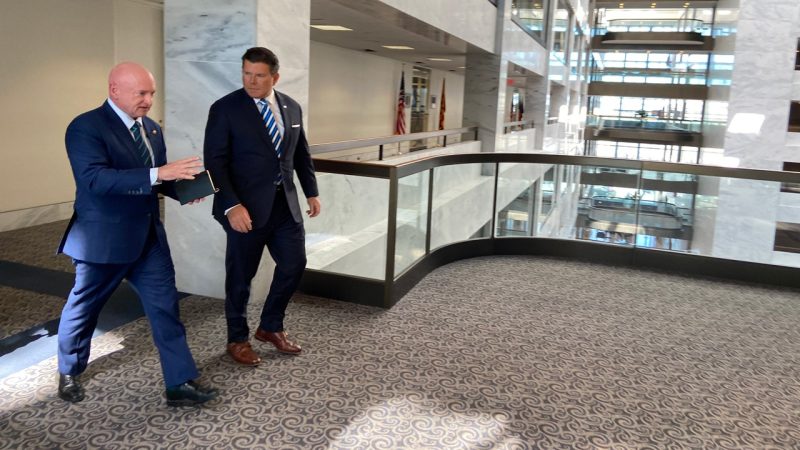 Whatever happened to the global chip shortage?
President Biden has been traveling across the country to meet with state leaders in an effort to ramp up semiconductor production across the United States.
'America is coming back. We're determined to lead the world in the manufacturing of semiconductors,' President Biden said Tuesday.
In 1990, the U.S. produced around 37% of chips used around the world. That percentage has plummeted over time to just 12%. Constructing and operating a fabrication facility, or 'fab,' in the U.S. became more expensive. Costs soared 25% to 50% higher than abroad. 
'We sort of had this blasé attitude that if we had the MIT graduates here, we won the Nobel Prizes here, we did the design here. Manufacturing didn't matter,' Rep. Ro Khanna, D-Calif., said. 'Both parties just watched as industry after industry went offshore. Whether that was steel, whether it was aluminum, and unfortunately, all of the semiconductor production.'
Nearly three years ago, the coronavirus pandemic exposed the first signs of U.S. vulnerability when it came to semiconductor manufacturing.
'The reality is we had a whole world clambering for electronics to work at home and to study at home, and those electronics are chock full of chips. So, no surprise, demand for chips just went off the charts,' Semiconductor Industry Association President John Neuffer said. 
Sen. John Cornyn, R-Texas, said shortages of masks and gloves revealed other vulnerabilities in U.S. manufacturing, since many items needed during the pandemic were made in China. He worked alongside Democratic colleagues including Virginia Sen. Mark Warner and Arizona Sen. Mark Kelly to look into other products made almost exclusively overseas.
'The advanced semiconductors that operate everything from your cell phone to the F-35 to Javelin and Stinger missiles, virtually all of that was made in Asia and not here in America anymore,' Cornyn said.
Neuffer said most U.S. fabs were operating at full capacity but they couldn't keep up with the demand needed.
Biden signed the CHIPS and Science Act into law last year following a bipartisan push from lawmakers. It's incentivized companies to build and manufacture on U.S. soil.
'We eventually were able to catch up. That's the short term. The CHIPS Act is really for the long term,' Neuffer said. 'There's been an overconcentration of certain aspects of our supply chain and what we're trying to do right now is diversify. Right now, 75% of manufacturing has happened in Asia. That's been in East Asia. That's probably too much.'
Commerce Secretary Gina Raimondo spoke about the CHIPS for America Program on 'Special Report' this past February. Semiconductor companies have been able to apply for those incentives through the initiative.
'Congress has sent $52 billion to us here at the Commerce Department and it's our job to invest that, working with companies to make chips in America,' Raimondo said. 'Every governor out there thinks the next chip factory will be in their state. They will compete. I'm sure they'll put incentives on the table and that's what they should do.'
Many companies began breaking ground on new facilities and expansions before the CHIPS Act was officially signed, including New York-based GlobalFoundries.
'We need the right economics to continue to add capacity in the U.S.,' GlobalFoundries CEO Thomas Caulfield said. 'We have a facility that needs to grow to full scale in upstate New York in what we call Fab 8. The chips will be an integral part of the economics to close the funding gap, to create that capacity that can compete globally against all the players in manufacturing.'
Since the end of 2022, at least 23 new chip fabs have been announced and nine will increase production, according to the Semiconductor Industry Association. Companies including Intel and TSMC have announced plans to build new fabs in Arizona.
'Nationwide, we have suppliers that all over the country that'll be providing the tooling and the materials needed to build the best semiconductor chips in the world,' Kelly said. 'These are also jobs that you don't need a four-year degree to get and you can actually get a salary you can raise a family on.'
Private investments topping $210 billion in all are expected to help create around 44,000 jobs in the industry. Over $60 billion is being invested in Texas manufacturing. Companies including Samsung and Texas Instruments are planning new facilities in that state.
'It takes a while to change, to open up diverse sources, so it's probably going to be 2024 until you see manufacturing,' Cornyn said. 'But Texas Instruments is expanding their current footprint. Samsung in Texas, Intel in Ohio, Micron in New York, so all this takes a little while, but we've got not a minute to waste.'
U.S. domestic production is expected to increase in the near future, but competing abroad with Taiwan could take some time.
'I would say it's going to take us years. The CHIPS funding gives us the tools we need to start manufacturing these semiconductor chips here,' Kelly said. 'What it means for our country: that we don't have to go across the Pacific Ocean to get something so critical that's in everything that has an on/off switch.'
Caulfield pointed out it took around three decades to create the imbalance in semiconductor production around the world.
'This didn't happen overnight for our industry,' Caulfield said. 'It's going to take decades to correct that issue. So this is a good start and the sooner we get going on this as an industry, the better we'll be.'
The shortage has also eased, but technology is enhancing, and the demand for chips is expected to grow.
'If you've ever sat in an electric car or you have a big display panel, that all requires a lot of chips,' Neuffer said. 'Where we have 5G now, we're going to be moving to 6G. These are all products that require a ton of chips. The combination of existing and emerging markets for chip technology suggests demands for semiconductors are going to be very, very high for the years and decades ahead.'
Lawmakers and experts have agreed it's not just semiconductor manufacturing that needs to step up. 
'Our products, our cars, our dishwashers, our dryers, our refrigerators are still not produced in the United States,' Khanna said. 'I don't want a situation where the advanced chips are made in America, but everything consumers buy is made in China, so we need to do a lot more.'
Caulfield agreed and said U.S. manufacturing for products requiring chips needed to keep up with U.S. semiconductor production. 
'Probably the biggest issue we still need to contend with is to make sure the demand for all this capacity we want in the U.S. materializes,' Caulfield said. 'The last thing we want to do is in industry, create capacity in the U.S. and have it go underutilized.'
This post appeared first on FOX NEWS