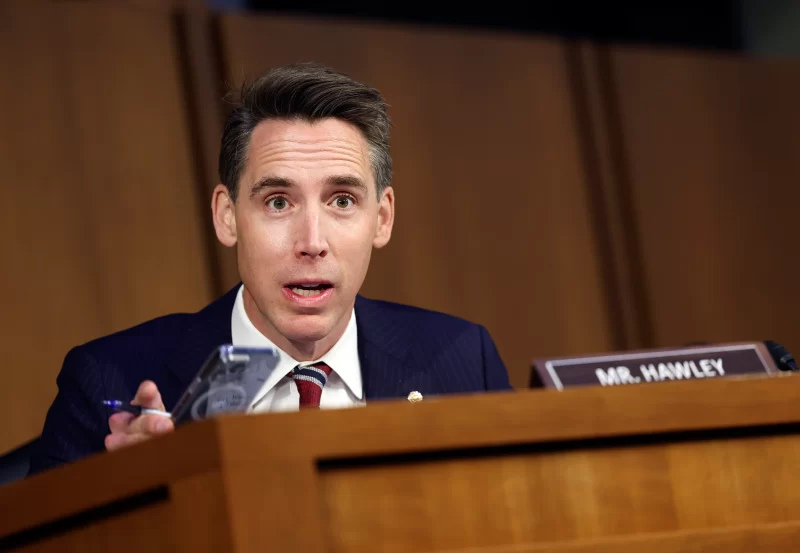 Sen. Hawley calls for 'tough, tenacious' inspector general to oversee Ukraine aid
The Senate is expected to vote this week on an amendment from Sen. Josh Hawley, R-Mo., to establish a Senate-approved watchdog over the billions of dollars the U.S. has sent to Ukraine, as senators work their way toward the expected repeal of the 1991 and 2002 Iraq war authorizations.
Hawley told Fox News Digital on Monday evening that the right person for the job would be 'tough, tenacious,' and said the ideal candidate would be similar to John Sopko, the current special inspector general for Afghanistan.
'He's done a terrific job – maybe he'd like to do this job. I mean, he already knows how to do it. And that's winding down,' Hawley said in reference to Sopko's work on Afghanistan. 'Maybe he'd like to shift over to Ukraine. I think that would probably be my first choice, but somebody like him, who's been tough, tenacious, and independent.'
RUSSIA'S LATEST NUCLEAR THREAT SLAMMED BY NATO 
Hawley's amendment is getting a vote as part of the Senate's bid to repeal two Authorizations for the Use of Military Force (AUMFs), which are joint resolutions by Congress to allowing the president to direct military assets under certain conditions. The 1991 AUMF was passed after Iraq invaded Kuwait, and the second authorized the U.S. invasion of Iraq in 2002.
The amendment needs at least 60 votes to pass, meaning Hawley would need several Democrats to cross the aisle and vote in favor of it.
Asked about what his argument to his left-wing colleagues would be, Hawley said, 'We spent $113 billion on Ukraine. It is now the largest recipient of United States overseas aid, we need to have one watchdog that is fully accounting for everything we spent and how it's being used. It's very simple.'
UKRAINE CALLS FOR EMERGENCY UN MEETING OVER PUTIN'S 'NUCLEAR BLACKMAIL' IN BELARUS 
'Don't spread this out over numerous agencies, no clear reporting requirements. Let's give the public an accounting of how their taxpayer money is being spent,' Hawley said.
Senate Republicans are divided over its support for continuing Ukraine aid in the face of Russia's invasion, and Hawley himself is vehemently against it. But he said even colleagues who don't share his view have shown support for his proposal.
'I have talked to all members about this. I've brought this up at our regular caucus meetings. We have discussed what this amendment would do, and made a strong case for it,' Hawley said. 'No one has said 'Oh, no, I'm against this.' Multiple people who are strong proponents of aid to Ukraine have said 'Yeah, I think that makes sense.''
If passed, the amendment would require the president to appoint and the Senate to confirm an inspector general to oversee the money going to help Ukraine fight off Russia. It would also mandate that watchdog to submit quarterly reports to Congress on dollars and military equipment sent overseas, as well as Kyiv's adherence to anti-corruption standards.
'It's very hard to argue that there should not be robust oversight, which is what this amendment does, so I would hope this would not be controversial,' Hawley said.
This post appeared first on FOX NEWS