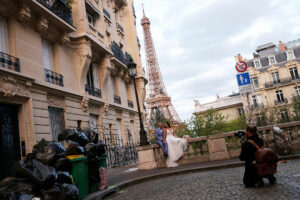 France faces more protests amid warnings of violence
PARIS — France faces a new nationwide day of strikes and protests on Tuesday after some of the country's worst street violence in years marred rallies over the past week.
Protests against President Emmanuel Macron's plans to delay retirement age by two years to 64 had been largely peaceful so far.
But anger has mounted since the government pushed the bill through parliament without a vote mid-March, with polls showing that Mr. Macron's perceived disdain for voters, as well as footage of police violence, made things worse.
In the last nationwide day of protests on Thursday, "Black Bloc" anarchists smashed shop windows, demolished bus stops and ransacked a McDonald's restaurant in Paris, with similar violence in other cities.
Interior Minister Gerald Darmanin warned on Monday that there was "a very serious risk" of further violence on Tuesday, in the capital and beyond. Some 13,000 police will be assigned to the rallies, just under half of them in Paris.
Violent far-left groups, some of them coming from abroad, want to "set France on fire," he told a news conference.
Police have advised shop owners on the path of the Paris protest rally to close for the day.
Rights groups and international organizations have denounced an excessive use of force by police in recent protests.
As with previous days of industrial action since mid-January, trains and flights will be disrupted and some schools shut, while rolling strikes continue to hit the energy sector.
On Monday, as at least six out of seven refineries in France were shut or functioning at reduced capacity and liquefied natural gas (LNG) terminals were blocked.
The government says the pension bill is vital to ensure the system does not go bust. Unions and protesters say there are other ways to do that.
Unions have asked Mr. Macron to withdraw or pause the bill — which has been adopted but not yet published, pending a review by the Constitutional Council — to calm things down.
Mr. Macron responded that he is more than willing to talk to unions, but on other topics. — Reuters