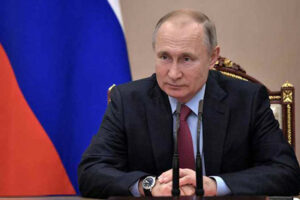 NATO slams Putin rhetoric on tactical nukes in Belarus; Russia pounds Avdiivka
KYIV – NATO slammed Vladimir Putin for "dangerous" nuclear rhetoric after the Russian president announced plans to station tactical nuclear weapons in Belarus, while Russian forces intensified shelling of the frontline Ukrainian city of Avdiivka.
Mr. Putin likened his Belarus plan on Saturday to the US stationing its weapons in Europe, insisting Russia would not violate its nuclear non-proliferation promises.
The move, while not unexpected, is one of Russia's most pronounced nuclear signals yet and a warning to NATO over its military support for Ukraine, which has called for a meeting of the UN Security Council in response.
"Russia's nuclear rhetoric is dangerous and irresponsible," NATO spokeswoman Oana Lungescu said on Sunday.
"NATO is vigilant and we are closely monitoring the situation. We have not seen any changes in Russia's nuclear posture that would lead us to adjust our own."
Mr. Putin's non-proliferation pledge and his description of US weapons deployment overseas were way off the mark, she added.
"Russia's reference to NATO's nuclear sharing is totally misleading. NATO allies act with full respect of their international commitments," she said in a statement. "Russia has consistently broken its arms control commitments."
Ukraine's security chief, Oleksiy Danilov, said Russia's plan would destabilize Belarus, which he said had been taken "hostage" by Moscow.
Others too joined the chorus of condemnation on Sunday, with Lithuania saying it would call for new sanctions against Moscow and Minsk, while EU policy chief Josep Borrell urged Belarus not to host the weapons and threatened further sanctions.
Belarus and Russia have close military ties, and Minsk allowed Moscow to use Belarusian territory as a staging point for its full-scale invasion of Ukraine last year.
Experts said Russia's move was significant since it had until now been proud that unlike the United States, it did not deploy nuclear weapons outside its borders. It may be the first time since the mid-1990s that it has done so.
The US, also a nuclear superpower, played down concerns about Russia's planned nuclear deployment.
Rep. Michael McCaul, the Republican chairman of the US House of Representatives foreign affairs committee, said he regarded Russia's plan as designed to intimidate the West.
"I think this is saber-rattling on the part of Putin basically to try to frighten," Mr. McCaul told the Fox News Sunday program. "These tactical nukes are disturbing."
Tactical nuclear weapons refer to those used for specific gains on a battlefield rather than those with the capacity to wipe out cities. It is unclear how many such weapons Russia has, given it is an area still shrouded in Cold War secrecy.
Mr. Putin on Sunday asserted that Western powers are building a new "axis" similar to the partnership between Germany and Japan during World War Two.
This was a reprisal of a theme he has used in his portrayal of the war – that Moscow is fighting a Ukraine in the grip of supposed Nazis, abetted by Western powers menacing Russia.
Ukraine rejects those parallels as spurious pretexts for a war of imperial conquest.
Mr. Putin also denied Russia was creating a military alliance with China. The United States has said that it fears China could arm Russia, something China denies.
'POST-APOCALYPTIC' AVDIIVKA
On the battlefield, Russian shelling forced a nearly full shutdown of the eastern Ukrainian city of Avdiivka, which lies some 90 kilometers (56 miles) southwest of the besieged Bakhmut, the top local official said on Sunday.
"I am sad to say this, but Avdiivka is becoming more and more like a place from post-apocalyptic movies," the city's military administration head Vitaliy Barabash said.
On Sunday, Russian shelling targeted two high-rise buildings in Avdiivka, which is just 10 km from the northern outskirts of Donetsk city, which has been under Moscow's control since 2014.
The Ukrainian military warned last week that Avdiivka could become a "second Bakhmut" – where fierce fighting described by both sides as a "meat grinder" has turned the town into rubble.
Ukraine's General Staff said on Sunday its forces had repelled 85 Russian attacks during the past 24 hours across the eastern front, including the Bakhmut area.
Russia's defense ministry said on Sunday that it forces had struck military targets in Kharkiv, Donetsk, Zaporizhzhia and Kherson regions, causing significant Ukrainian casualties.
The ministry also said it had downed a Ukrainian drone south of Moscow on Sunday, adding three people were injured and apartment blocks were damaged in the drone attack.
Russia has said in the past that Ukrainian drones have flown into its territory and caused damage to civilian infrastructure, an assertion Kyiv denies.
Reuters could not verify the battlefield reports. – Reuters