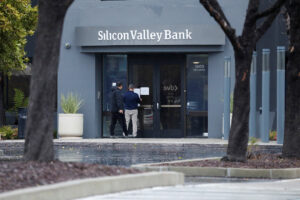 Wall Street push for bank rescues clashes with Washington realities
WASHINGTON/NEW YORK – The banking crisis set off by the swift collapse of Silicon Valley Bank has exposed a sharp disconnect between Washington and Wall Street. Bankers want faster, more aggressive action to shore up the industry, while the Biden White House and regulators argue they've done what they can within the limits of the law.
Some critics are asking whether the Biden administration could have contained the crisis with aggressive actions at the start.
"Policymakers have done some things that are helpful, but they haven't broken out the big bazooka yet and we have not passed the point of major vulnerabilities," said Edward Campbell, co-head of the multi-asset team at PGIM Quantitative Solutions. "They're going to have to do more."
Regional Bank stocks have been hammered since SVB's collapse, led by First Republic. Analysts and investors worry that without more government intervention, fleeing depositors may destabilize small and mid-sized banks.
Some officials in the Biden administration, guided by the public rebuke of bailouts in the 2008 financial crisis, say they will protect depositors and the system, but do not intend to rescue individual banks or put taxpayers at risk.
The tensions between Wall Street and Washington revolve around three main points: the Federal Deposit Insurance Corporation's (FDIC) failure to find a buyer for SVB; the Biden administration's messaging around supporting depositors; and its focus on stricter rules for the banking sector instead of further relief.
FINDING A BUYER FOR SVB
The failure of the nation's 16th largest bank caught regulators off guard. The FDIC shuttered the bank in the middle of a Friday, instead of waiting for markets to close.
That weekend, the administration guaranteed all SVB deposits and started an emergency liquidity facility for banks, but found no buyer.
"I can't imagine under what set of circumstances the FDIC might have thought it was a better outcome to allow the auction to fail," said Senator Bill Hagerty, a Tennessee Republican who was briefed by the FDIC. "We would be dealing with a bank in place right now, as opposed to a broken process," he said.
The FDIC did not begin talking to potential buyers or allow banks to review SVB's finances until later on Saturday, according to two industry sources.
An FDIC spokesperson declined to comment on the sales process.
Senate Banking Committee Chairman Sherrod Brown, an Ohio Democrat, said his conversations with top US regulators suggested there had been a chance for a private buyer but "apparently, the due diligence meant that either they backed out or the FDIC didn't think they were capable."
One government source noted that the FDIC can only pursue the least costly deals for its deposit insurance fund, which limits options for a prompt sale.
The FDIC is expected to announce next steps for SVB's assets this weekend.
DEPOSIT MESSAGING
Led by Treasury Secretary Janet Yellen, the administration sought to reassure depositors that their money is safe, while navigating technical and legal limitations, and making clear they do not intend to bail out ailing banks.
Markets whipsawed on Yellen's comments this week, struggling to decode how far the administration would go to protect depositors and the banking system.
The administration says it is doing all it can to protect depositors, without putting taxpayer funds at risk or bailing out banks.
"We will use tools we have to give the American people confidence that their deposits will be safe," White House press secretary Karine Jean-Pierre said Thursday.
A Treasury spokesperson also noted that deposits have stabilized at regional banks and in some cases "modestly reversed."
The banking industry itself is not united on how to reassure depositors.
"Certainly, people would like to see more out of the Biden administration," said Chris Brown, a lobbyist with the firm Mindset in Washington and former House Financial Services Committee staffer. However, "what they would like to see runs the gamut," he said.
MORE RELIEF OR REGULATION?
The banking industry is searching for sweeping relief to calm markets, while Washington is discussing how to prevent the next crisis.
"My sense right now is that regulators think everything is under control," said Todd Phillips, a former FDIC attorney.
President Joe Biden has asked for legislation to make it easier to claw back pay and profits from stock sales for executives at failed banks. The Federal Reserve is expected to ramp up rules for regional banks.
"It is clear we do need to strengthen supervision and regulation. And I assume that there will be recommendations … and I plan on supporting them," Fed Chairman Jerome Powell said Wednesday. – Reuters