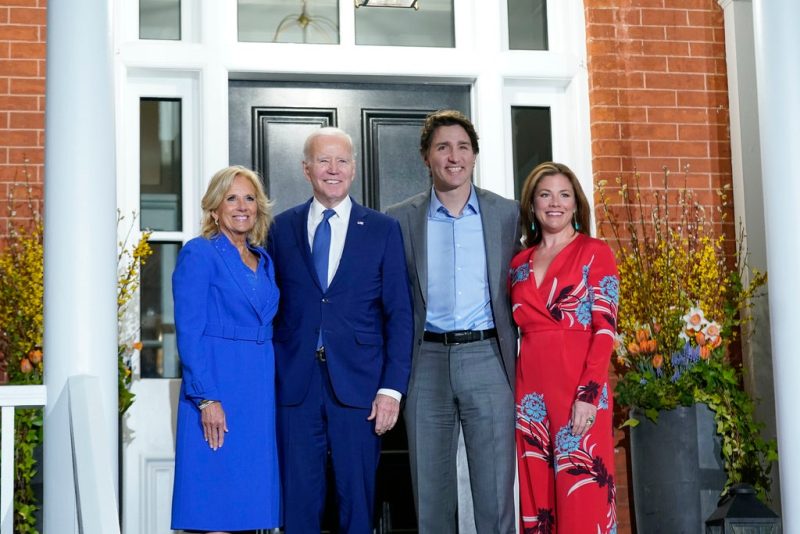 Biden announces new northern border deal, fentanyl coalition with Canada as immigration crisis rages
President Biden on Friday officially announced a new deal with Canada for both countries to be able to turn back illegal migrants at their shared border — as well as a new global effort to combat fentanyl smuggling.
Fox News Digital previously reported that the agreement means that migrants who attempt to cross illegally between ports of entry into either country will be returned, which officials anticipate will deter irregular migration at the U.S.-Canada border. It updates a 2004 Safe Third County Agreement, which did not deal with illegal immigration.
Additionally, Canada is committing to accept an additional 15,000 migrants over the next year from the Western Hemisphere, as part of its commitments made under the Los Angeles Declaration last year — which committed nations to a regional response to the migration crisis. 
Such a move would be accepted to lessen the pressure facing the U.S. southern border, which has faced a historic migrant surge since 2021.
In a speech to the Canadian Parliament on Friday, Biden said he applauds Canada's commitment to take 15,000 migrants as part of the regional response to the crisis.
'At the same time, the United States and Canada will work together to discourage unlawful border crossings and fully implement the updated Safe Third Country agreement,' he said. 'Finally, as we advance our shared prosperity and security must never lose sight of our shared values, because our values are the linchpin holding everything else together. Welcoming refugees and seeking asylum seekers is a part of who Canadians and Americans are.'
The agreement marks a diplomatic victory for President Biden, who had championed a regional approach to the crisis when he unveiled the Los Angeles Declaration at the Summit of the Americas last year along with other leaders.
'We know that safe, orderly and legal migration is good for all our economies,' he said. 'But we need to halt the dangerous and unlawful ways people are migrating and the dangerous ways. Unlawful migration is not acceptable, and we'll secure our borders, including through innovative, coordinated actions with our regional partners.' 
The move comes amid an increase in migrant encounters at the northern border which, while not as substantial as the historic surge being seen at the southern border, has left some authorities overwhelmed, with one sector reporting an 846% increase. Fox News recently reported that Border Patrol was appealing for volunteers to deal with the surge, which was attributed to 'Mexican migrants with no legal documents.'
There were over 109,000 migrant encounters at the northern border in FY 2022, up from 27,000 in FY 2021. The border, which is 5,525 miles, only has 115 ports of entry. 
It comes after the administration announced a new rule last month that when implemented will bar illegal migrants at the southern border from claiming asylum if they have entered through another country without claiming asylum there first.
Meanwhile, the U.S. and Canada renewed their commitments to thwarting the trafficking of deadly drugs like fentanyl — which is primarily trafficked from Mexico into the U.S. and is responsible  for over 70,000 U.S. deaths a year.
In his remarks, Biden called fentanyl, which is 50-100 times more potent than morphine and can be fatal in small doses, a 'killer.'
'And almost everyone knows someone who has been affected by this, lost a child or lost a friend. Canada and the United States are working closely with our partner Mexico to attack this problem at every stage and the precursor chemicals shipped from overseas to the powders to the pills to the traffickers moving into all of our countries.'
Biden said that the U.S. and Canada are announcing 'a commitment to build a new global coalition of like-minded countries led by Canada and the United States to tackle this crisis.'
'This is about public health,' he said.
This post appeared first on FOX NEWS