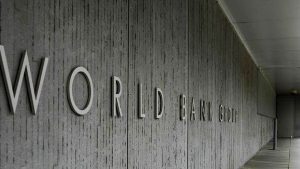 World Bank seeks more private cash as yearly needs balloon to $2.4 trillion
World Bank President David Malpass set out on Thursday a new road map for private sector participation in project financing across emerging and developing economies as yearly financing needs balloon to $2.4 trillion.
The massive financing yearly needs, a new World Bank estimate, could address the effects of climate change, war, and pandemics, and private capital is "essential" for meeting those needs, Mr. Malpass said.
Mr. Malpass announced his resignation to the World Bank in February and the lender expects to select his replacement by early May.
The program is based on three pillars, he added, the first of which aims to help capital flow better by providing macro stability and transparency, while building data banks that support decision making.
"The product of these analytics will focus on actions that countries need to take for a sound investment climate, competitive markets, and a balanced role of the State in the economy," said Mr. Malpass at an event hosted by the Center for Strategic and International Studies in Washington.
The road map then turns to addressing liquidity issues, while focusing on opportunities for State Owned Enterprises to attract private capital.
Lastly, it aims to create a market of investment-grade securities that would attract institutional investors.
"Our aspiration over time … is to see the creation of a massive, dynamic, investable asset class for infrastructure in developing countries that spans borders and sectors in order to diversify risk and achieve lower financing costs," Mr. Malpass said.
"The initiative will boost sustainable development that is inclusive and environmentally friendly, reduces carbon, enhances energy access, alleviates poverty and achieves the required pace of global digitalization." – Reuters