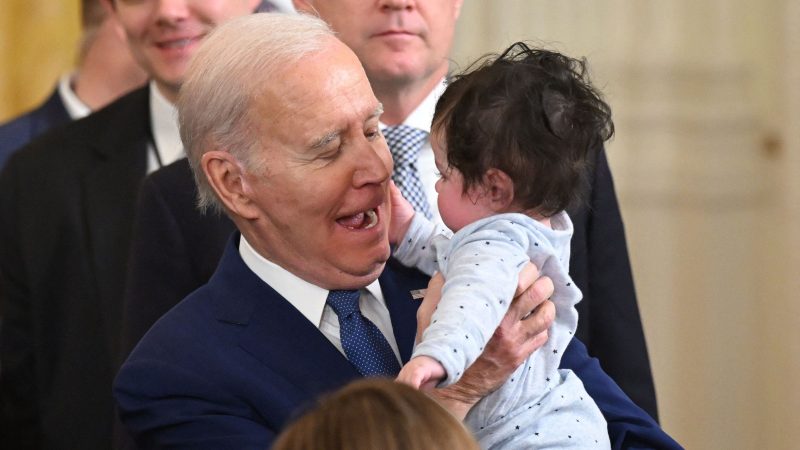 WATCH: Biden says he likes 'babies better than people' as child wails during White House speech
President Biden told a crowd he likes 'babies better than people' as a child wailed during a speech he was giving on Wednesday.
The exchange occurred during an event at the White House celebrating the 13th anniversary of the Affordable Care Act, or Obamacare, when a baby began crying as Biden was speaking to a crowd in the East Room.
'That's alright, we like babies,' Biden said as the person holding the baby got up to leave the room, prompting laughter from the crowd.
'You don't have to worry about it. It's okay. It's alright,' he said, motioning the individual to sit back down. The crowd cheered as they returned to their seat, and Vice President Kamala Harris laughed as she looked on.
'As a matter of fact, I like babies better than people,' Biden added, prompting more laughter from the crowd. The child then quieted and he continued with his speech. 
Biden later held and hugged the baby, who was later reported to be the child of Rep. Jimmy Gomez, D-Calif.
The moment comes just one day following a previous speech in the same room, in which Biden committed his latest gaffe. 
During a speech celebrating Women's History Month, Biden called for a ban on 'assault weapons,' but at the same time mistakenly said America needed to 'keep guns out of the hands of domestic political advisers.' He presumably meant to say domestic terrorists.
Biden has had a rough year so far when it comes to blunders, having committed just under a half a gaffe per day on average during the month of January. He continued into February and March with numerous trips and falls, as well as more speaking errors.
This post appeared first on FOX NEWS