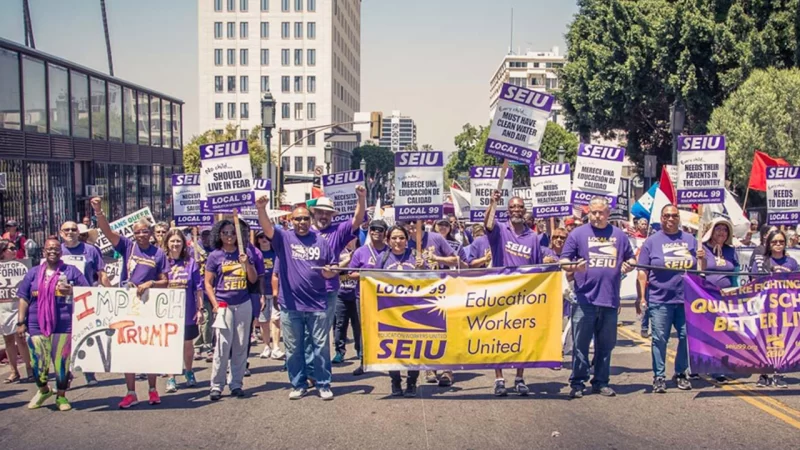 Los Angeles schools set for 3-day strike for 'equitable' wage increases and more
The Los Angeles Unified School District (LAUSD) failed to reach an agreement with union negotiators on Monday, prompting district officials to shut down schools in the nation's second-largest education system on Tuesday.
FOX 11 in Los Angeles reported on Monday evening that LAUSD Superintendent Alberto Carvahlo said schools would be closed on Tuesday because of a worker strike.
Members of SEIU Local 99, or the Education Workers United, approved a strike for Tuesday, March 21 through Thursday, March 23, by way of a vote after nearly a year of failed negotiations over equitable wage increases, more full-time work, respectful treatment and increased staffing.
Thousands of district employees, from cafeteria workers to bus drivers in the district have made their demands, claiming the LAUSD engaged in 'unfair practices' and saying little progress has been made since negotiations began in April 2022.
Union leaders announced in December that talks reached an impasse and a state-appointed mediator would oversee the communications between both parties.
When the union voted to strike in February, 96% of LAUSD workers represented by SEIU Local 99 authorized the measure.
As the strike looms, district officials are continuing to prepare for the 'unfortunate reality of school closures,' while remaining available to negotiate a solution to the issues, according to a statement from the district posted to social media on Sunday.
The district said in the statement, contrary to the SEIU's assertions, the California Public Employee Relations board Office of the General Counsel, or PERB OGC, denied the district's request for an injunctive relief over claims that the union was acting illegally by engaging in a three-day strike. In the PERB's decision, it said it did not find the remedy of injunctive relief to be met at this time, but the OGC was directed to expedite the district's unfair practice charge against the union.
'Contrary to the SEIU's assertions, the PERB OGC has not made a decision on Los Angeles Unified's unfair practice charge regarding the alleged illegality of SEIU's strike, and the District expects a decision from the PERB OGC as soon as Monday morning, given the expedited processing direction from the PERB Board,' a statement from the district read.
Carvalho tweeted that he was a believer that good will can carve out common ground and reach an agreement to avoid the strike and keep students in school.
'We are doing everything we can and I remain optimistic we can reach an agreement,' Carvalho said. 'Families should be prepared in the event of a strike.'
He went on to say the district established partnerships to offer Grab and Go meals and supervised activities, should the strike commence.
'We do not need to debate or litigate the fact that during the pandemic, kids lost a lot of ground,' the superintendent tweeted, explaining that reading and math proficiency were hit hard, particularly students who are learning English or have disabilities. 'They cannot afford to be out of school and that is why I am appealing directly to the union leadership to engage and negotiate in good faith and find a solution that addresses the needs of all, including our students.'
Union officials did not immediately respond to inquiries about the strike and current negotiations.
On Twitter, the union posted on Monday that their voices would not be silenced, adding that the school district tried to say the strike was unlawful.
'But the California Public Employment Relations Board rejected LAUSD's last-ditch effort to request an injunction to stop the strike,' union officials tweeted.
In a previous interview with Fox News, SEIU Local 99 Executive Director Max Arias said workers have been living off 'poverty wages' and blamed the school district for pushing workers to act. The average salary of workers at LAUSD is $25,000 a year, often working part-time hours.
According to their website, SEIU Local 99 is a union of 50,000 education workers in K-12 schools, early education centers and homes, and community colleges throughout Southern California, including 30,000 cafeteria workers, special education assistants, custodians, bus drivers and others providing essential student services at LAUSD schools.
Nikolas Lanum of Fox News contributed to this report.
This post appeared first on FOX NEWS