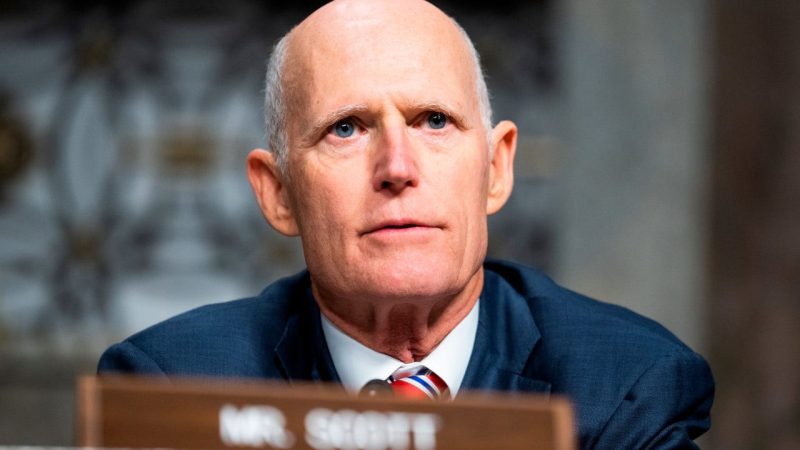 Rick Scott demands answers on NIH funding that went to Wuhan Institute of Virology
Florida Senator Rick Scott on Friday demanded answers from the Biden administration on a watchdog report that said grant funding from the National Institutes of Health (NIH) was directed to China's Wuhan Institute of Virology, and pressed the administration to explain if it is barring future funding to the lab that some think is the source of the COVID-19 pandemic.
In a letter sent to Health and Human Services Secretary Xavier Becerra, Scott noted that an HHS report from the Office of the Inspector General (OIG) found that NIH failed to properly monitor their grant awards, including one to the Wuhan lab. The OIG report found that HHS grants to the non-profit group EcoHealth Alliance weren't properly monitored as they made their way to the lab.
'NIH allowed EcoHealth Alliance to sub-award the grant to the Communist Chinese government and failed to conduct proper oversight,' Scott wrote. 'American tax dollars should always be protected from waste, fraud, and abuse. It is vital that NIH provide oversight of how these funds are spent on grants.'
The report also recommended that NIH consider barring the Wuhan lab from future grants, and Scott asked NIH how it was going to handle that recommendation.
'OIG recommends that the [Wuhan Institute of Virology] should be debarred from future federal contracts,' he wrote. 'What is NIH doing about this matter?'
Scott said that because of the overall failure to properly oversee the grant funding to the Wuhan lab, EcoHealth Allliance failed to report in on how the money was being spent. He argued that some of the information that was missing related to the Wuhan grant could have shed light on the source of COVID-19, a question that is still being debated within the U.S. government. Some federal agencies believe the most likely source of COVID was the Wuhan lab.
'Some of the missing information included data from the [Wuhan lab],' Scott wrote. 'This information, which could provide further clarity on the origin of COVID-19, has been lost.' He added that neither the lab nor China's government have shown any interest in 'being transparent and providing information to NIH.'
Scott also noted that federal standards require oversight before grants are sent to institutions that might perform gain-of-function research. But he said the federal system of oversight failed to review the grant to the Wuhan lab.
'The first priority of the NIH should be to protect taxpayer dollars and ensure that all funds are properly accounted for with appropriate oversight of both the funding and the research,' Scott's letter read. 'This failure by NIH is unacceptable.'
Scott listed more than a dozen other questions for Becerra to answer, including how NIH monitors and determines where its grant money goes and whether EcoHealth is going to receive any more federal funding.
He called for grants that are going to foreign governments in particular to receive 'a higher level of scrutiny.'
'Allowing awardees to do sub-awards to foreign government should require NIH to provide a higher level of scrutiny. Despite knowing that the Communist Chinese government was receiving NIH funds at the [Wuhan lab], NIH kept a hands-off approach—completely ignoring the oversight process,' Scott wrote.
This post appeared first on FOX NEWS