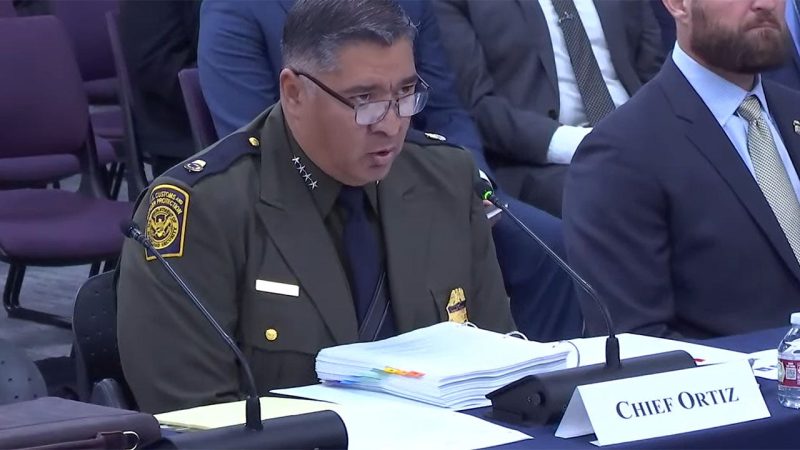 Border Patrol chief says he disagrees with Biden move to stop wall construction
Border Patrol Chief Raul Ortiz said Wednesday that he disagreed with the Biden administration's move to end border wall construction in early 2021, while arguing that infrastructure would help agents do their job.
Ortiz spoke at a Homeland Security Committee hearing in McAllen, Texas, and was asked by Rep. Josh Brecheen, R-Okla., about whether he supported wall construction, which had expanded dramatically under the Trump administration but was abruptly halted when President Biden entered office.
'I do not believe in a wall from sea to shining sea, but I do believe in infrastructure and barrier systems in concentrated areas, especially urban areas,' Ortiz said. 'And it's always been our practice, from 2006 when I was an agent in charge in West Texas to now. But I also don't agree that we should tear down perfectly good barrier system to install something that is based upon requirements that we developed over the last few years.'
Ortiz said that Customs and Border Protection had 'tore down perfectly good infrastructure system in some areas that we should have just left alone' in places like Del Rio, Texas.
Brecheen followed up by asking Ortiz specifically about the wall that had been appropriated by the Trump administration but was then canceled by the Biden administration.
'Under the prior administration, we had 200-plus miles of wall appropriated and…President Biden by executive order shut that down,' he said. 'Do you disagree with his decision to shut down construction?'
'Yes, sir,' Ortiz responded.
Ortiz was also asked if he supports the 'Remain-in-Mexico' policy — a Trump-era policy shut down by the Biden administration which kept migrants in Mexico for their hearings — and he responded that he 'supports any policy that's going to allow us to repatriate individuals back to their home countries.' 
The remarks came in a hearing during which Ortiz told lawmakers that the Department of Homeland Security (DHS) did not have operational control of the border.
He also backed agents who had been accused falsely of whipping Haitian migrants in 2021, and also suggested that policies were in place that were damaging Border Patrol's ability to do their job.
Meanwhile, DHS said that the hearing 'highlights the vital work the Department of Homeland Security does every day to enforce our laws, secure our border, and combat cartels and smugglers' and pointed to testimony from Ortiz and other witnesses that showed 'new programs, technology, and investments are making a real impact.' 
'Despite inheriting a dismantled immigration system and facing unprecedented migration that is affecting nations throughout the Western Hemisphere, this administration has surged resources to the border, reducing the number of encounters between ports of entry, disrupting more smuggling operations than ever before, and interdicting more drugs in the last two years than had been stopped in the five years prior,' a spokesperson said.
'The Department welcomes input from Congress, and looks forward to working with members on legislative solutions for our broken immigration system, which Congress has not reformed for more than 40 years.'
This post appeared first on FOX NEWS