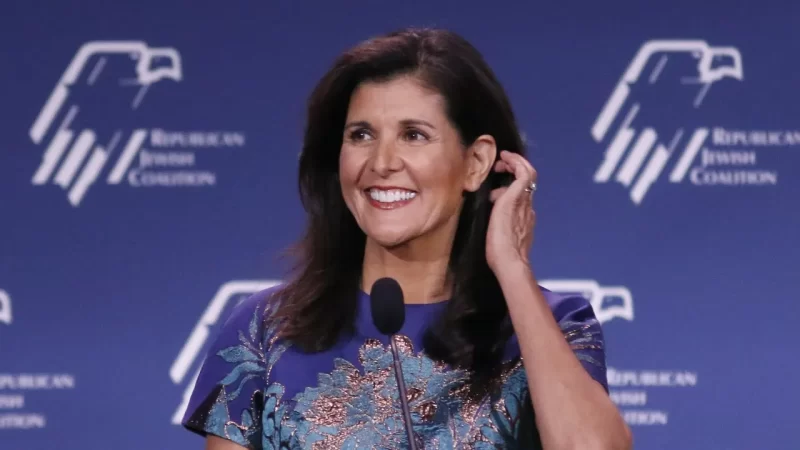 Nikki Haley dings DeSantis and Trump on US aid to Ukraine as 2024 GOP presidential sweepstakes get underway
Presidential candidate Nikki Haley split with Florida Governor Ron DeSantis and former President Donald Trump Tuesday by claiming that aiding Ukraine is vital to U.S. interests. 
Fox News' Tucker Carlson sent a list of questions to a pool of potential 2024 Republican contenders including the former South Carolina governor, Trump, DeSantis, former Vice President Mike Pence, South Dakota Gov. Kristi Noem, Texas Gov. Greg Abbott, South Carolina Sen. Tim Scott and former New Jersey Gov. Chris Christie. 
Haley did not respond in time for Carlson's evening show but released her thoughts in a statement the next day.
'The Russian government is a powerful dictatorship that makes no secret of its hatred of America. Unlike other anti-American regimes, it is attempting to brutally expand by force into a neighboring pro-American country. It also regularly threatens other American allies.'
Haley continued, 'America is far better off with a Ukrainian victory than a Russian victory, including avoiding a wider war.'
'If Russia wins, there is no reason to believe it will stop at Ukraine. And if Russia wins, then its closest allies, China and Iran, will become more aggressive.' 
Despite her support for Ukraine, Haley did criticize the 'blank checks' and drew a line at sending U.S. forces to Ukraine, 'We should not send American troops. We should not send cash or blank checks. Along with our allies in Europe and elsewhere, we should provide conventional weapons that enable Ukraine to effectively stop the Russian invasion and occupation of its land.'
Haley's take breaks from Trump and DeSantis, who have both come out in favor of reducing aid to Ukraine. 
'While the U.S. has many vital national interests — securing our borders, addressing the crisis of readiness with our military, achieving energy security and independence, and checking the economic, cultural and military power of the Chinese Communist Party — becoming further entangled in a territorial dispute between Ukraine and Russia is not one of them,' DeSantis said.
'[The war] is a vital concern for Europe. But not for the United States. That is why Europe should be paying far more than we are, or equal.' Trump said, responding to Carlson's questionnaire. 'The President must meet with each side, then both sides together, and quickly work out a deal. This can be easily done if conducted by the right President.'
Trump took shots at DeSantis for his Ukraine comments, claiming that the governor is 'following what I am saying. It is a flip-flop. He was totally different. Whatever I want, he wants.'
Haley agreed with the comparison in a statement: 'President Trump is right when he says Governor DeSantis is copying him—first in his style, then on entitlement reform, and now on Ukraine. I have a different style than President Trump, and while I agree with him on most policies, I do not on those. Republicans deserve a choice, not an echo.'
Governor DeSantis has not formally entered the presidential race but is widely expected to. Currently, Republicans seeking the presidential nomination include former President Donald Trump, former South Carolina Governor and Ambassador to the United Nations Haley, and tech executive Vivek Ramaswamy.
This post appeared first on FOX NEWS