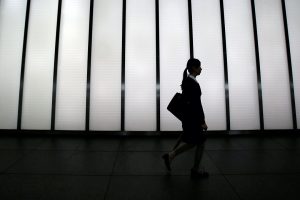 Japan's big firms offer largest pay rises in decades
TOKYO — Japan's top companies offered their largest pay increases in a quarter century on Wednesday, as the outcome of annual labor talks showed Japan Inc heeding Prime Minister Fumio Kishida's calls for higher wages to counter a surge in inflation.
Japanese wages have been a casualty of years of sputtering growth since the late 1990s, leaving worker pay nearly flat and well behind the OECD average. But now, with inflation at its highest in four decades, thanks to a weaker yen and rising commodities costs, Mr. Kishida is pushing hard for higher pay.
Whether that will be sustainable by companies remains to be seen. This year companies are expected to raise wages at shunto spring wage talks that wrap on Wednesday by 2.85%, according to a survey of 33 economists taken by Japan Economic Research Center (JERC).
That's far above last year's 2.2% and the fastest gain since 1997, when Japan slid into 15 years of deflation.
The Rengo umbrella labor group has called for a 5% pay increase. The wage talks involve both base and bonus pay.
Given that consumer inflation, at 4.1%, outpaces wage hikes, pay rises of 3% or more need to continue in the coming years to sustain price stability at 2%, the central bank's target, said Hisashi Yamada, senior economist at Japan Research Institute.
Industrial conglomerate Hitachi Ltd., a cornerstone of corporate Japan, said it would increase overall pay by an average of 3.9%, compared to a 2.6% increase a year earlier.
It remains unclear, however, whether the wave of wage hikes could spread to small firms, which employ seven out of 10 workers in the country but struggle to pass on costs to their bigger clients at the end of supply chains.
Takahide Kiuchi, a former Bank of Japan board member who is now executive economist at Nomura Research Institute, said base pay rises hold the key in determining how wages may affect prices.
The JERC survey showed that excluding seniority-based pay, base compensation that boosts fixed labor costs accounts for just 1.08%.
"We need to focus on base pay. It will likely be a little above 1%, still way lower than price increase," Mr. Kiuchi said.
Mr. Kishida's government will likely hold a joint three-party meeting with labor and management for the first time in eight years on Wednesday to ensure structural wage hikes.
FOLLOW THE PACE-SETTER
There are already some encouraging signs.
Workers from Japan's largest group of trade unions last week struck early agreements for hefty wage hikes. Other unions from Toyota, the world's No. 1 automaker, and Honda, have also secured their biggest pay rises in decades.
What's unique about shunto in Japan is that every March, more than 300 major firms capitalized at 1 billion yen or more and with 1,000 or more workers, negotiate with their union following wages pace-setters such as Toyota Motor Corp.
Unions have historically tended to settle for relatively meager pay hikes of around 2% in recent years, as unions are inclined to cooperate with management in keeping job security rather than aggressively demanding pay rises.
Some analysts are also skeptical that unions will be as aggressive in demanding higher pay in coming years if inflation eases, as it is expected to from the middle of the year.
Real wages fell in January at the fastest pace since May 2014 when the sales tax was raised to 8% from 5%.
Japan's wages have grown just about 5% over the last 30 years, far below an average 35% gain among member countries during the same period, OECD data shows. — Reuters