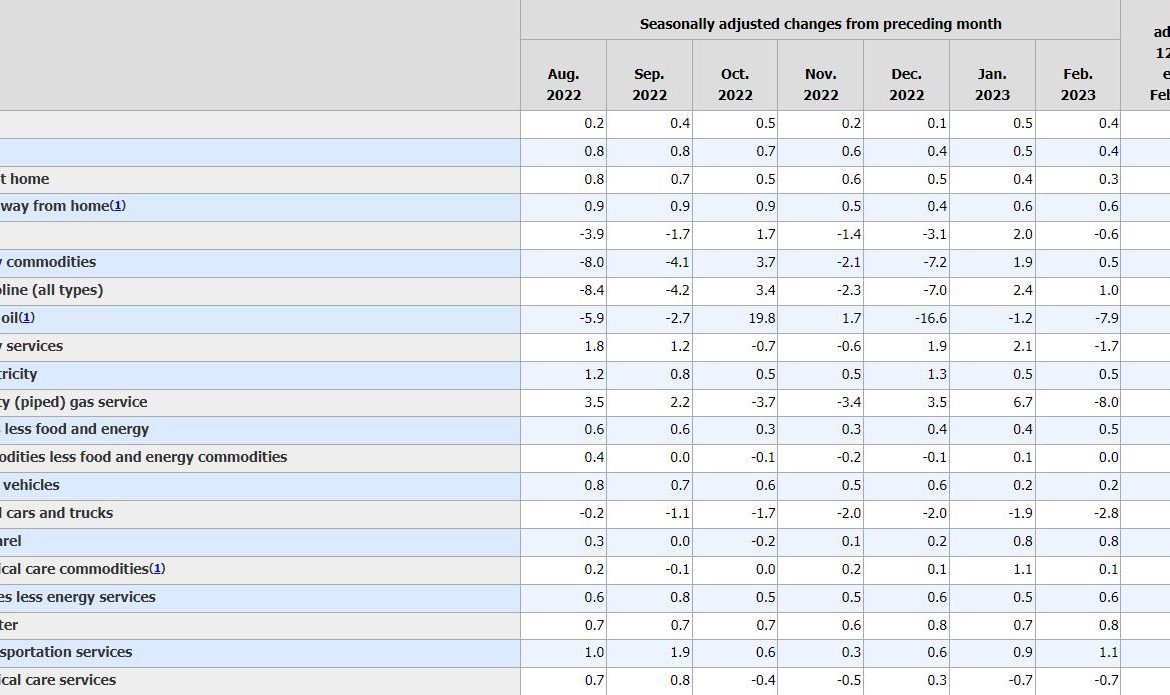 Silver, Gold, and Miners
Folks are calling the FED opening swap lines on the entire US Banking deposit base to the tune of $17.6 trillion as QE infinity. Moody's cut its outlook on the banking system to negative, saying that it is a rapidly deteriorating operating environment. The market though, generally focused on one thing: CPI.
CPI came in as expected, 6.0% and softer. Core CPI though came in 5% higher. The chart shows you the areas of inflationary growth versus decline. Nevertheless, the metals shone all around.
Our GEMS Global Macro or Global ETFS Stocks Macro and Sectors model signaled a buy in gold last week. Now, gold miners, based on the strength of this sector, signaled. Monday's Daily reported on the reasons to watch the gold to silver ratio.
A 5-year historical look at the gold to silver ratio shows a move over 90 (bullish) while our Leadership indicator shows silver performing equally with gold. That tells us that the precious metals are getting ready to roar.
Even with oil prices falling today, GDX held steadfast, and is now outperforming the SPY. Momentum has a positive divergence where the red dots are not inline with the 50-DMA (blue line). Meanwhile, the price sits below its 50-DMA, yet well above the 200-DMA or in a caution phase (improvement from a distribution phase). Should the price clear the 50-DMA in price, the phase then returns to bullish.
Mish in the Media
Mish sees opportunity in Vietnam, is trading SPX as a range, and likes semiconductors, as she explains to Dale Pinkert on ForexAnalytix's F.A.C.E. webinar.
Mish and Nicole discuss specific stock recommendations and Fed expectations on TD Ameritrade.
Mish joined the March 10 closing bell coverage on Yahoo! Finance, which you can see at this link!
Mish goes through the macro through key sectors and commodities in this appearance on CMC Markets.
Mish joins Mary Ellen McGonagle (of MEM Investment Research) and Erin Swenlin (of DecisionPoint.com) on the March 2023 edition of StockCharts TV's The Pitch.
Mish talks women in finance for International Women's Day on Business First AM.
Mish focuses on defense stocks in this appearance on CNBC Asia.
Mish points out a Biotech stock and a Transportation stock to watch if the market settles on Business First AM.
Mish joins Maggie Lake on Real Vision to talk commodities and setups!
Read about Mish's article about the implications of elevated sugar prices in this article from Kitco!
While the indices remain range bound, Mish shows you several emerging trends on the Wednesday, March 1 edition of StockCharts TV's Your Daily Five!
Mish joins Business First AM for Stock Picking Time in this video!
See Mish sit down with Amber Kanwar of BNN Bloomberg to discuss the current market conditions and some picks.
Click here to watch Mish and StockCharts.com's David Keller join Jared Blikre as they discuss trading, advice to new investors, crypto, and AI on Yahoo Finance.
In her latest video for CMC Markets, MarketGauge's Mish Schneider shares insights on the gold, the S&P 500 and natural gas and what traders can expect as the markets remain mixed.
Coming Up:
March 16th: The Final Bar with Dave Keller, StockCharts TV, and Twitter Spaces with Wolf Financial

March 20th: Madam Trader Podcast with Ashley Kyle Miller
March 22nd: The RoShowPod with Rosanna Prestia
And down the road
March 24th: Opening Bell with BNN Bloomberg
March 30th: Your Daily Five, StockCharts TV
March 31st: Festival of Learning Real Vision "Portfolio Doctor"
April 24-26: Mish at The Money Show in Las Vegas
May 2-5: StockCharts TV Market Outlook
ETF Summary
S&P 500 (SPY): 390 remains highly pivotal, especially on a closing basis.Russell 2000 (IWM): Calendar range support level at 172.00, resistance 180.Dow (DIA): 310 support, 324 resistance.Nasdaq (QQQ): 290 the 50-DMA support, 294 the 50-WMA resistance.Regional Banks (KRE): Tested near the 50 resistance level and closed just slightly above 44 support.Semiconductors (SMH): 240 pivotal support–strongest, yet still below the 2-yr biz cycle.Transportation (IYT): Confirmed Distribution Phase and weak close–under 219 means trouble.Biotechnology (IBB): 126.50 moving average resistance.Retail (XRT): 60 big support, 64 big resistance.
Mish Schneider
MarketGauge.com
Director of Trading Research and Education