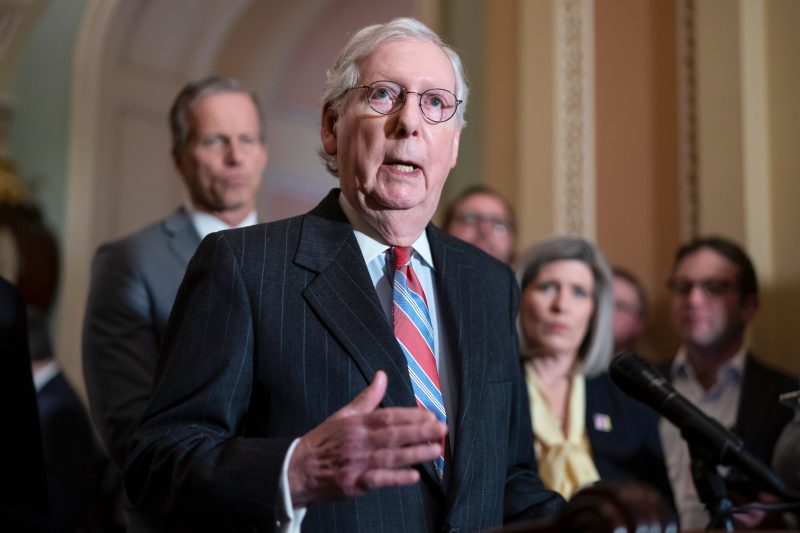 Sen. Mitch McConnell discharged from hospital after being treated for concussion from fall
Senate Minority Leader Mitch McConnell, R-Ky., was discharged from a hospital Monday after being treated for a concussion from his fall at a hotel in Washington, D.C., last week. 
In a statement, a spokesperson for McConnell said the recovery was 'proceeding well.'
'At the advice of his physician, the next step will be a period of physical therapy at an inpatient rehabilitation facility before he returns home,' said David Popp, communications director for McConnell. 'Over the course of treatment this weekend, the Leader's medical team discovered that he also suffered a minor rib fracture on Wednesday, for which he is also being treated.'
'The Leader and Secretary Chao are deeply thankful for the skilled medical care, prayers, and kindness they have received,' Popp added. 
McConnell, 81, was hospitalized for several days after his Wednesday fall while attending an evening dinner for the Senate Leadership Fund, a political action committee aligned with him, when he tripped and fell.
The event was at the Waldorf Astoria Washington DC, formerly the Trump International Hotel, Washington, D.C.
In August 2019, McConnell fractured his shoulder after a fall at his Louisville home. As a child, the senator was treated for polio, and he has since acknowledged some difficulty in adulthood in climbing stairs. 
Fox News' Brooke Singman and Chris Pandolfo contributed to this report. 
This post appeared first on FOX NEWS