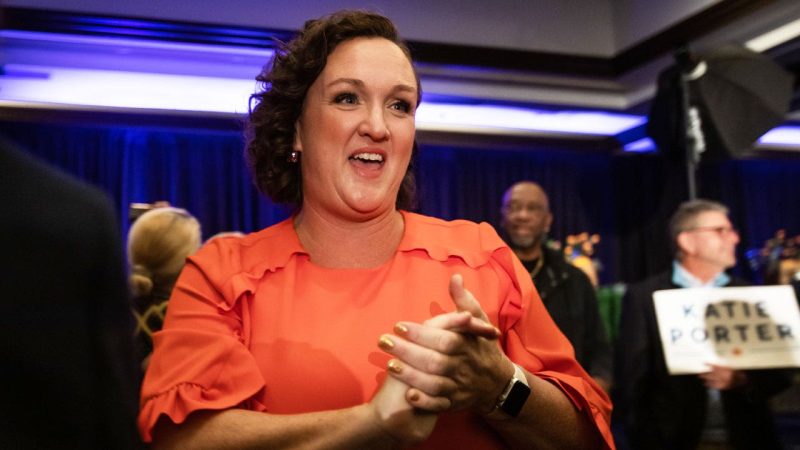 House GOP campaign chair says dozens of Democratic seats are in play for 2024
EXCLUSIVE: The National Republican Congressional Committee (NRCC) Chair Rep. Richard Hudson pledges to go 'on offense' in next year's elections to expand the GOP's razor-thin majority in the House of Representatives.
'We're on offense. We're not going to protect our majority. We're going to grow our majority. I think this list is very realistic and I think we've got some real opportunities to pick up seats,' Hudson told Fox News in an exclusive interview on Monday.
The list the six-term Republican from North Carolina referred to includes 37 target Democratic held seats that the House GOP re-election committee's going to aim to flip from blue to red in 2024, in hopes of expanding their current extremely fragile four-seat majority. The list includes two open Democratic seats currently held by Reps. Katie Porter of California and Elissa Slotkin of Michigan, who are running for the Senate rather than re-election in the House next year.
Republicans won back control of the chamber from the Democrats in November's midterm elections, but an expected red wave never materialized and hopes for a larger majority in the House disappeared. Some of the districts the NRCC is targeting are races they heavily invested in during the 2022 cycle but were unsuccessful in flipping.
But Hudson says 'it'll be a presidential cycle so it will be very different. I think the turnout models will be different.'
HOUSE DEMOCRATS' CAMPAIGN CHAIR TAKES AIM AT THE GOP MAJORITY
He also praised his predecessor as NRCC chair – House Majority Whip Rep. Tom Emmer of Minnesota – for 'recruiting unique and diverse candidates who reflect their districts and so we're going to continue to do that. I think recruitment's going to be really important.'
Hudson also pointed to fundraising, noting that 'one of the big difference makers last election was the money gap that our candidates had compared to the Democratic incumbents in particular. We're looking at ways we can fix that. We've got to get more candidate dollars to our candidates, make sure they're better funded.'
Hudson emphasized that one thing the NRCC won't do is take sides in contested GOP House primaries.
'We've got a long-standing policy at the NRCC to not get involved in open seat primaries by endorsing candidates. We won't do that,' he said. 
But, he added, 'I think you may see us get involved earlier in terms of helping people build better campaigns. If we've got an open seat and there are a number of candidates that we think have a good chance of winning in the general election and reach out to us and want to work with us, then we're going to work with them and make sure they build strong campaigns even in the primaries.'
Top of the ticket races traditionally influence down ballot contests – and a major factor that will likely heavily impact the 2024 fight for the House majority will be the White House race – and the battle for the GOP presidential nomination.
Asked how the burgeoning Republican presidential primary race – where fireworks are already flying – may impact his mission to expand the House majority, Hudson answered: 'I don't know. Obviously I hope we have a Republican nominee for president who can run away with it and has huge coattails.'
'We've got to hope for the best and prepare for the worst,' he added. 'And make sure we're building strong campaigns and make sure that we're doing a better job getting funds directly to our candidates, so they're better positioned than the Democrats.'
The NRCC's target list was released three days after their counterpart, the Democratic Congressional Campaign Committee (DCCC) released its own list of 29 vulnerable 'front line' members.
'House Republicans have shown voters their caucus is more concerned with political investigations, empowering extremists, and seeking power for themselves, than working to improve the lives of everyday families – and that will stand in clear contrast to the formidable Democratic Frontliners,' DCCC Chair Rep. Suzan DelBene of Washington state said in a statement Friday. 'Democrats will have great offensive opportunities in 2024, and holding onto these seats is key to our path to reclaiming the majority.'
The DCCC has not yet released its own target list of red seats it hopes to flip next year.
This post appeared first on FOX NEWS