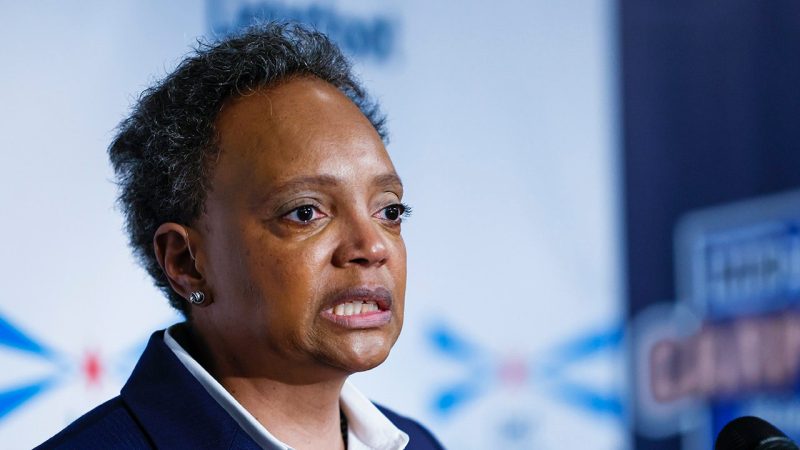 Lightfoot's election loss should serve as 'wake-up call' for other left-wing mayors, political insiders say
Chicago Mayor Lori Lightfoot's reelection loss should serve as a 'wake-up call' for other mayors – or those considering a run for office – who are also failing to address the issue of crime in their communities, according to some political insiders.
Lightfoot's tenure in the Windy City office – which will end later this year after she failed to make it into the city-wide runoff election – has been marked with immense criticism from individuals in her own party and from those across the political aisle.
Crime was seen as the central theme of the race and the city's soaring crime rate served as the backdrop to Lightfoot's dismal approval rating, according to one poll. 
'Mayor Lightfoot was an astoundingly incompetent, left-wing mayor of a big city. Her incompetence was breathtaking to the point where she had become a meme-darling for conservatives all across social media,' Kristin Tate, a GOP strategist and columnist for The Hill, told Fox News Digital. 'But other left-wing mayors across the country are likely going to see their political futures at risk as well. We saw this happen in the '80s when one of the most liberal cities in America, New York City, elected Rudy Giuliani.'
During Lightfoot's time in office, homicides in Chicago rose to their highest number in 25 years in 2021, according to police department records, outpacing New York City and Los Angeles. She also faced sharp criticism for her less-than-cordial relationship with law enforcement throughout her tenure, which saw a drastic reduction in police officer headcount to coincide with the rise in crime.
'Liberals love to vote for other liberals, but once the safety and quality of life of their own environment and neighborhoods starts to fall apart, they start to hire other less radical Democrats or even Republicans to clean up the mess,' Tate said. 'The mayors of other big cities like Portland, Oregon, Seattle, and possibly even Austin, Texas, have definitely been watching Mayor Lightfoot's demise and are surely contemplating their own political survival as well.'
Similarly, Colin Reed, a founding member of South & Hill Strategies who served as campaign manager for former Massachusetts GOP Sen. Scott Brown, said Lightfoot's loss, which largely hinged on her policies and priorities, should serve as a warning to others who may be considering running for mayoral positions around the country.
'The sense of lawlessness and decay in America's major metropolitan areas threaten any entrenched incumbent trying to justify their term in office,' Reed told Fox. 'Soft-on-crime policies are coming home to roost and creating widespread unease about public safety. It should be a wake-up call to anyone preparing to put their name on a ballot.'
But not everyone agrees on the reasoning behind Lightfoot's reelection loss, and some Democrats believe her handling of issues are not to be compared to that of other mayoral hopefuls who may be left of center.
'Every city, campaign and candidate is different, so I hesitate to try and compare Mayor Lightfoot's primary election defeat to any other Democrat – especially to her big-city mayoral colleagues,' Kevin Walling, a Democratic campaign strategist, told Fox. 'Clearly, crime was a hugely important issue, and the mayor's inability to stem the tide of violence over the past four years sealed her fate last week.'
Admittedly, Walling suggested he believes Democrats could be more effective and have better election odds if they were to focus more on public safety.
'At the basic level, we all want to feel safe in our communities — rural, suburban and urban,' Walling said. 'I think Democrats often focus so much on statistics when we need to do a better job meeting people where they're at, making them not only feel safer but also improving public safety.'
Lightfoot – who frequently touted Chicago as a 'safe' city and defended her record handling the issue, touting a 'multi-tiered strategy' to curb gang and gun crimes last August – became Chicago's first mayor in 40 years to serve just one term and was beaten out of a runoff election by former Chicago Public Schools CEO Paul Vallas and Cook County Commissioner Brandon Johnson.
Sarah Norman, a Democratic strategist, rejected the premise that Lightfoot's election loss could be a trend among other left-wing mayors who hold office around the country, telling Fox that Lightfoot 'managed to alienate effectively every constituency in Chicago.'
'If the left pole of the Chicago establishment are the teachers union and right pole is the police unions, the fact both groups ran candidates against her in the primary suggests she had lost nearly everyone,' Norman said. 'And, in fact, what happened was that both her challengers to the right and to the left beat her; Chicago didn't reject progressive governance, it just rejected Lori Lightfoot.'
Earlier this month, New York City Mayor Eric Adams said Lightfoot's election defeat should serve as a 'warning sign for the country,' rejecting criticism that he is feeding into the Republican narrative on crime in addressing public safety concerns in the Big Apple.
'Public safety is a prerequisite to prosperity – same as Chicago, like New York, and many of our big cities across America,' Adams said during an appearance on CNN's 'State of the Union.' 
'That is why we zero focus double-digit decrease in shootings, double-digit decrease in homicides, which we have witnessed this year, particularly the month of February,' he added. 'All of our index crimes are low, low for the entire year. We are focused on public safety because people want to be safe. They don't feel safe. And they actually say then you're going to lose control of your city.'
Fox News' Brandon Gillespie, Danielle Wallace, and Timothy H.J. Nerozzi contributed to this story.
This post appeared first on FOX NEWS