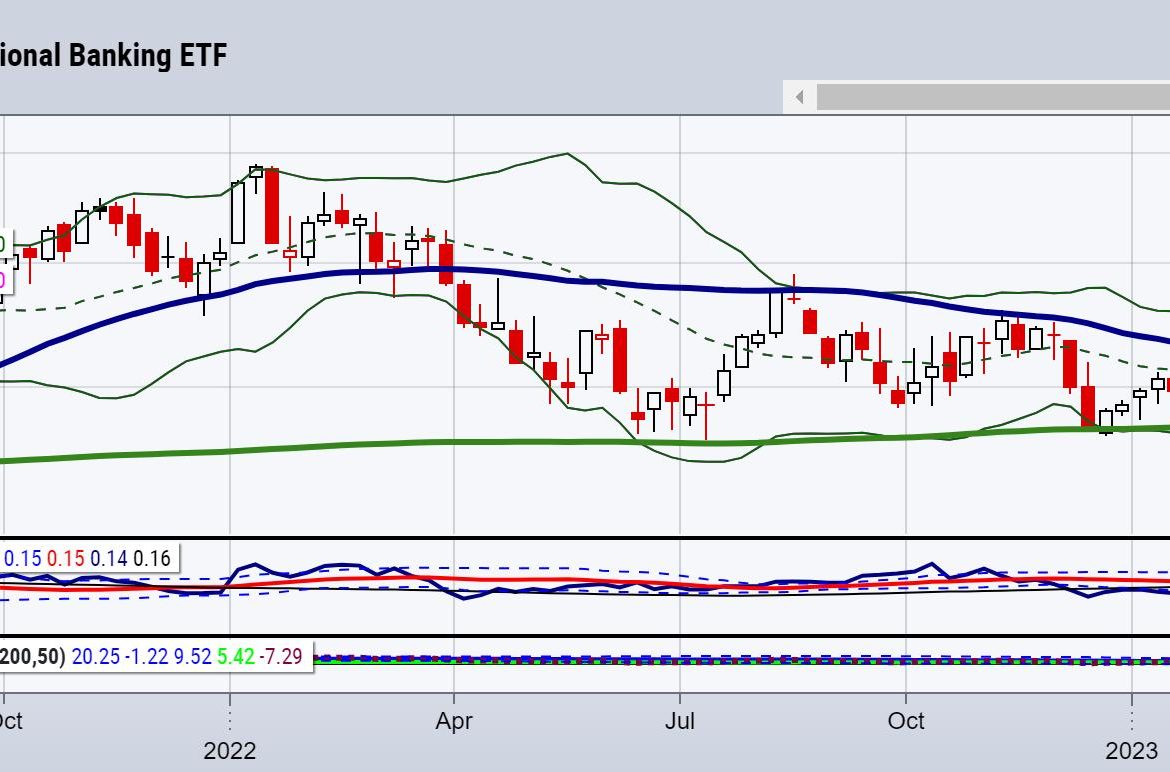 Regional Banks — From March 6th to March 9th
We could call this "3 Days to All Hell broke loose."
We could call this "We told you so."
We could call this, "Welcome to the incredible forecasting of the Economic Modern Family."
We could call this, "Hello delusional semiconductors."
Whatever you wish to call it, the March 6th post called "Retail and Regional Banks Will Call the Shots" was heard.
From the March 6th Daily:
"The higher rates on T-Bills, CDs, and other bank deposits have been attractive for consumers and businesses. However, that is costly for the US banking industry, already experiencing a slowdown in lending. With banks having to raise the rates for deposits, bank profits could fall. And, as we know, the Regional Banks character is called Prodigal Son for this very reason. First, they (banks) hoard your capital and pay you very little interest, and then they come back asking for forgiveness."
Here is what Regional Banks looked like 3 days ago.
Closing at $59.55 on March 6th, our warning that the Regional Banks were underperforming the stronger sectors like Semiconductors, and thus could haunt the recent rally, shows the power of the Economic Modern Family.
So why did KRE crash hard? The nail today was the news on SVB Financial (SIVB) and Silvergate (SI). SIVB fell 60%, while SI fell 42%. SIVB sold off a $21 billion bond portfolio for a huge loss to shore up liquidity. SI announced liquidation and a wind down, showing the impact from the SBF debacle. And this is without the strong possibility of more fallout.
One key takeaway. We like to see all the Economic Modern Family firing in the same direction. Since their creation in 2014, we have often warned that a family in disarray is one that gives us the ultimate risk off signal.
For more detailed trading information about our blended models, tools and trader education courses, contact Rob Quinn, our Chief Strategy Consultant, to learn more.
IT'S NOT TOO LATE! Click here if you'd like a complimentary copy of Mish's 2023 Market Outlook E-Book in your inbox.
"I grew my money tree and so can you!" – Mish Schneider
Get your copy of Plant Your Money Tree: A Guide to Growing Your Wealth and a special bonus here.
Follow Mish on Twitter @marketminute for stock picks and more. Follow Mish on Instagram (mishschneider) for daily morning videos. To see updated media clips, click here.
Mish in the Media
Mish goes through the macro through key sectors and commodities in this appearance on CMC Markets.
Mish joins Mary Ellen McGonagle (of MEM Investment Research) and Erin Swenlin (of DecisionPoint.com) on the March 2023 edition of StockCharts TV's The Pitch.
Mish talks women in finance for International Women's Day on Business First AM.
Mish focuses on defense stocks in this appearance on CNBC Asia.
Mish points out a Biotech stock and a Transportation stock to watch if the market settles on Business First AM.
Mish joins Maggie Lake on Real Vision to talk commodities and setups!
Read about Mish's article about the implications of elevated sugar prices in this article from Kitco!
While the indices remain range bound, Mish shows you several emerging trends on the Wednesday, March 1 edition of StockCharts TV's Your Daily Five!
Mish joins Business First AM for Stock Picking Time in this video!
See Mish sit down with Amber Kanwar of BNN Bloomberg to discuss the current market conditions and some picks.
Click here to watch Mish and StockCharts.com's David Keller join Jared Blikre as they discuss trading, advice to new investors, crypto, and AI on Yahoo Finance.
In her latest video for CMC Markets, MarketGauge's Mish Schneider shares insights on the gold, the S&P 500 and natural gas and what traders can expect as the markets remain mixed.
Coming Up:
March 13th: Mish on TD Ameritrade with Nicole Petallides
March 14th: F.A.C.E. Forex Analytix with Dale Pinkert
March 16th: The Final Bar with Dave Keller, StockCharts TV
And down on the road
March 20th: Madam Trader Podcast with Ashley Kyle Miller
March 22nd: The RoShowPod with Rosanna Prestia
March 24th: Opening Bell with BNN Bloomberg
March 30th: Your Daily Five, StockCharts TV
March 31st: Festival of Learning Real Vision "Portfolio Doctor"
April 24-26: Mish at The Money Show in Las Vegas
ETF Summary
S&P 500 (SPY): Unconfirmed Distribution Phase — 390 pivotal.Russell 2000 (IWM): Unconfirmed Distribution Phase — 182 pivotal.Dow (DIA): Unconfirmed Distribution Phase — 324 pivotal.Nasdaq (QQQ): 284 big support 300 pivotal.Regional Banks (KRE): Broke the 80-month MA–1st time since COVID.Semiconductors (SMH): 240 pivotal, 248 key resistance.Transportation (IYT): Unconfirmed Warning Phase; 230 pivotal.Biotechnology (IBB): 125-135 trading range.Retail (XRT): 64.00 the 200-DMA — make or break.
Mish Schneider
MarketGauge.com
Director of Trading Research and Education