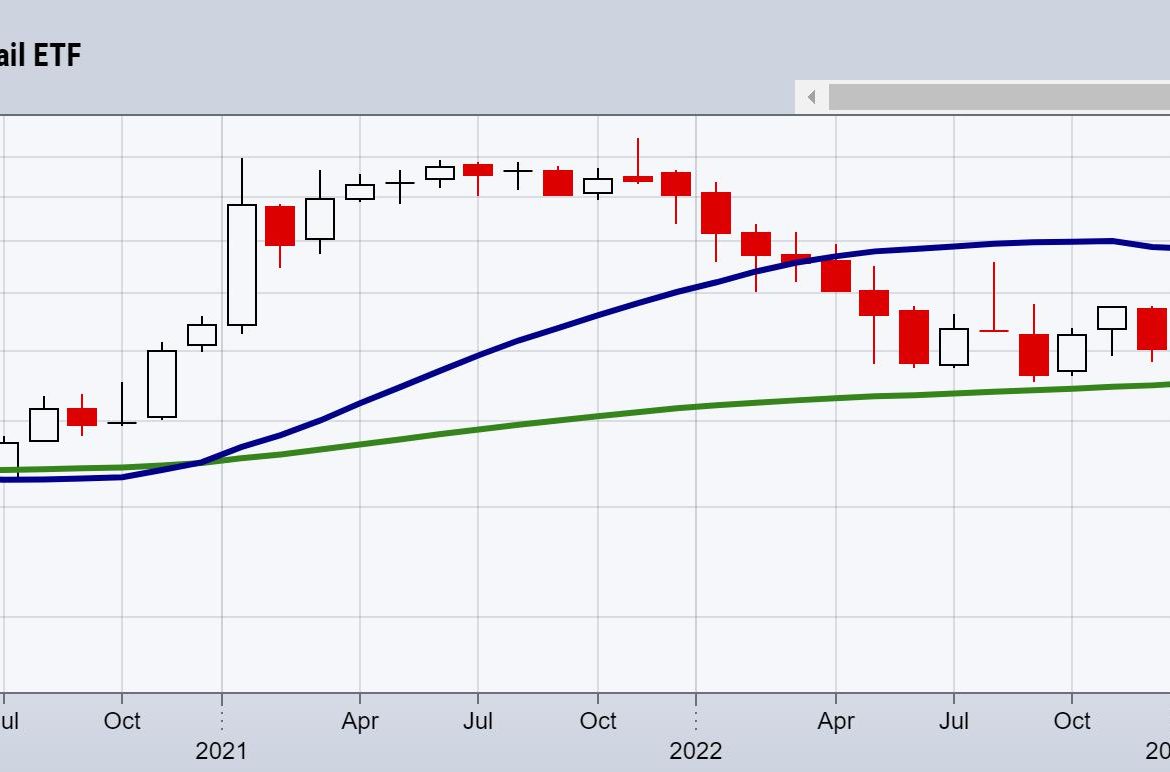 Retail and Regional Banks Will Call the Shots
The 23-month moving average or a 2-year business cycle-is particularly important this year after a big up then down year-looms large.
Looking at Granny Retail, that business cycle not only leaves investors with the trading range resistance, it also shows how the Retail sector could be a harbinger of worse times this spring.
On the weekly chart though, Granny is still in the game, holding both the 50 and 200 week moving averages. The Real Motion indicator flashes a divergence, however. Momentum weakens, while price is okay. And the Triple Play indicator has Granny underperforming the benchmark.
So, the ever-important representative of US growth is stressed–albeit not broken.
Regional Banks, our Prodigal Son, has a story as well. As per the weekend daily on the Economic Modern Fam, "Regional Banks (KRE) sits below the 50-WMA and noteworthy, below the 50-DMA. With folks not depositing money due to high credit card debt (AND HIGHER-YIELDING OPTIONs LIKE T-BILLS), and with mortgage rates so high, it is no wonder our Prodigal Son struggles?"
The higher rates on T-Bills, CDs and other bank deposits have been attractive for consumers and businesses. However, that is costly for the US banking industry, already experiencing a slowdown in lending. With banks having to raise the rates for deposits, bank profits could fall. And as we know, the Regional Banks character is called Prodigal Son for this very reason–first they (banks) hoard your capital and pay you very little interest, and then they come back asking for forgiveness.
In this case, should banks start to project larger unemployment and smaller profits, that could be the reason Fed either does a pivot or pause, or raises the inflation target from 2% up to 3%. But we are getting ahead of ourselves.
Granny Retail and Prodigal Regional Banks are my key go-to's for this week. Teetering on support, they could be just fine, and low-risk buy opportunities. BUT, if they fail support, take note!
If you missed it, check out the Weekend Outlook, with commentary charts and the important points taken from Big View on risk.
For more detailed trading information about our blended models, tools and trader education courses, contact Rob Quinn, our Chief Strategy Consultant, to learn more.
IT'S NOT TOO LATE! Click here if you'd like a complimentary copy of Mish's 2023 Market Outlook E-Book in your inbox.
"I grew my money tree and so can you!" – Mish Schneider
Get your copy of Plant Your Money Tree: A Guide to Growing Your Wealth and a special bonus here.
Follow Mish on Twitter @marketminute for stock picks and more. Follow Mish on Instagram (mishschneider) for daily morning videos. To see updated media clips, click here.
Mish in the Media
Mish joins Maggie Lake on Real Vision to talk commodities and setups!
Read about Mish's article about the implications of elevated sugar prices in this article from Kitco!
While the indices remain range bound, Mish shows you several emerging trends on the Wednesday, March 1 edition of StockCharts TV's Your Daily Five!
Mish joins Business First AM for Stock Picking Time in this video!
See Mish sit down with Amber Kanwar of BNN Bloomberg to discuss the current market conditions and some picks.
Click here to watch Mish and StockCharts.com's David Keller join Jared Blikre as they discuss trading, advice to new investors, crypto, and AI on Yahoo Finance.
In her latest video for CMC Markets, MarketGauge's Mish Schneider shares insights on the gold, the S&P 500 and natural gas and what traders can expect as the markets remain mixed.
Coming Up:
March 6th: International Women's Day — Mish on CNBC Asia with analysis and stock picks
March 7th: The Ladies are taking over Business First
March 8th: StockCharts TV's The Pitch-a panel with Mish and 5 stock picks; also Investment Strategy Twitter Spaces with Wolf Financial
March 9th: Twitter Spaces with Wolf Financial
March 13th: Mish on TD Ameritrade with Nicole Petallides
March 14th: F.A.C.E. Forex Analytix with Dale Pinkert
March 16th: The Final Bar with Dave Keller, StockCharts TV
And down on the road
March 20th: Madam Trader Podcast with Ashley Kyle Miller
March 22nd: The RoShowPod with Rosanna Prestia
March 24th: Opening Bell with BNN Bloomberg
March 30th: Your Daily Five, StockCharts TV
March 31st: Festival of Learning Real Vision "Portfolio Doctor"
April 24-26: Mish at The Money Show in Las Vegas
ETF Summary
S&P 500 (SPY): 390 support with 405 pivotal; 410 resistance.Russell 2000 (IWM): 190 failed so Grandpa hurts; 295 support.Dow (DIA): 326 support, 335 resistance.Nasdaq (QQQ): 300 the pivotal area, 290 major support; 284 big support, 300 pivotal, 305 resistance.Regional Banks (KRE): 60 pivotal–closed below.Semiconductors (SMH): 240 pivotal, 248 key resistance; 248 resistance, 237 then 229 support.Transportation (IYT): 240 resistance and 230 support.Biotechnology (IBB): 125-135 trading range.Retail (XRT): 66 pivotal with 64 key support.
Mish Schneider
MarketGauge.com
Director of Trading Research and Education