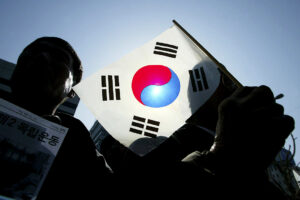 South Korea, Japan reach deal to mend relations
SOUTH KOREA and Japan signaled a breakthrough to end a feud that had damaged ties from everything from trade to security, drawing praise from President Joseph R. Biden as he seeks to convince the two US allies to work together in his efforts to counter China.
South Korean President Yoon Suk Yeol's government said Monday that it would seek to resolve the dispute by having local companies create a fund to compensate people who were forced to work for Japanese companies during the country's 1910-45 colonization of the Korean Peninsula. Japan's foreign minister, Yoshimasa Hayashi, welcomed the effort to "return ties to a healthy state," fueling speculation that both sides could roll back trade measures.
"The government hopes to build a future-oriented relationship between Korea and Japan, based on reconciliation and cooperation," Foreign Minister Park Jin told a news conference Monday in Seoul. He also called Japan his country's "closest neighbor" sharing "universal values such as freedom and democracy, market economy, rule of law, and human rights."
Under Mr. Yoon's solution, firms such as Posco Holdings, Inc. that benefited from funds transferred under a 1965 treaty with Japan would finance a foundation to compensate the victims. South Korea would withdraw a World Trade Organization complaint over Japanese export controls, paving the way for Tokyo to lift the curbs, the Yomiuri newspaper reported on Sunday.
"Today's announcements between the Republic of Korea and Japan mark a groundbreaking new chapter of cooperation and partnership between two of the United States' closest allies," Mr. Biden said in a statement. "When fully realized, their steps will help us to uphold and advance our shared vision for a free and open Indo Pacific."
Mr. Yoon, a conservative, has long made clear his determination to mend ties with Japan, which had deteriorated to their worst state in decades under his left-leaning predecessor, Moon Jae-in. Resolving the feud has become more urgent for the US and allies as they attempt to present a more united front against China in the wake of Russia's invasion of Ukraine last year.
The deal faced an immediate domestic backlash, with the opposition Democratic Party, which has a supermajority in parliament, labeling it "a day of shame" and accusing Mr. Yoon of "subservience to Japan." Some forced-labor victims insist Japanese companies make a contribution. — Bloomberg