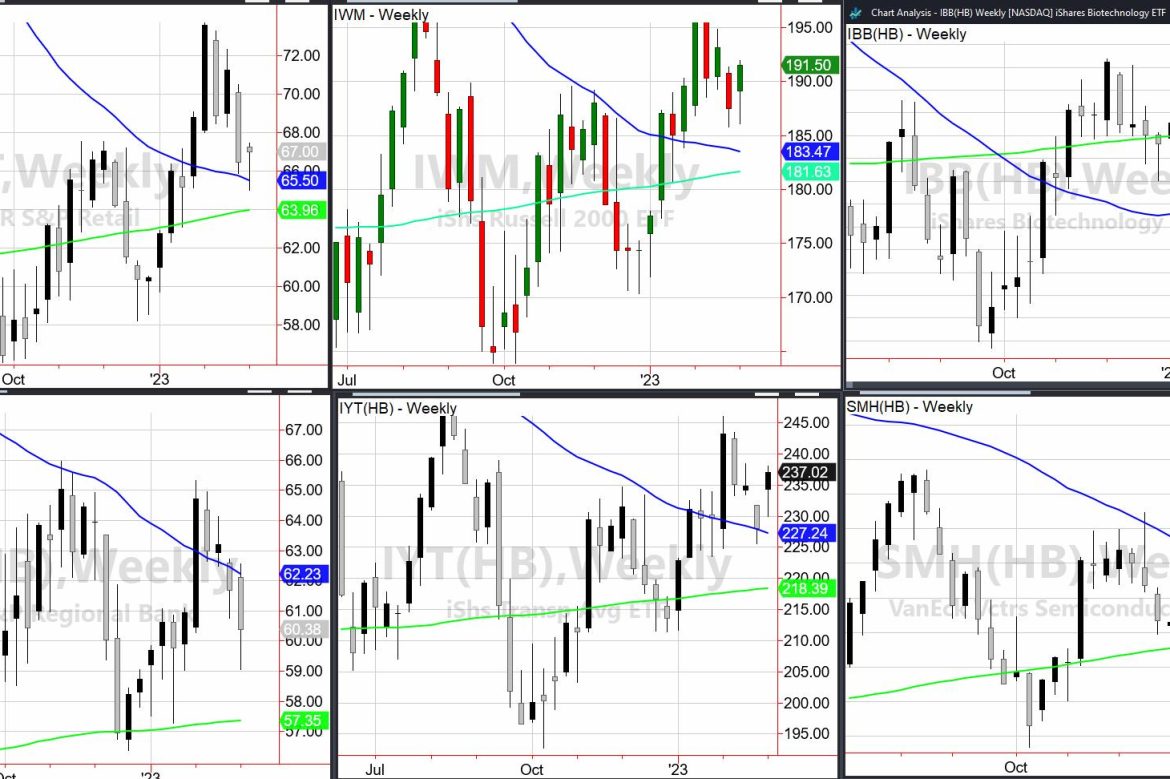 Is the Economic Modern Family Ready to Howl?
This past week, our Daily content proved itself invaluable. We directed our readers to look at buying Natural Gas, Crude Oil, Steel, Aluminum, Corn, Sugar, and NASDAQ. Now, we would like to turn our attention to the Economic Modern Family.
On Tuesday, March 7, there will be perfect alignment of the sun and the full moon. The "Worm Moon" is named for the worms that are due to appear in the soil as temperatures rise into spring. As we ended the trading week, there were a few other such "worms" that appeared in the market soil. They too seemed to awaken from hibernation as the indices' prices rose.
Are the components of the Economic Modern Family ready to howl at the Worm Moon?
Before we examine the family and their weekly charts, let's look at the S&P 500 monthly chart. The 23-month moving average or a 2-year business cycle–particularly important this year after a big up, then down, year–looms large.
The rally that began Thursday and continued Friday came as no surprise, considering the internals were pretty good. Yet as we examine the Mod Fam, we have to keep in mind the notion of a trading range.
SPY has yet to clear 420. Just as Grandpa Russell (IWM) gave us an impressive performance above the 50- and 200-week moving averages, IWM's 23-month MA comes in higher at 200. The same is true with Granny Retail (XRT), testing and closing above the 50-WMA. Granny remains far from the top of her trading range.
Regional Banks (KRE) sits below the 50-WMA and noteworthy, below the 50-DMA. With folks not depositing money due to high credit card debt, and with mortgage rates so high, it is no wonder our Prodigal Son struggles? A key question of course, is whether that struggle will ultimately put pressure on the stronger members of the family and the SPY.
Biotechnology (IBB) is another weaker link. With a nice pop off of the 50-WMA support, that sector has hurdles as well.
Interestingly, Transportation (IYT) looks healthy. We would think this sector will tell us a lot this coming week–if IYT can maintain good health.
The same with Sister Semiconductors (SMH). With all things AI, SMH could clear the 2-year business cycle and help the growth stocks. Can she lead though if the rest of the Family does not follow? For a time, but not for long.
Interest rates are a factor, and the mad rush to guess the Fed's next moves is on. However, we believe a potential misstep by the Fed can crush the family quickly while, at the same time, sparking more inflation.
The full worm moon, astrologically, is a time when we're more sensitive to emotional undercurrents and the allure of fantasies and magic. We are all about magic, but the family should keep us steeped in reality.
For more detailed trading information about our blended models, tools and trader education courses, contact Rob Quinn, our Chief Strategy Consultant, to learn more.
IT'S NOT TOO LATE! Click here if you'd like a complimentary copy of Mish's 2023 Market Outlook E-Book in your inbox.
"I grew my money tree and so can you!" – Mish Schneider
Get your copy of Plant Your Money Tree: A Guide to Growing Your Wealth and a special bonus here.
Follow Mish on Twitter @marketminute for stock picks and more. Follow Mish on Instagram (mishschneider) for daily morning videos. To see updated media clips, click here.
Coming Up:
March 6th: International Women's Day — Mish on CNBC Asia with analysis and stock picks
March 7th: The Ladies are taking over Business First
March 8th: StockChartsTV-The Pitch-a panel with Mish and 5 stock picks
March 9th: Twitter Spaces with Wolf Financial
March 13th: Mish on TD Ameritrade with Nicole Petallides
And down on the road
April 24-26: Mish at The Money Show in Las Vegas
Mish in the Media
Mish joins Maggie Lake on Real Vision to talk commodities and setups!
Read about Mish's article about the implications of elevated sugar prices in this article from Kitco!
While the indices remain range bound, Mish shows you several emerging trends on the Wednesday, March 1 edition of StockCharts TV's Your Daily Five!
Mish joins Business First AM for Stock Picking Time in this video!
See Mish sit down with Amber Kanwar of BNN Bloomberg to discuss the current market conditions and some picks.
Click here to watch Mish and StockCharts.com's David Keller join Jared Blikre as they discuss trading, advice to new investors, crypto, and AI on Yahoo Finance.
In her latest video for CMC Markets, MarketGauge's Mish Schneider shares insights on the gold, the S&P 500 and natural gas and what traders can expect as the markets remain mixed.
Mish and Charles talk food inflation and the Metaverse on Making Money with Charles Payne!
ETF Summary
S&P 500 (SPY): 390 support with 405 closest resistance.Russell 2000 (IWM): 190 now the pivotal point to hold 200 resistance.Dow (DIA): 326 support, 335 resistance.Nasdaq (QQQ): 300 the pivotal area, 290 major support; 284 big support, 300 resistance.Regional banks (KRE): 60 pivotal for this week.Semiconductors (SMH): 240 pivotal, 248 key resistance; 248 resistance, 237 then 229 support.Transportation (IYT): 240 resistance and 230 support.Biotechnology (IBB): 130 pivotal, 133 resistance.Retail (XRT): Clutch support held–watch 66-68 next.
Mish Schneider
MarketGauge.com
Director of Trading Research and Education