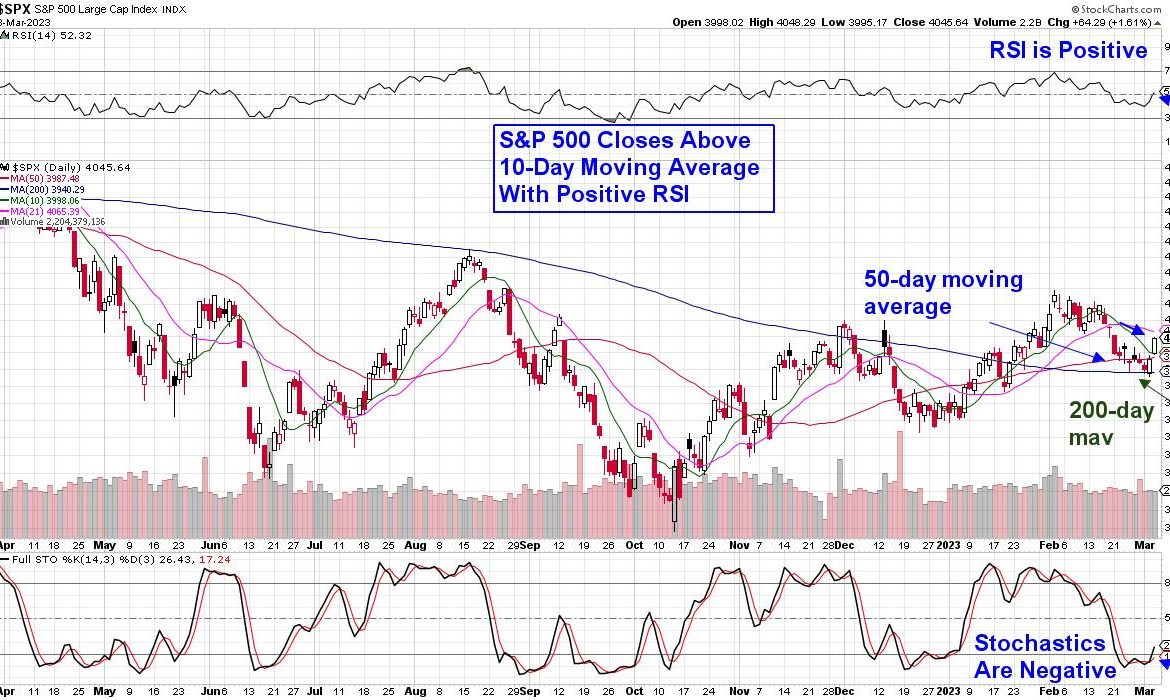 Many Stocks in This Industry Popped After Strong Earnings Results — This Similar Company is Due to Report Next Week!
The markets closed the week on a strong note, with a rally that pushed the S&P 500 back back above its 21-day moving average. With the RSI now back in positive territory as well, the S&P 500 is back in an uptrend. The Nasdaq posted even stronger upside gains, which produced similar uptrend signals.
While constructive, we're not quite off to the races just yet, as next week will present several hurdles in the form of critical employment data, as well as 2 separate speeches from Federal Reserve Chair Powell. It's certainly a good first step, however. Also notable last week was the fact that, yet again, some of the largest gainers were companies that reported strong earnings ahead of estimates.
DAILY CHART OF S&P 500 INDEX
This outperformance among companies that post positive earnings has been particularly noticeable among Cybersecurity Software stocks, with companies such as Fortinet (FTNT) and Palo Alto Networks (PANW) posting big gains after reporting their strongest quarterly earnings on record, amid strong demand for IT security solutions. The results came on the heels of an increase in global cybercriminal attacks that are expected to continue growing at a rate of 15% over the next 2 years.
Next week, Cybersecurity company Crowdstrike (CRWD) will be reporting their quarterly results after the market's close on Wednesday. The stock has underperformed its peers despite the company's ability to lead in AI-driven threat protection, which is a fast growing marketplace. This underperformance has the stock trading 48% below its 52 week high in price, which may have CRWD poised for a strong rally should they report earnings above the estimated .43/share that Wall Street is calling for.
DAILY CHART OF CROWDSTIKE (CRWD)
While Crowdstrike (CRWD) is in a compelling position to rally in the event they report earnings and sales ahead of estimates, historical precedent shows that leadership names in any given field will be the ones that are outperforming the markets after reporting consistently strong fundamentals. This would include both Fortinet (FTNT) and Palo Alto (PANW). Both are on my watchlist, and, if you'd like to see which name will join already top-performing stocks on my Suggested Holdings List this Sunday, use this link here for a 4-week trial of my MEM Edge Report. This twice-weekly report will also keep you alerted to market shifts as we navigate these difficult markets.
Warmly,
Mary Ellen McGonagle, MEM Investment Research