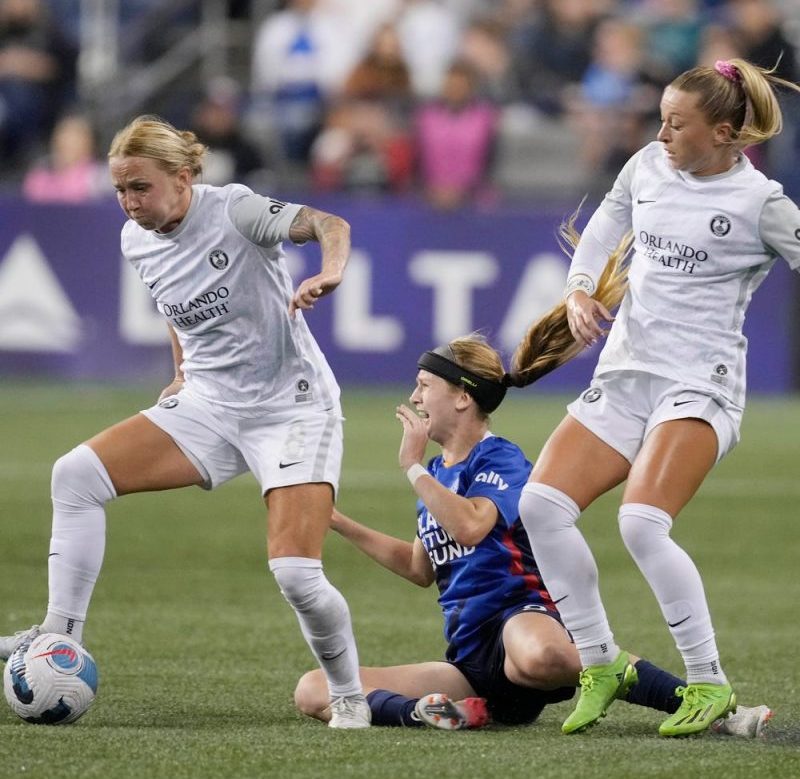 Concerns over period lead women's soccer teams to ditch white shorts
Orlando Pride players no longer have to worry their uniforms will be a giveaway to when they're getting their periods. 
The Pride announced Tuesday that its secondary uniform will now have dark shorts rather than the white of previous years. The club is the first NWSL team to make the change for period concerns, though several in Europe have already done so. 
The Pride also said all of its girls teams will wear dark shorts for both training and games. 
'The reasons behind not wanting to wear white shorts are clear, but it is unfortunately something that hasn't been addressed until recently," Pride midfielder Erika Tymrak said in the statement announcing the change. "I think it's a big step for us as a club to make players feel comfortable and allow us to focus solely on competing.'
What's the problem with white shorts?
Almost every woman has had the experience of getting her period unexpectedly or having such a heavy period that menstrual blood leaks through her clothes. While women getting periods is a natural fact of life, it's embarrassing to walk around with a telltale red or brown splotch on your clothes advertising it to the world. 
'It is very nice to have an all-white kit but sometimes it's not practical when it's the time of the month,' England forward Beth Mead said last year, referring to the Three Lionesses' uniform at the 2022 European championship.
The fear of the world knowing your biological business can also contribute to girls giving up sports. According to the Women's Sports Foundation, girls are dropping out of sports at twice the rate of boys by age 14. By age 17, 51% of girls will have quit sports, according to a survey by Always. 
Those numbers are significant because research has shown that girls who play sports are healthier, less likely to use drugs and alcohol or be sexually active. They also do better in school and in their professional careers. 
A 2015 survey by Ernst and Young and ESPNW found that 94 percent of female corporate executives had played sports. The same study found that wages of women who played sports were 7 percent higher than women who didn't.
'We must remove the stigma involved in discussing the health issues impacting women and menstruating non-binary and trans athletes if we want to maximize performance and increase accessibility to sport,' said Haley Carter, the Pride's VP of soccer operations and general manager. 
Will this be a trend in women's sports?
Probably. Women athletes are becoming more open in talking about periods and the impact they have on their athletic careers. They're also pushing harder to remove anything that interferes with their ability to play and compete. 
Mead said the England players took their concerns about their white uniforms to Nike. Manchester City announced last October that its women's team would no longer wear white shorts, following a handful of other, lesser-profile teams in the United Kingdom. 
And Wimbledon said in November it would relax its strict rule on all-white clothing and allow female players to wear colored undershorts. 
"It is our hope that this rule adjustment will help players focus purely on their performance by relieving a potential source of anxiety,' Sally Bolton, the chief executive of the All England Club, said at the time.
This post appeared first on USA TODAY