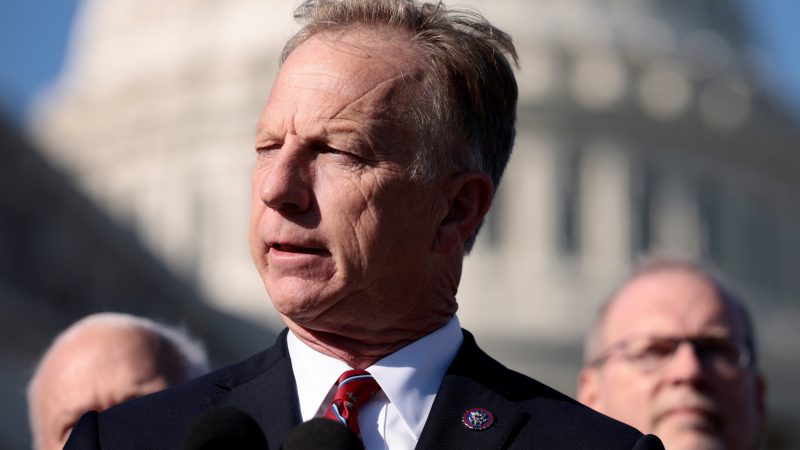 CBO director informs House Republicans that the US debt situation is dire: sources
EXCLUSIVE: The director of the nonpartisan Congressional Budget Office Wednesday briefed a group of House Republicans in a closed-door meeting on the dire situation the United States is in regarding its $31.4 trillion debt, sources told Fox News Digital.
The Republican Study Committee (RSC), the largest group within the GOP conference, invited CBO Director Phillip Swagel to Capitol Hill on Wednesday to discuss the national debt as Republicans and Democrats remain at an impasse over raising the debt ceiling. 
'The CBO made it clear that the level of growth necessary to balance the budget without cutting spending is impossible,' a GOP aide told Fox News Digital.
They said Swagel told the lawmakers, 'We cannot grow ourselves out of this.'
Another source in the room confirmed that Swagel shared dire warnings about the U.S. economy if serious fiscal cutbacks to fix the deficit are not imposed.
RSC Chairman Rep. Kevin Hern told Fox News Digital after the meeting that Swagel 'painted a dark picture for us.
'But this wasn't news to anyone who's paid attention to our spending problem,' Hern said. 'The CBO is a nonpartisan entity, and they recognize the severity of our current situation.'
Republicans have called for spending cuts to offset an increase to the U.S. debt limit, while Democrats counter that raising the level is an obligation of the federal government that should be dealt with separately from other matters.
Treasury Secretary Janet Yellen warned Congress last month that the government is using 'extraordinary measures' after hitting the $31.4 trillion debt limit in January, and that those funds would run out in early June.
But the CBO announced last week that the window for exhausting the measures is actually between July and September.
Swagel told Republicans at Wednesday's meeting that he expects to have a narrower timeline by late April or early May.
Rep. Ben Cline, charged with leading the RSC's budget task force, accused Democrats of point-blank refusing to negotiate on spending cuts – despite the left's insistence that they don't want to couple such conversations with the debt limit.
'These kinds of briefings are incredibly important to fully understand the seriousness of our nation's fiscal trajectory,' Cline told Fox News Digital. 'It is totally irresponsible for President Biden and the Democrats to refuse to negotiate any limitations on federal spending. We need to come together, tighten the purse strings, and balance the budget – just like families across America have to do every day.'
But Hern suggested that Republicans aren't all on the same page regarding the national debt, either.
'We need everyone, not just fiscal conservatives, to pay attention to the debt crisis and come to terms with reality. There are some really hard conversations that need to be had, both internally in the GOP and with our colleagues across the aisle,' he said.
The first GOP aide who spoke with Fox News Digital said it was clear Medicare and Social Security 'are going insolvent' whether President Biden 'likes it or not, and insolvency would trigger massive cuts.'
Biden and Democrats have accused the GOP of wanting to cut those programs in order to bring down spending – a claim that spurred outrage among Republicans.
But the CBO's economic forecast released last week projected that Social Security will be insolvent in 2032, while the Medicare Hospital Trust Fund will likely be insolvent in 2033 – endangering the benefits programs' cashflow by 20 to 25%.
It also suggested that economic growth will be far weaker in 2023, and that 'output growth comes to a halt in early 2023 in response to the sharp rise in interest rates' by the Federal Reserve.
'The only way forward is to cut spending,' the GOP aide said they took away from the meeting. 'There is no way to dig ourselves out of this debt crisis without cutting spending.'
CBO did not immediately respond to a request for comment. 
This post appeared first on FOX NEWS