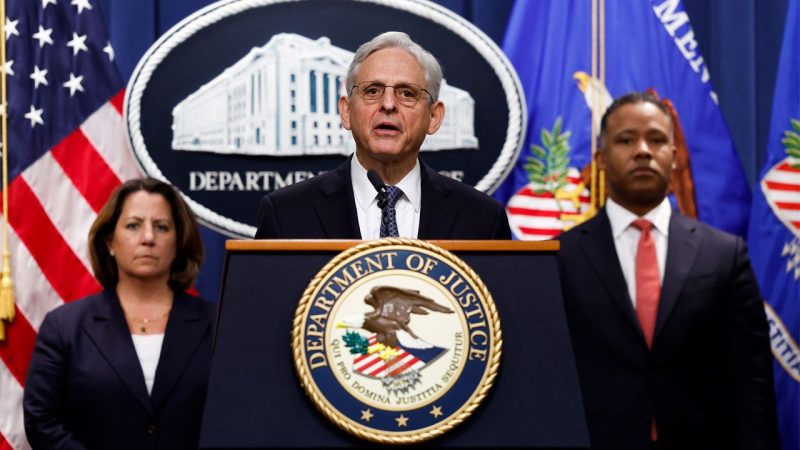 Pressure builds on Garland to appoint special counsel after second batch of classified Biden documents found
Republican lawmakers and conservatives reiterated calls Wednesday for Attorney General Merrick Garland to appoint a special counsel to investigate President Biden's handling of classified documents after a second batch of Obama-era documents was discovered.
Fox News confirmed Wednesday that aides to Biden discovered at least one more batch of classified documents from his time as vice president in Biden's possession. The finding comes just days after the White House revealed Monday evening that Biden's personal attorneys handed over a trove of classified documents found at the president's Washington D.C.-based think tank, the Penn Biden Center for Diplomacy and Global Engagement, to the National Archives.
'Attorney General Merrick Garland must appoint a special counsel,' Rep. Troy Nehls, R-Texas, tweeted in response to the report Wednesday.
The House Judiciary Committee GOP, which is led by the panel's chairman Rep. Jim Jordan, R-Ohio, similarly tweeted that it was looking forward to Democratic lawmakers calling for a special counsel to be appointed.
'If you believe a special counsel is necessary to assure the public about the handling of classified documents by Donald Trump, you should apply a special counsel to the mishandling of classified documents by President Biden when he was vice president,' Sen. Lindsey Graham, R-S.C., said on Fox News. 'That's what I think.'
The revelation that classified documents were found in Biden's possession came months after a similar situation related to former President Donald Trump's handling of classified documents. Following a months-long dispute between Trump and the Department of Justice, FBI agents executed a search warrant of the former president's home in Mar-a-Lago to collect any classified documents he still obtained.
In November, Garland appointed Jack Smith, a career prosecutor, as a special counsel to investigate whether Trump violated federal law when he took classified documents after leaving the White House in early 2021.
'Special counsel,' Sen. Josh Hawley, R-Mo., tweeted in response to the report Wednesday.
Earlier in the day and prior to reports that a second batch of documents were found by Biden's aides, Hawley penned a letter to Garland demanding that the Department of Justice appoint a special counsel in the case. The Missouri Republican noted that Biden appeared to have done 'exactly what President Trump did,' except his house wasn't raided.
'The double standard here is astounding. The underlying behavior at issue—a President's retention of old classified documents dating back to a past presidency—is materially the same in both cases,' Hawley wrote. 'But in President Trump's case, that retention triggered an unprecedented raid on the home of a former president, rationalized with a thicket of partisan doublespeak.'
'President Biden has not experienced anything remotely similar,' Hawley continued. 'To make matters worse, it's taken until January of 2023 for this news to surface, even though the documents were found on November 2, 2022—just days before a hotly contested midterm election. Clearly, the Biden Administration and its allies in the media did their best to bury the story.'
Like Hawley, John Fishwick Jr., a former U.S. attorney for the Western District of Virginia who was appointed by former President Barack Obama, told The New York Times earlier this week that Garland should appoint a special counsel to investigate Biden to ensure transparency in the case. Fishwick Jr. added that Garland had waited too long to inform the public about the investigation into the president.
'When's the raid?? They've had months to track this stuff down,' Trump's son Donald Trump Jr. tweeted. 'Where is the special counsel? Where's the wall to wall media coverage asking why Biden and Garland have not already been forced to recuse themselves???'
On Monday, White House counsel Richard Sauber said Biden's personal attorneys have cooperated with both the Archives and Justice Department in returning the documents found and Biden remarked Tuesday evening that he was 'surprised' to learn of the classified documents at the Penn Biden Center.
'They did what they should have done,' Biden told reporters. 'They immediately called the [National Archives] … turned them over to the Archives, and I was briefed about this discovery and surprised to learn that there were any government records that were taken there to that office.'
'But I don't know what's in the documents. My lawyers have not suggested I ask what documents they were,' he added.
The Department of Justice didn't immediately respond to a request for comment.
Fox News Digital reporters Adam Sabes, David Spunt and Jake Gibson contributed to this report.
This post appeared first on FOX NEWS