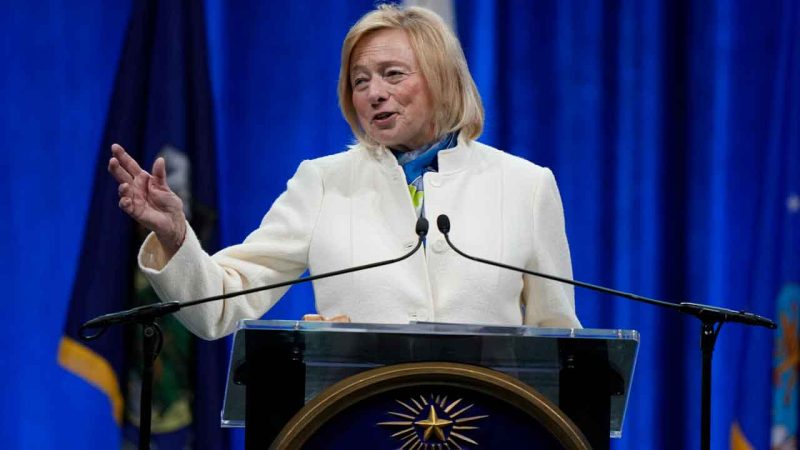 Maine Democratic Gov. Janet Mills unveils 2-year, $10.3 billion budget proposal
Democratic Gov. Janet Mills on Wednesday unveiled a $10.3 billion, two-year budget proposal that builds on her previous priorities without raising taxes or raiding the state's reserves.
The proposal, which represents $900 million in growth over the last budget, maintains the state's commitment to paying 55% of local education costs, providing free lunches to all public school students, and providing free community college tuition for recent high school graduates.
It also includes additional money for workforce housing, healthcare, childcare and support for people with disabilities.
'This budget is balanced. It doesn't raise taxes. It fully funds a number of initiatives with the Legislature that are law,' she told reporters during a briefing. 'And it leaves the rainy day fund untouched at its record high level of more than $900 million.'
The budget proposal tops $10 billion for the first time — Mills' previous baseline budget was $9.4 billion — setting up a battle with Republican who announced that they want to cut taxes.
The governor's budget proposal includes $400 million for the Department of Transportation with a goal of drawing much a much greater sum of federal dollars, up to $1 billion, under the Bipartisan Infrastructure Law, Mills said.
The proposal also includes $30 million to boost rental housing, particularly in rural areas, $27 million to support people with disabilities, and $15 million for foster care and adoption, she said. The governor didn't propose new funding for additional child welfare case workers because the state currently is in the process of filling 60 positions, including some new positions funded in the previous budget, she said.
The plan also includes $17 million to bolster legal services for low-income Mainers. Some of that money could be used to double the number of public defenders under a pilot program, she said.
Legislative Republicans said Wednesday that the governor should reduce taxes, as evidenced by recent givebacks.
The governor returned $729 million to residents in the form of $850 inflation relief checks last year and another $473 million in the form of $450 heating assistance checks to be mailed out starting later this month.
'We need to stop the cycle of over-collecting money from people. Current revenue projections allow us to explore ways of letting people keep more of their hard-earned money to address inflation,' House and Senate Republicans said in a statement.
The governor has said in the past that she didn't want to commit to either major spending increases or permanent tax cuts because budget surpluses were the result of one-time benefits from federal pandemic aid.
Democrats control both chambers of the Legislature, but Republicans have signaled last month that they will not be steamrolled.
Two years ago, Democrats pushed through a 'base line' budget with a simple majority to avoid any threat of a state budget shutdown before working on a second, supplemental budget.
That move angered Republicans.
Mills said she envisions this budget being passed with a two-thirds majority with the cooperation of both parties. Republicans also indicated a willingness to work with the governor.
Senate President Troy Jackson said the governor's budget proposal 'gives the Legislature a good place to start.'
This post appeared first on FOX NEWS