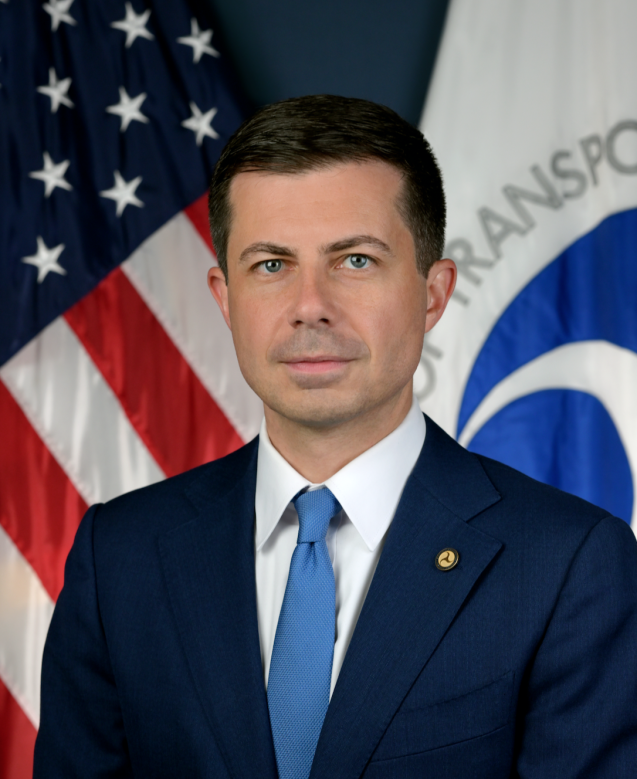 FAA outage: Buttigieg responds to latest transportation crisis as he faces continued criticism
Secretary of Transportation Pete Buttigieg says he is keeping abreast of the widespread technical issues plaguing the Federal Aviation Administration that grounded flights across the country.
The Federal Aviation Administration suffered a nationwide technical outage and ordered airlines to pause all domestic departures for more than an hour Tuesday morning.
'I have been in touch with FAA this morning about an outage affecting a key system for providing safety information to pilots,' Buttigieg wrote on social media Wednesday morning. 'FAA is working to resolve this issue swiftly and safely so that air traffic can resume normal operations, and will continue to provide updates.'
'FAA has determined that the safety system affected by the overnight outage is fully restored, and the nationwide ground stop will be lifted effective immediately,' he wrote later. 'I have directed an after-action process to determine root causes and recommend next steps.'
The outage comes as a result of the failure of the FAA's NOTAM (Notice to Air Missions) system, which alerts pilots and other personnel about airborne issues and other delays at airports across the country.
'The NOTAM outage continued with no current estimated time of restoration,' the FAA website stated Wednesday morning. 
'Normal air traffic operations are resuming gradually across the United States following an overnight outage to the FAA's Notice to Air Missions (NOTAM) system that provides safety information to flight crews,' the FAA said in a statement. 'The ground stop has been lifted. The agency continues to look into the cause of the initial problem.'
Most airlines chose to ground their own craft due to the system's failure early Wednesday, before the FAA issued a ground stop. The failure has so far resulted in 719 canceled flights across the U.S., according to FlightAware Wednesday morning. The tracker also showed that more than 4,000 flights within, into or out of the U.S. were delayed.
Buttigieg's tenure has been plagued by multiple crises from supply chain snarls to widespread commercial airline delays and he has been criticized for his handling of the issues.
Amid the many crises Buttigieg has faced, the former presidential candidate and mayor of South Bend, Indiana – who President Biden selected to lead the Transportation Department in January 2021 – has been hit with criticism from Democrats and Republicans alike. 
The transportation secretary recently came under fire after it was revealed he vacationed in Porto, Portugal, while his agency and the White House were locked in tense negotiations with rail worker unions to avert a strike that could have had a dire impact on the U.S. economy. The Department of Transportation said the vacation was a 'long-planned personal trip.' 
Buttigieg was also slammed for his handling of the supply chain crisis in 2021. Throughout the second half of the year, ships were forced to wait off the coast of California due to onshore logjams, as a trucker shortage slowed transportation and rail yards faced massive clogs.
Fox News has reached out to Secretary Buttigieg for comment.
Fox News' Anders Hagstrom and Thomas Catenacci contributed to this report.
This post appeared first on FOX NEWS