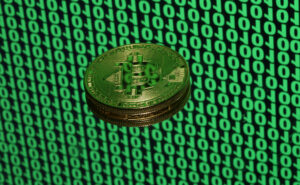 Ex-Coinbase manager's brother gets 10 month-sentence in insider trading case
NEW YORK — The brother of a former Coinbase Global, Inc. product manager was sentenced on Tuesday to 10 months in prison after pleading guilty in what US prosecutors have called the first insider trading case involving cryptocurrency.
Nikhil Wahi admitted to making trades based on confidential information from Coinbase, one of the world's largest cryptocurrency exchanges, when he pleaded guilty in September to a wire fraud conspiracy charge.
Prosecutors said Ishan Wahi, the former product manager, shared the information with his brother and their friend Sameer Ramani about new digital assets that Coinbase was planning to let users trade.
Ishan Wahi has pleaded not guilty, and Ramani is at large.
Prosecutors said Mr. Wahi made nearly $900,000 of profit by illegally trading ahead of 40 different Coinbase announcements. They recommended a 10- to 16-month sentence.
At a sentencing hearing in Manhattan federal court, US District Judge Loretta Preska said his crime was "not an isolated error in judgment."
The sentencing came as US prosecutors and regulators ramp up their scrutiny of cryptocurrency companies and executives.
"Today's sentence makes clear that the cryptocurrency markets are not lawless," Damian Williams, the top federal prosecutor in Manhattan, said in a statement.
Last month, FTX founder Sam Bankman-Fried pleaded not guilty to eight counts of fraud and conspiracy over the collapse of his now-bankrupt exchange, a Coinbase rival.
The crypto sector is also struggling, after the values of bitcoin BTC=BTSPand other digital assets plunged last year as interest rates and worries of an economic downturn rose.
Coinbase said on Tuesday it would cut about 20% of its workforce, or 950 employees, in its third round of layoffs since last year.
Mr. Wahi's mother and about one dozen other family members and friends attended his sentencing.
He told Ms. Preska he had traded in an effort to repay his parents for funding his US college education. "I wanted to help my parents, but instead I put them through great suffering," said Mr. Wahi, whose lawyer had urged Ms. Preska not to impose a prison sentence. "I'm very sorry for what I did." — Reuters