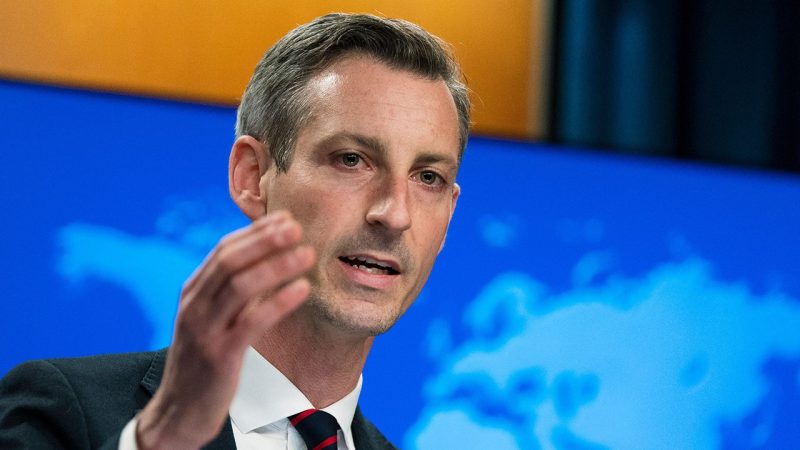 State Dept calls Trump exit from Iran nuclear deal 'strategic blunder' despite saying Iran cannot be trusted
A State Department spokesperson derided former President Donald Trump's decision to withdraw from the Iran nuclear deal in 2018, while also acknowledging that the Biden administration now has no intention of returning to it because Iran cannot be trusted.
During a news briefing on Monday, spokesperson Ned Price was asked about the current state of affairs between the United States and Iran after President Biden had said that the deal is dead.
'A return to compliance with the JCPOA isn't on the agenda,' Price confirmed. 'It's not on the agenda for primarily one reason; that's because the Iranians turned their back on it, the Iranians reneged on commitments they had made.'
Price went on to express support for the Iranian people, who have been protesting against their leaders in recent months. A reporter then asked if the U.S. would be receptive if Iran said they were willing to return to the negotiating table, At first, Price said he does not 'entertain hypotheticals,' but he then indicated that the Biden administration would not be eager to deal with Iran at this point.
'Even if the Iranians did come back tomorrow, we have a track record here, unfortunately, a track record that suggests to us that the Iranian word is – isn't worth the – choose your metaphor,' he said. 'We of course have been down this road with them.'
About one minute later, however, Price knocked Trump for exiting the deal in the first place.
'We have also made no secret of the fact that this administration considers the decision on the part of the last administration to withdraw from the JCPOA one of the greatest strategic blunders of American foreign policy in recent years,' Price said.
Fox News reached out to the State Department for clarification on why it was a blunder, and if they believe Iran was more trustworthy in 2018. They did not immediately respond.
Price was asked at the briefing how the U.S. will achieve its goal of preventing Iran from obtaining a nuclear w weapon without a deal. Price said while the Trump administration's pressure campaign did not work, if the U.S. works with allies to make sure Iran feels 'the economic and diplomatic pressure of the rest of the world,' the Islamic nation may change its ways. 
This post appeared first on FOX NEWS