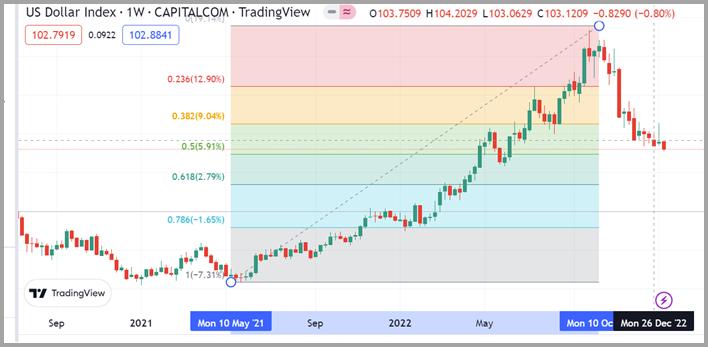 Mish's Daily: The Spot Where the US Dollar Still Stands
You don't want to miss Mish's 2023 Market Outlook, E-available now!
Despite the debate about the strength or weakness of the US Dollar, it will remain one of the most important currencies in the world for decades, and will continue to cause trouble for some. Still, new monetary paradigms are shifting in the global oil market, and Sovereign foreign currency reserves as two examples.
So, where is the USD going? Only time will tell, but in the long term, the dollar will most likely drift lower. Right now, however, it is in a unique area of support and resistance.
The US dollar has weakened almost 50% from the highs earlier this year, so breaking this 50% support area could alter the dollar's trajectory and if holds, could provide continued support for now. (If you want to learn more about the US Dollar, click here to get a complimentary copy of Mish's 2023 Market Outlook E-Book in your inbox and read her column for regular updates.)
The chart below shows the US Dollar compared to the Euro. 1.07 is a support level for the Euro. 1.09 also happens to be the 50% retracement from the highs, so, most likely, the Euro will find resistance coinciding with this area, but it might also strengthen. These intersections are generally dependable resistance areas, and the Euro will likely hit 1.09 resistance and turn back down. However, if it rises to 1.11, that might signal a larger paradigm shift in currency trends.
Despite a challenging year for asset markets, the U.S. dollar remains an essential cornerstone of financial transactions worldwide and means of exchange.
If you want to improve your relationship with money and cultivate true abundance in your life, read Mish's work. Unlocking your potential for profiting from trends could be easier than you think, and remember to keep your eye on key 50% support levels for the dollar's next move.
Mish's Market Outlook 2023 is a book you should read now!
Click here if you'd like a complimentary copy of Mish's 2023 Market Outlook E-Book in your inbox. For more detailed trading information, contact Rob Quinn, our Chief Strategy Consultant, to learn more about Mish's Premium trading service.
"I grew my money tree and so can you!" – Mish Schneider
Get your copy of Plant Your Money Tree: A Guide to Growing Your Wealth and a special bonus here.
Follow Mish on Twitter @marketminute for stock picks and more. Follow Mish on Instagram (mishschneider) for daily morning videos. To see updated media clips, click here.
Mish in the Media
In this special StockCharts TV presentation, Mish teaches you how to use four simple and reliable key indicators to help you catch big swings in the market.
In this appearance on Business First AM, Mish discusses why she's picking Nintendo (NTDOY).
Mish sits down with Gav Blaxberg for a W.O.L.F podcast on what she has learned as a trader and teacher.
In this appearance on Business First AM, Mish explains how even the worst trade should not be too bad with proper risk management.
In this appearance on Real Vision, Mish joins Maggie Lake to share her view of the most important macro drivers in the new year, where she's targeting tradeable opportunities, and why investors will need to keep their heads on a swivel. Recorded on December 7, 2022.
Mish sits down with CNBC Asia to discuss why all Tesla (TSLA), sugar, and gold are all on the radar.
Read Mish's latest article for CMC Markets, titled "Two Closely-Watched ETFs Could Be Set to Fall Further".
Mish talks the current confusion in the market in this appearance on Business First AM.
Mish discusses trading the Vaneck Vietnam ETF ($VNM) in this earlier appearance on Business First AM.
ETF Summary
S&P 500 (SPY): 384 support; 392 resistanceRussell 2000 (IWM): 172 pivotal support; 180 resistanceDow (DIA): 330 support; 338 resistance.Nasdaq (QQQ): 265 support; 273 resistance.Regional banks (KRE): 56 support; 62 resistance.Semiconductors (SMH): 211 support; 220 resistance.Transportation (IYT): 220 pivotal support; 230 now resistance.Biotechnology (IBB): 127 pivotal support; 168 overhead resistance. Retail (XRT): 60 pivotal support; 65 now resistance.
Mish Schneider
MarketGauge.com
Director of Trading Research and Education
Wade Dawson
MarketGauge.com
Portfolio Manager