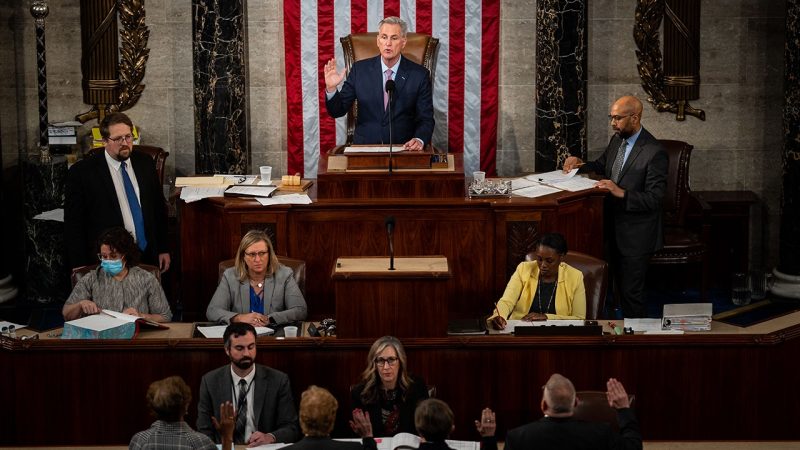 House passes new rules for Congress as McCarthy clears first major test as House speaker
The House of Representatives passed a new rules package Monday that overhauls the way it functions by putting up more barriers to congressional spending and creating a more deliberate process for passing legislation, which were key demands of the more conservative members of the Republican Party.
The rules passed with an 220-213 vote that saw just one Republican, Rep. Tony Gonzales of Texas, vote against it. Passage of the blueprint for how the GOP will run the House is the first sign of success for House Speaker Kevin McCarthy after the fight of his life last week for the speaker's gavel.
Changes to the rules package were negotiated up through the 11th hour as part of a deal to earn McCarthy the votes for the speaker. Pushing for those changes were Roy, Rep. Byron Donalds, R-Fla., and freshman congresswoman Anna Paulina Luna, R-Fla., who said last week at the Capitol the changes will be 'transformational, and it will outlast every person in this room.'
Among other things, rules include the end of Pelosi-era proxy voting and requires members to vote in person from the House floor.
The newly adopted rules also include a provision that allows House Freedom Caucus members to receive three of the nine seats on the House Rules Committee, which dictates the terms of how bills are brought to the floor and how they can be amended.
The package also includes a return to a 'Cut-As-You-Go' policy that says legislation cannot be considered if it increases mandatory spending over a 5- or 10-year period. This 'CUTGO' policy requires bills that call for new spending to find offsetting spending cuts elsewhere in the federal budget – an ambitious new curb on federal spending, part of the GOP's effort to stop piling on trillions of dollars in new debt each year.
All but one GOP lawmaker supported the package in the days leading to the vote – Gonzalez said he couldn't support the bill for its 'anti-immigration' policies. Gonzalez also opposes the possibility of cuts to the Defense Department, although there is no language in the rules package on that issue.
McCarthy and his team are considering a push to limit discretionary funding in the next fiscal year to FY 2022 levels, but some have insisted that does not mean a cut to defense programs. 
Republican Whip Tom Emmer, R-Minn., and Rep. Chip Roy, R-Texas, have said that goal would not mean cuts to defense spending.
This post appeared first on FOX NEWS