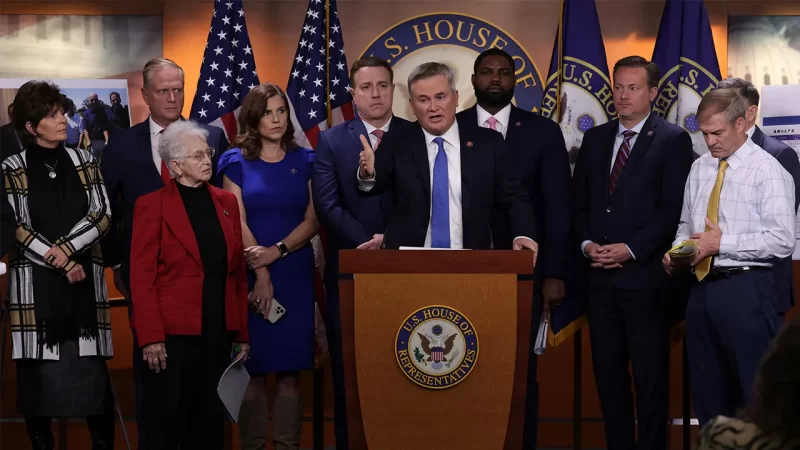 House Oversight chairman says discovery of Biden classified docs displays 'two-tier' justice system
Rep. James Comer, R-Ky., chairman of the House Oversight Committee, told reporters Monday night that the handling of the discovery of classified documents by President Joe Biden's lawyers that were taken from the White House six years ago is a display of a 'two-tier' system of justice.
On Monday, Fox News confirmed that a batch of records from Biden's time as vice president, including a 'small number of documents with classified markings,' were discovered at the Penn Biden Center by the president's personal attorneys on Nov. 2, according to Richard Saubel, special counsel to the White House.
The attorneys found the documents in a locked closet while preparing to vacate office space at the center, which the president used from mid-2017 until he began the 2020 campaign.
Comer told reporters that the handling of these documents is a stark contrast to the FBI's raid of former President Donald Trump's Mar-a-Lago home in Florida last year in search of classified documents taken after Trump lost his reelection bid in 2020.
'Is the White House going to be raided tonight?' Comer asked. 'Are they going to raid the Biden center? I don't know.'
'This is further concern that there's a two-tier justice system within the DOJ with how they treat Republicans vs. Democrats … certainly how they treat the former president vs. the current president,' Comer added.
Comer said that after the Mar-a-Lago raid, according to the research his office conducted, they found that 'every president had accidentally packed documents that may or may not be considered classified.'
'But they weren't raided,' he added.
Comer said the Oversight Committee plans to send a letter to the National Archives, and depending on where the investigation leads, would be open to holding a hearing on the matter.
'President Biden has stated that taking classified documents from the White House is 'irresponsible," Comer said in a statement. 'Under the Biden Administration, the Department of Justice and National Archives have made compliance with the Presidential Records Act a top priority.'
'We expect the same treatment for President Biden, who has apparently inappropriately maintained classified documents in an insecure setting for several years,' Comer added.
Fox News' Paul Best and Kelly Phares contributed to this report.
This post appeared first on FOX NEWS