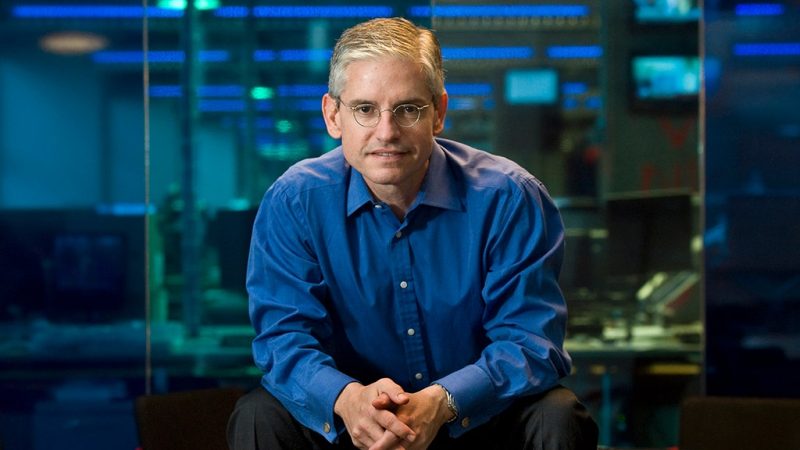 Dem operative helping WH fight GOP investigations once described by Biden aide Neera Tanden as 'bats— crazy'
A Democratic operative who is helping the White House with counter-messaging in the forthcoming Republican-led investigations into President Biden and his son Hunter was once mocked by White House staff secretary Neera Tanden as 'bats— crazy.'
David Brock, a longtime Clinton ally who founded Media Matters for America and American Bridge 21st Century, announced in November that he was leaving the left-wing groups after nearly two decades to launch Facts First USA in order to help President Biden fight Republicans in the new Congress.
'Next chapter. Excited. Bring it on,' Brock tweeted at the time. 
Facts First USA, according to its website, aims to act as a 'Truth SWAT-team' to counter 'bad-faith lies and misinformation' by Republicans.
'Republicans have telegraphed their plan to use congressional control to bombard the Biden Administration with investigations, to flood the White House with subpoenas, and to abuse the extensive tools of congressional oversight to drive the narrative about the Biden Administration during the run up to the 2024 presidential election,' the group's website states. 'We will work to limit the reach of the right-wing rage machine – to keep it within their own echo chamber rather than allowing it to become part of the mainstream media coverage.'
Brock, who got his start as a conservative freelance reporter before switching to the Democratic Party in the mid-1990s, has been a prominent face in Democratic circles for nearly two decades. The New York Times reported in November that Brock's network of progressive groups 'play important roles in the Democratic Party's ecosystem.'
However, in 2015, he was described as 'bats— crazy' in an email to John Podesta by Tanden, a longtime Clinton ally who previously led the Center for American Progress (CAP).
Podesta, the former Hillary Clinton campaign chairman who founded CAP in 2003, currently serves as senior adviser to President Biden for clean energy innovation and implementation, and he is in charge of allocating the $370 billion from the Democrats' so-called Inflation Reduction Act.
On Feb. 11, 2015, Tanden sent an email from her official CAP account to Podesta, who had just concluded his stint as the counselor to then-President Obama.
The subject line of Tanden's email read, 'I hope,' and the body read, 'Hillary truly understands now how bats— crazy David Brock is. This times piece is amazing,' according to the email published by WikiLeaks in 2016 as part of the trove of Podesta's hacked emails.
Tanden's email came one day after Brock's abrupt resignation from Priorities USA Action, a pro-Clinton super PAC, after he accused Priorities officials of helping plant a story in The Times that questioned the fundraising practices of Media Matters and American Bridge. Brock's resignation reportedly sent shockwaves through the Democratic elite, and he returned to the super PAC later that year.
In a January 2016 email exchange between Tanden and Podesta, Tanden said she believes Brock is an 'unhinged soulless narcissist' while discussing a recent interview Brock did with Politico, when he claimed failed Democratic presidential nominee Hillary Clinton was preparing for a matchup with Trump during the general election
'David Brock is like a menace,' Tanden vented to Podesta in January 2016, prior to any primary votes being cast. 'I can think of no worse message for Hillary right now than she's preparing for the general.'
In another January 2016 email, Tanden said, 'Trusting David Brock probably doesn't make a lot of sense. I mean I hope people get he's kind of a nut bar.' Brock was asked about the 'nut bar' comment during an appearance on MSNBC following the Wikileaks release and whether he was 'offended.'
'I am not, no,' Brock said. 'Look, I think that's rather tame if you consider it by the standards of talk in campaigns.' 
Podesta also criticized Brock in multiple emails. In one email, he called him 'crazy' in response to the abrupt resignation from Priorities USA Action, saying, 'Crazy is as crazy does.' In a February 2015 email with Bill Clinton adviser Tina Flournoy, who most recently served as Vice President Harris's chief of staff last year, Podesta said, 'Welcome to whacko land' in response to her email about Brock's resignation letter.
Facts First USA responded to Fox News Digitial's inquiry about Tanden's anti-Brock email with a tongue-in-cheek reply on Monday, mocking congressional Republicans.
'Facts First is a bipartisan organization focused on ensuring that our national discourse is grounded in facts and honest debate,' spokesperson Eddie Vale said. 'We are an independent organization that follows our own strategy. All of our work to date in regards to 'bats— crazy' has been focused on Jordan, Comer, & Marjorie Taylor Greene.'
Facts First 'intends to work with the White House where appropriate but will make our own judgments,' Brock told The New York Times in November. Last month, The Washington Post reported that Facts First was 'engaging with Hunter Biden and those in his immediate circle.'
Brock was part of a meeting with Hunter and Hunter's lawyer Kevin Morris in September to discuss messaging strategy ahead of the GOP oversight investigations, The Post reported last month.
The White House did not respond to Fox News Digital's request for comment.
This post appeared first on FOX NEWS